1930s Cars - the Age of the Art Deco Automobile
What a Doozy!  Do you remember that expression - inspired by fabulous 1930s cars?  I heard it on the TV the other day, so its still in use!
Referring to something splendid and high-class, the term came from the fabulous Duesenberg motorcars, which were some of the most wonderful cars produced in the late 1920s and 1930s.  Long, low and streamlined, they epitomised the Art Deco style.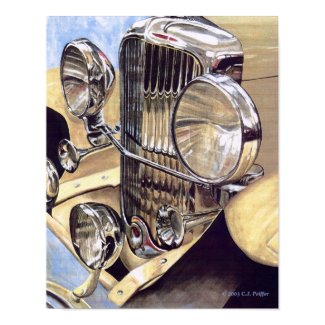 'A Real Doozy'
by
Pro_Artz
View other
Auto Posters
Famous for their racing cars which had won several speed records in the 1920s, the Model J Duesenberg was owned by many rich and famous royalty, movie stars and politicians in the 1930s.  The SJ Speedster, introduced in 1933 with a top speed of 130 miles per hour and a price tag of $17,500 provided a sporty version for those who wanted something faster and racier.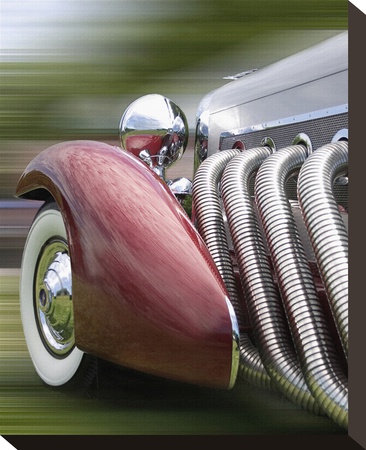 Richard James - Duesenberg in Motion - Buy from Art.com
Only 650 cars were produced by the Duesenberg brothers - a rusty forgotten Doozy lying neglecting in someone's garage may turn out to be a real find one day.
The Streamlined Art Deco Style

In the 1930s cars developed all the features that we know today.  With the production of new types of steel that could be pressed into different shapes automobiles became less box shaped and took on the more streamlined forms that were to become so much part of the Art Deco style.
In the 1930s cars became larger, more powerful and more fuel efficient.  Comfort was improved by front wheel suspension, and "balloon" wheels, and the boot, or trunk was incorporated for luggage. Direction indicators were introduced, usually the type which popped out from the side of the car.  Electric windscreen wipers, safety glass windscreens, bumpers, and semi-automatic gear changes were all new features.

Most 1930s cars were closed in and had more streamlined bonnets and wings, large radiator grills and prominent round headlamps. 
All features which were to be imitated in Art Deco style in domestic objects such as vacuum cleaners, lamps, heaters, toasters and teapots as well as infiltrating the realms of jewellery, and textiles. 
These elements even provided the decorative inspiration for the Chrysler Building in New York, an Art Deco icon which was a shrine dedicated to the automobile.
Art Deco and British Car Design - Buy Now

1930s Cars after the Great Depression

Although motoring was well-established in the USA by the 30s, production fell dramatically in 1932, one of the worst years of the depression with output falling from over 5 million cars in 1929, to just over 1 million in 1932.  European countries were still producing far less cars, with only the moderately wealthy able to afford them.  Great Britain had the highest production levels, but still only reached 44,500 cars by 1938.

Ford, Morris and Austin were still the major competitors in the affordable car market, with Citroen introducing the ever popular Deux Cheveaux in 1937 which has really survived the test of time.  I had one in the 1990s which looked just the same as the 1930s models and was tough, durable and even coped with driving in snow in northern England. 
Luxury 1930s Cars are Highly Collectable
Today, its the luxury models which are prized by museums and collectors. 
Supercharged Classic Cord
by
jwessel
Browse other
Supercharged Posters
Cord 810/812

One of the most representative automobiles of the Art Deco streamlined style, the Cord 810 and 812 motorcars were among the most desirable of cars built in the United States. 
Introduced in 1935 and 1937, these cars had a unique shape, with a coffin shaped bonnet, no radiator grill, hardly any chrome and no running board.  The streamlined shape was enhanced by pop-up headlights which closed flush into the body work and were raised by a lever on the dashboard.
It was the only car in the United States at the time with front-wheel drive.  The convertable versions, the Phaeton and the Sportsman were the most stylish and sporty and commanded the highest prices.

1937 Cord Westchester Sedan - Buy Now from Art.com


Dreaming of your own Vintage Automobile?
Check out the listings on eBay USA, UK and Australia.  Well, we can dream, can't we?

Can't afford the real thing?  Check out my selection from some of these great Art Deco car posters by Geo Ham from Art.com.

All the posters come in different prices and sizes and you can get them framed or unframed.  Search for your favourite title and see what versions are available.  In my experience they arrive fast and well-packed and are excellent quality. 

Click on their product information page  for all the details. 
Plus check out my tips for buying online.
Read more and see more great images in:

Decolish Home
>
Art Deco Transportation
> 1930s Cars
---
Subscribe to Decolish News!  Occasionally I will send out news on interesting Art Deco topics or let you know of a great collection or resource I've found on the web.  You can be sure I will never give your email to anyone else, and you can unsubscribe at any time. 


Decolish News
---
And join our Facebook Page so you never miss a thing!

---