Art Deco Buildings
Art Deco buildings can be found all over the world.  Perhaps the first city to really embrace the Art Deco style in its buildings was New York in the 1920s.
Although Art Deco evolved in Paris in the early 1920s it was a period when many artists, architects, painters and designers emigrated to the USA.  These Europeans took the new "style moderne" across the Atlantic where it influenced all forms of design and building.
Of course, the New York skyscrapers are perhaps the most well-known of the Art Deco icons - everyone knows the Empire State Building, the Chrysler Building, and Radio City Hall.  But in the 1930s the more domestic and small town forms of Art Deco architecture - more commonly referred to as "streamlined moderne" took hold throughout the world. 

House in New Zealand
One of the finest examples in the world of this influence is at Napier - a town in New Zealand which was destroyed by an earthquake in 1931 and was rebuilt almost entirely in the Art Deco style. 
Read more about Art Deco Napier here.

But most towns in the 1930s would have had at least one or two buidings in this new forward looking and glamorous style. 
Houses were built in the streamlined style in the 1930s and 40s and there are a lot of public and municipal buildings in this style too. 
Cinemas, theatres, hotels and bars were some of the most popular demonstrations of the style.  Places where people could have a good time and forget the pressures of the Depression years were influenced by the opulent, the chic and the sophisticated designs which could be seen coming out of Hollywood on the silver screen. 
Cinema was the most popular form of entertainment and the movie houses were, of course, some of the most lavishly decorated.  Everyone wanted a piece of the glamour that surrounded the Hollywood stars and screen goddesses of the jazz age.
Sign from Hayden Orpheum Picture Palace in Sydney
Art Deco Buildings - Heritage and Conservation

Sadly, until recently many buildings were not appreciated and have been allowed to degenerate.  But now people are beginning to want to save these lovely edifices for the future. 
The old Hoover Factory in London, for example, was bought by a large supermarket chain and restored in the 1980s. 

Facade of the Hoover Factory, London - Buy Print Now
I photographed this sad old theatre in Scone, Hunter Valley, NSW, Australia in 2012, and there were signs saying it was about to be restored then.  A newspaper article (which shows a lovely picture of it in it's heyday) says work is starting now in 2015.  I wonder when it will finally be done?

Civic Theatre Scone
Art Deco Buildings in Australia

You'd be amazed at how much Art Deco architecture can be found in the small towns as well as the larger cities of Australia. 

Here are just a few of the buildings I've seen recently on my travels around Australia: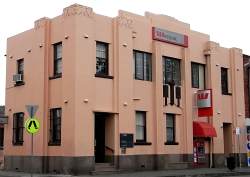 A bank in Richmond, NSW
Would you believe this gem of a building in Launceston, Tasmania houses a charity shop?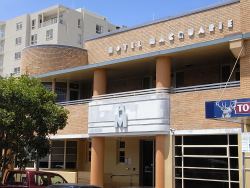 Hotel Macquaire in Port Macquarie
And below are two wonderful buildings I've seen and which were photographed by DecoWorks - the first is a service station on the outskirts of Sydney. 

And the last one, probably my favourite - I love the three blue mouldings - was built for a funeral directors in Gosford on the NSW Central Coast in 1938.
If you know of a building that needs saving - why not publicize it here - you can upload your story, some photos and a link to your petition.

What's your favourite Art Deco building?
Do you have the best, most stylish Art Deco building in your town? Or have you stayed in one of the best in the world on your holidays? What's your favourite Art Deco building, and why do you like it? What makes it special to you?

Tell us your story here and share the best Art Deco buildings around the world. You can even upload up to 4 photos too and your story will appear on its own webpage on Decolish, that others can rate and post comments on.

Don't worry, I will personally check every entry and comment, so there will never be any spam or unpleasantness.
Decolish Home
>
Art Deco Architecture
> Art Deco Buildings
---
---
Join our Facebook Page so you never miss a thing!

---