Art Deco Compacts

Art Deco compacts are fun to collect and so chic and stylish.  You can impress your friends by slipping one out of your handbag to powder your nose or touch up your lipstick.


Putting on makeup in public was just one of things which women got away with from the 1920s, along with smoking, drinking and kissing! 
It was all part of the growing emancipation of women which started during World War I as they had to work in factories and on the farm to support the war effort.  Women remained in the workforce after the war, and their earning power and independence meant that they could afford luxuries like makeup, elegant compacts and cigarette cases to help them feel more glamourous and cheery after the war.
No self-respecting flapper would go anywhere without her compact!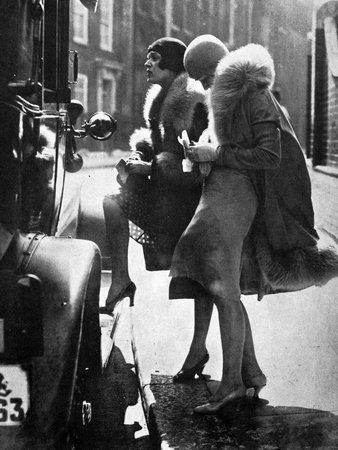 Fashionable Flappers in 1920s Berlin - Buy as a Print
Compacts were very popular and came in all kinds of materials to suit all budgets.  Top class jewelry designers like Cartier, Van Cleef von Arpels, Boucheron and Sandoz made exquisite compacts in enamelled or jewel encrusted gold and silver, in stylish Art Deco designs.  Other materials used could be Mother of Pearl or Butterfly wing. 
Cartier Compacts


Cheaper compacts began to be mass produced in chrome, wood, or Bakelite but the designs remained stylish and modern. 

Geometric shapes, shell forms, sunbursts, all the Art Deco motifs appeared on compacts.  There were lots of novelties such as bottle shapes, musical compacts or a little toy monkey. 
The advances in engineering of the day meant that there were all sorts of clever mechanisms to open or close the compact, windscreen wipers to clean the mirror, or little compartments with spring open clasps. 
Some even came with a watch included like the Art Deco compact I recently bought above!  Inside are two little compartments one for powder and one for rouge which spring open when you touch a little lever.  And the design is so typically Art Deco with the parallel lines in cream enamel. 

Lots of compacts came with a little finger ring, so you could wear them on your hand on the dance floor, or at a cocktail party.  Some were in the shape of little handbags with chain to hand from your wrist.  Those with a lipstick attached were called a duo and those with a lipstick attached by a chain were called a Tango. 
Other Types of Art Deco Compacts

In France the compact was expanded to a necessaire by some of the high end jewellers.  It was a slightly larger vanity case - which included powder, lipstick, mirror and comb and hung from a silk cord. 
These were often decorated with highly exotic motifs such as chinese pagodas or birds of paradise, or Egyptian temples.  Alfred van Cleef called his version a "minaudiere" (minauder means to simper) after watching his wife at the mirror!  He replaced the evening bag completely, and had matching cigarette cases, card cases and lipstick holders. 

There are compacts to suit all tastes and budgets, and its a fantastic collecting area.  They can be used today, don't take up much space, and are the ultimate in feminine style and beauty.
Have a look at the listings I've selected for you from eBay USA, UK and Australia.  The link below goes to your local site. 

Decolish Home
>
Art Deco Fashion
> Art Deco Compacts
---
Click here for Art Deco Calendars 2017

Decolish News
Subscribe to Decolish News!  Occasionally I will send out news on interesting Art Deco topics, special offers or let you know of a great collection or resource I've found on the web.  You can be sure I will never give your email to anyone else, and you can unsubscribe at any time. 

---
And join our Facebook Page so you never miss a thing!

---