Art Deco Wedding
What about a chic and stylish Art Deco Wedding?
Get into the mood of the roaring twenties and all that jazz!  The fashions of the 1920s and 30s were to die for.  You could choose a flapper style dress, or go all out Hollywood glamour, or even a more dramatic vamp look.   These days its so easy to find Art Deco style invitations, decorations, fashion, jewelry and more.  The following pages should give you some inspiration for your Wedding dress, your wedding invitations and stationary, your cake, your ring and your venue.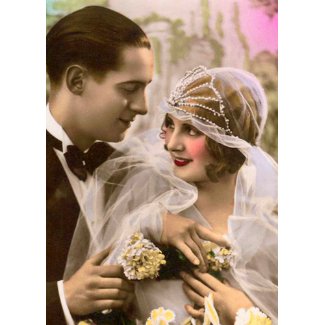 Romantic Wedding
by
tnmpastperfect
View more
Wedding Cards
And of course, a fabulous 1920s or 30s classic car to take you there!
Choose the perfect wedding for you, a Deco wedding could be just the glamorous theme which will make that day extra special, stylish and memorable. 
Ask for some inspiration or come back and share your photos here on the Art Deco Wedding Day Forum.

Art Deco Wedding Venue
If you are lucky you will have an Art Deco building in your town.  Maybe there is a gorgeous Art Deco hotel, or a cinema, or the town hall.  Think outside the box, and investigate.  Don't be afraid to ask if you can rent a more unusual space. 

If you can't find an actual Art Deco building, you could decorate the venue with some over the top ostrich feather arrangements or stylish Art Deco lamps, or hold your special day outside under a beautiful flower adorned arch.

Art Deco Bride
by
msdespina
See other
Rsvp Postage
As you see you can even get matching postage stamps and invitation cards to go with the theme! 
At the reception shake up some cocktails from a funky Art Deco cocktail shaker, dance the charleston and swing the night away to some 1920s jazz.
So much to choose and plan - why not start with a stylish Wedding planner to help you get organised?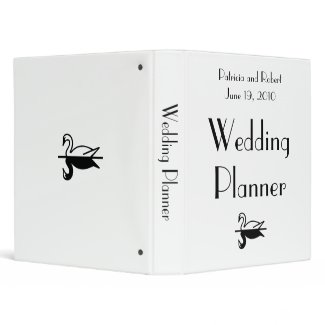 Parisian Deco Wedding Planner
by
Ladiebug
Shop other
custom printed vinyl binders
on zazzle.com
Didn't find what you wanted?  Check out this great wedding blog.

---
Subscribe to Decolish News!  Occasionally I will send out news on interesting Art Deco topics or let you know of a great collection or resource I've found on the web.  You can be sure I will never give your email to anyone else, and you can unsubscribe at any time. 


Decolish News
---
And join our Facebook Page so you never miss a thing!

---