Art Deco Bakelite Radios
END OF YEAR FINANCIAL SALE AT DECOLISH STORE!
ONLY TIL MIDNIGHT 30 JUNE!
10% OFF STOREWIDE

USE CODE EOFYSALE in CHECKOUT

Photos on this page by
Scott Beveridge (rollerboy76) Sydney

In the 1930s Bakelite radios became a perfect medium for the expression of the Art Deco machine age style.   During the Depression years the wireless became the focal point of the home,  the major source of entertainment and news and provided a point of contact with the outside world. 

But it was more than that, it was a symbol of a technological future which held out hope for a better world.  It symbolised the jazzy, glitzy world of the music halls, cocktail dances, fun and drama.   Designs were influenced by the skycraper, airplane, kitch automobile grills and the colours of modern art.

Bakelite had been invented by 1907 but was only used for small objects and came in fairly dull colours.  The radio set in the 1920s was a home made affair attached to an old bread board or covered with a crude wooden box.  As broadcasting took off in the late 1920s manufacturers realised that the demand was there for the radio as a piece of furniture, as part of the home. 
The first Bakelite radio made in Australia by General Electric, 1932.
Wood was an expensive material and difficult to work with, so Bakelite was the ideal solution.  By the 1930s larger factories had been established with the technology to mould larger pieces of Bakelite, and the Bakelite radio was born.
In the USA, the Catalin Corporation had introduced 15 vibrant new colours of Bakelite in the early 1930s.  They soon became renowned for their distinctive solid coloured or marbled radio casings.   The United States provided the most varied market in Bakelite wirelesses, with a myriad of shapes, colours, and designs and now has the largest number of vintage wireless collectors.  
Some Classic Art Deco Radios
One of the last of the classic Catalin radios by Motorola was a fabulous Art Deco design solid red and black radio. It had an S shaped grill and a striking dial face.  It is one of the most collectable radios around.  But my favourite American radio is the Roosevelt inspired Scottie radio by Remler.  It is a reminder of the little scottie dog as one of the enduring images of the Art Deco era.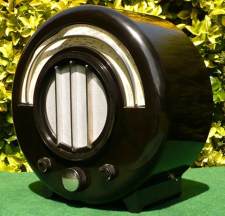 Bakelite radios from around the world

There is a strong collectors market for vintage wireless in Great Britain due to their extensive and inventive production of Bakelite radios from the early 1930s. 
One of the most daring Art Deco designs was the round Ekco radio by the designer Wells Coates for the company E K Cole Limited who had imported a complete moulding plant from AEG in Germany in 1932.  Most examples were in imitation walnut which were the most popular at the time, although the radio also came in machine age jazzy black and chrome and could be ordered in onyx white or pale green.  Of course, these are now the most sought after and rare examples.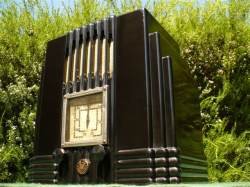 Some of the most beautiful Art Deco examples were made in Australia.  Due to their small population these were made in smaller numbers than in the USA or Great Britain and consequently are now very rare.  The skyscaper shaped AWA Radiolette was modelled on the Australian Wireless Association's office building in Sydney.  This link leads to a video of an amazing collection of radios by an Australian collector. 

Another gorgeous Australian Art Deco radio is the Fisk Radiolette with its green fretwork and feet.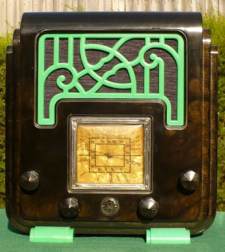 Germany, France and Czechoslovakia all produced distinctive radios which are highly collectable in their own rights.  Though Spain only started producing Bakelite radios after WWII due to the Civil War.

Read more in this definite guide by Robert Hawes. 

Book from Amazon USA. For books from Amazon UK and Fishpond in Australia - click here.

Want to make sure
you don't miss anything?
Subscribe to Decolish News, and you will be informed every time there is anything new on Decolish.  Occasionally I will send out news on interesting Art Deco topics and events or let you know of a great collection or resource I've found on the web. You can be sure I will never give your email to anyone else, and you can unsubscribe at any time.