Clintonia Theater, Clinton Iowa
by Cheryl
(Chicago, IL)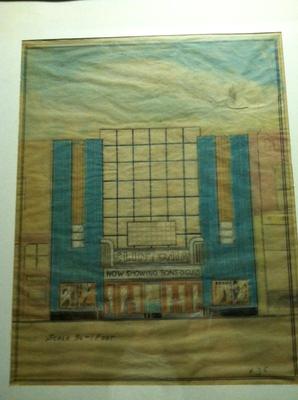 Architect drawing Clintonia theater
Art Deco Theatre Mystery

I own this architect's drawing of the Clintonia theater in Clinton, Iowa. I'm hoping to find out more information about it, like was it ever built? Does it still exist? Some information on the back says the architect was named Axel Clausen, although the initials on the drawing look more like A.C.J. (AJC in monogram), and that it was built in 1937.

If anyone has any information, please leave a comment for Cheryl on this page. Thanks. Lesley at Decolish.
---
Click here for Art Deco Calendars 2017

Decolish News
Subscribe to Decolish News!  Occasionally I will send out news on interesting Art Deco topics, special offers or let you know of a great collection or resource I've found on the web.  You can be sure I will never give your email to anyone else, and you can unsubscribe at any time. 

---
And join our Facebook Page so you never miss a thing!

---