Everglades Art Deco House, Leura, Blue Mountains
by Melinda
(Sydney)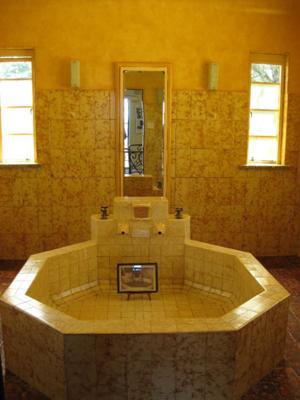 Art Deco Bathroom
I thought you might be interested to see these photographs I took last year at Everglades House. It's a beautiful old house, but absolutely crying out for more Art Deco furnishings, as it's very sparsely decorated. There were however, a large sofa and chairs in beige and red, in that chunky squat unmistakably deco style, and a fantastic dressing table. But the house needs so much more furniture. I really love the windows in the photo with the lounge suite too. There is something industrial about them, but I love the shape of the panes of glass.

Apparently the bathrooms are his and hers! One for the husband and one for the wife. And the man's bathroom has an old fashioned sauna that you sit in with your head sticking out! Not sure I fancy that one, looks a bit claustrophobic, but the large bath in the ladies bathroom looks like total indulgent luxury.


---
Click here for Art Deco Calendars 2017

Decolish News
Subscribe to Decolish News!  Occasionally I will send out news on interesting Art Deco topics, special offers or let you know of a great collection or resource I've found on the web.  You can be sure I will never give your email to anyone else, and you can unsubscribe at any time. 

---
And join our Facebook Page so you never miss a thing!

---