Your Bakelite Jewelry Forum - Share Your Stories
---
---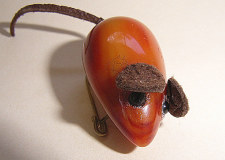 What are your best Bakelite jewelry finds?
Are you a serious collector or just beginning your collection?
My favourite piece is a tiny little mouse brooch, which I got online with a necklace I bought.  Its the sweetest little thing, and I've never seen any others.
What's your best piece?  And why do you love it?
Have you bought an extravagantly expensive book piece?  Or are you into finding forgotten bargains at garage or yard sales? 

Maybe you are creative and have made some of your own pieces out of vintage Bakelite.  We'd love to hear about them. I have a friend who collects early plastic buttons and makes all kinds of creative things with them.  Necklaces, bracelets, Christmas decorations to name just a few. 

Let's all share our knowledge and our enjoyment of collecting and wearing Bakelite jewelry here.  Want to show off your best finds, or ask a few questions?  You can do that here, and we'll gradually get a specialist forum going.  Do check back from time to time to see what other people have added, and let us know what you think.  You'll be able to add your own comments.  I shall check all the submissions and comments to make sure they are suitable before they appear on the site.  If you write a story and add some great photos, they'll appear as a page on this site.  You can add a link to your own blog or site, so long as you are not just using this page to sell your own stuff. 

The aim of this page is to learn from each other's expertise and to see what gems are out there in the collecting world.  If you like you can show us photos of how you wear your jewelry and how it fits together with your whole look.  I'm sure there are some real trend setters out there.  And I, for one, could do with some inspiration! 

What Other Visitors Have Said
Click below to see contributions from other visitors to this page... You can leave comments and rate other peoples' stories too.

Luscious First Find

I have only recently been introduced to Bakelite (as a jewellery accessory). I knew what Bakelite was and always associated it with old door handles, …
Beautiful Bakelite? Ring

I have just recently realised the beauty and style of bakelite and am trying to pick up a few bits here and there at a reasonable price. I am never sure …
Fancy collecting a few more pieces - here's some listings from eBay USA, UK and Australia: 

Decolish Home
>
Bakelite Jewelry
> Share Your Stories