For Art Deco Fans and Collectors

What do you love about Art Deco?
You're sure to find it here on Decolish.
There are so many wonderful things about collecting Art Deco......

The Atmosphere
The 1920s were the period of Anything Goes!  Flappers drinking cocktails, smoking in the street, pulling out their compacts to powder their noses, dancing the Charleston, and rushing about in fast cars. The clothes were to die for, the jewelry exquisite and the men dashing.  Everyone wanted a taste of the freedom of the age. The 1930s weren't quite so much fun after the Depression, to put it mildly, but mass production made the design of the twenties affordable for everyone, and it was the era of the screen goddess that everyone wanted to emulate, so every cloud had a silver lining.

Nostalgia
Or is it for you the lure of nostalgia that gives Art Deco collecting the cosy comfort of a familiar chair? That faded and neglected stuff that grandma chucked out because it was old and not fashionable anymore.  Is it making you yearn for the days when you sat in her kitchen and played with the Bakelite canisters that all fitted inside one another?  When the clock ticking on the mantelpiece was shaped like a hat and actually had to be wound up every day?  The photo frames had steps on the side and serious folk in sepia watched you with disapproving eyes. And you just loved all the green sparkly glassware that Aunty May served her tinned mandarins in.  The mirror in the hallway was a funny shape and the bedrooms actually had dressing tables with drawers full of mystery, and perfume bottles, enamelled brushes, compacts, powder and hairpins cluttered the surface.

The Colours
Oh, the wonderful colours that no-one was afraid to blend, or daringly clash........
Black and chrome.
Red and black.
Cream and green enamel or bakelite canisters
The deep orange of Clarice Cliff. 
Emerald green and midnight blue.
A touch of gold!
The flash and sparkle of diamonds!  Whether real or not!

Streamlining
The Age of Speed demanded clean, smooth, angular lines, inspired by ocean liners, automobile and aeroplane design.  Machines were the new gods.  None of this namby pamby pretty flowers and trees.  Now the world was modern and new.  Even Bakelite bracelets were designed to resemble radiator grills. Cool, metalic angular lines and bold colours gave everyday objects a new lease of life.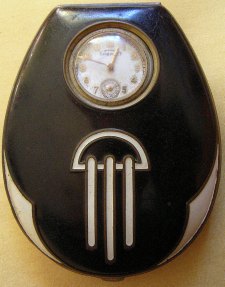 Stylish Design
That indefinable something that just shouts Art Deco. Is it those subtle parallel lines, or the little ziggurat around the label of the canister?  Or the divinely elegant shape of that fountain inspired brooch?  Maybe its that touch of the exotic from China, Africa or Egypt?  Perhaps a few tropical palms or some rare animal adorning a clock or sculpture?  Whatever it is, you can't miss true Jazz Age design.  

The Fun Loving and the Quirky
Above all, it had to be fun!  Scottie dog motifs, pop-up cigarette dispensers in the shape of cocktail bars, clowns, harlequins, wall masks, novelty cocktail shakers and swizzle sticks, bookshelves, radios and lamps in the shape of skyscrapers.  All just for the sheer joy of life!

As far as I'm concerned, you don't need an excuse for collecting 1920s and 1930s treasures.  A little bit of pleasure goes a long way and you only live once. So treat yourself.  I usually do.  But then I was away the day they gave out willpower.  Not to mention, I keep telling myself, we have a duty to rescue the so-called junk our grannies and aunties have been trying so hard to chuck out for the last decade or so.  In a few years all these bits and bobs will be bona fide antiques, and boy, will they be worth a few bob then.  So if you still really need an excuse for your collecting zeal, call it investing for the future, and you won't be so far wrong either.  Pick the best quality items you can, and look after them for your children and your children's children.  Use them, enjoy them, reinvent them and recycle them, but above all, treasure them.

So, put on your cloche hat, your beads and your bangles and come for a stroll down delicious Art Deco Lane.  We'll listen to jazz on the wind up gramophone, dance to the latest jazz records, play tennis and golf, then motor down to the beach to sunbathe.  Later we'll put our feet up in front of the Bakelite radio and drink tea from our new bizarre teapot, while admiring the latest Paris fashions in Harper's Bazaar. Once rested, we'll put on our Chanel little black dress with the beaded tassels and off we'll go again to party the night away.

We'll explore the exotic and modern designs of the 1920s and 30s with their fans, sunbursts, chevrons and ziggurats, the fusion of ancient and modern with the craze for Tutankhamen and Ancient Egypt along with jazz, speed and machine age geometry. 

Whether your passion is for posters, fashion,  jewelry,  Bakelite, glass or even Art Deco dogs, you'll find a wealth of information, books, images, and hundreds of collecting ideas and bargains here on Decolish.

Have a look down the buttons on the left – behind each one is a world of information, gorgeous images, and collectable bargain heaven! Each heading contains a page on the main topic, but there are lots of other pages hidden within those too!  So have a good old explore and find your favourites.  Check out the Decolish Book Store too for a handpicked selection of the best of Art Deco books all about your collecting passion.

Want to make sure
you don't miss anything?
Subscribe to Decolish News, and you will be informed every time there is anything new on Decolish.  Occasionally I will send out news on interesting Art Deco topics and events or let you know of a great collection or resource I've found on the web. You can be sure I will never give your email to anyone else, and you can unsubscribe at any time.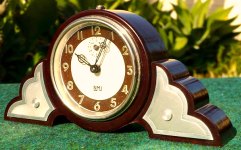 Photo by Scott Beveridge (rollerboy76) Sydney