1920s Fashion Forum

Share your Fashion Treasures with Everyone Here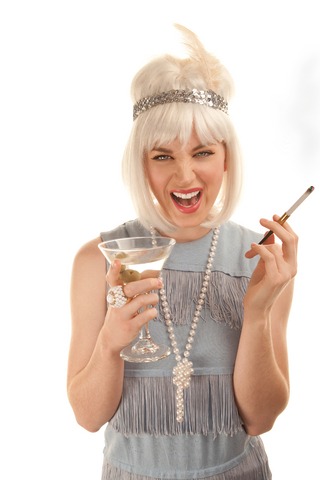 Do you like to dress up with your friends in 1920s costume, or do you collect 1920s fashion?  

Why not share your favourite treasures with us on Decolish and others will be able to admire your style and comment on your excellent taste!
---
1920s Fashion Forum
Chat about 1920s Fashion, get advice or brag about your latest purchase...

Are you a fan of 1920s fashion? Do you get dressed up in flapper costume and go dancing? Or are you a collector of gorgeous roaring twenties accessories, bags, makeup or hats?

Why not upload a picture and tell us all about it in the Decolish 1920s fashion forum.

Anyone can join in the fun.

Just describe your best 20s outfit or accessories, how you put it together, or why you like it. Where you wore it, or where you saw someone else looking stunning. Or share your latest amazing bargain or op shop find. Upload up to 4 photos to illustrate your story.

Decolish reserves the right to reject any post. Make sure you get permission if you're sending in a photo of someone else too. Its fine if the photos have appeared on your own blog, but let me know and I'll add the link to your blog. I can make it into a real link when I approve your entry.

Your entry will appear as a webpage on Decolish and can receive comments from other visitors

Happy Dress Ups Flappers!

See other forum posts
Click below to see the other forum posts - you can leave comments and let people know what you think about their style.


1920s - A Fashion Inheritance

I first became interested in 1920s fashion when I was at high school. All the other girls were developing interesting curves and I wasn't. I have heard …
Roaring 20s give me a Roaring feeling Not rated yet
When I was growing up and saw ladies wearing vintage garb I never knew what I was looking at or how to describe their "look." Now that I am older I know …
Go and shop for your Roaring 20s Fashions here
Decolish Home
>
Art Deco Fashion
> 1920s Fashion Forum
---
Click here for Art Deco Calendars 2017

Decolish News
Subscribe to Decolish News!  Occasionally I will send out news on interesting Art Deco topics, special offers or let you know of a great collection or resource I've found on the web.  You can be sure I will never give your email to anyone else, and you can unsubscribe at any time. 

---
And join our Facebook Page so you never miss a thing!

---