Flapper Dresses Have Never Gone out of Fashion!

---
Some links from this site lead to third parties who pay us a commission if you buy something.  This allows us to keep providing the information on this site free of charge! 
---
Flapper dresses are one of the most popular dress styles of all time and are still worn today. Possibly inspired by Coco Chanel's obsession with simplicity and a boyish flat chested look, this dress was the essential wardrobe item for the modern 1920s woman about town.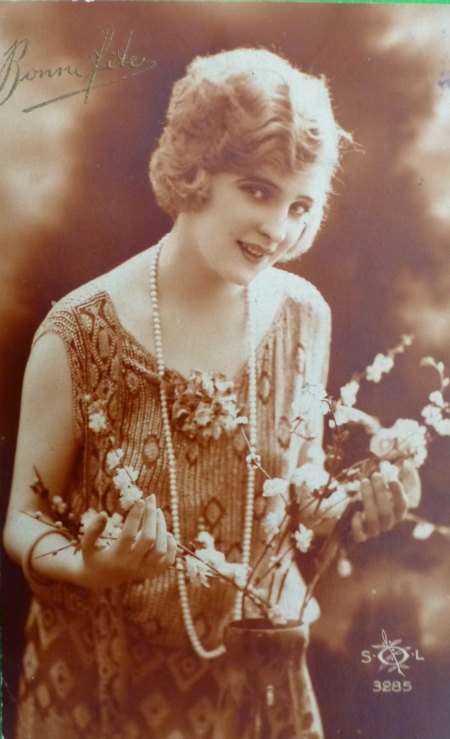 A timeless addition to any wardrobe!
Straight up and down, low waisted and with shorter hems than anyone had seen before, these garments were a revolution in the 1920s after the Victorian fashions which had come before.
Light chiffon materials which moved beautifully for dancing the the Charleston, beads and tassels which glittered and shimmered in the lights of the dance floor.  Hems would often have jagged edges, and show a little bit of stocking which may be rolled down to the knee. 
Showing a bit of stocking while dancing the Charleston - Buy Print Now
Coupled with a beaded cloche, turban or headband, a mesh purse hanging from the wrist, a cigarette holder and brash red lipstick, a girl was ready for anything.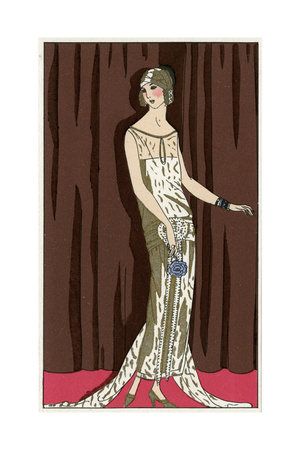 Lady in Evening Dress with Beaded Cloche and Mesh Purse by Jeanne Lanvin. Buy Now

How to Accessorise
Flapper Dresses
I have one of those extra wide bangles that were worn on the upper part of the arm.  It was my grandmother's and I wondered for a long time why it was so wide, until my mother explained.
I remember, after that, dressing up as a 1920s girl with a headband and a feather and that big bangle. It's still in my jewelry box, cheap metal and worthless, but priceless to me.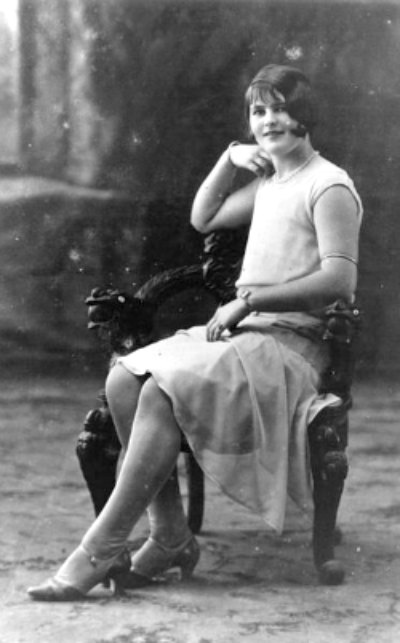 Flapper with Arm Bangle
A few of my Bakelite beads!
The flappers of the 1920s were the trend setters of the day.  Often criticised by their elders for their behaviour, they will always be remembered for pushing the boundaries for women, and showing us all how to have a damn good time! 
Even today putting on a shimmering, tassel or bead covered dress can't fail to have you looking like the bee's knees! 
Shop for Flapper Dresses

Unique Vintage flapper dresses are based on original designs and are super glamourous.  They ship worldwide. 

Or Shop for Flapper Dresses at Etsy 

Decolish Home
>
Art Deco Fashion
> Flapper Dresses

Etsy has a surprisingly good range of Art Deco furniture, interior decor, art and prints, 1920s and 1930s fashion, accessories, jewellery and Bakelite.  Click the banner to explore.  
---
---
Join our Facebook Page so you never miss a thing!


Like this Page