Bakelite Jewelry Obsession?

---
Some links from this site lead to third parties who pay us a commission if you buy something.  This allows us to keep providing the information on this site free of charge! 
---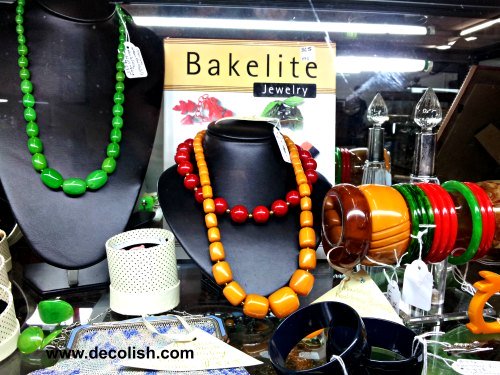 My Bakelite jewelry display at Mittagong Antiques Centre

What is it that is so wonderful about Bakelite jewelry?

I asked myself this question when I was recently interviewed for the local rag and they asked me this question. I came out with a rather silly answer - "It's almost good enough to eat!"  Since then, I realised that this kneejerk response was possibly not so stupid.

Caramel, butterscotch, applejuice, cherry amber, root beer, mustard - these are just some of the edible words I've seen to describe this marvellous jewelry, and some of my beads really do look and feel like toffee or caramel sweets. 


Me in the local paper!
I was never that much into jewelry until I met Bakelite. Who would have thought that mere plastic would hold so much more fascination for me than gold or diamonds? 
Marbled Caramel Bakelite Beads

Delicious Colours


Maybe its the colours - earthy colours like burgundy, lilac, emerald green, tortoiseshell and all shades of honey and amber, or brighter shades for summer like red, orange, brilliant yellow and grass green. 
Not to mention all the marbled, swirly mixtures of colours, or the transparent pieces with reverse carving and painted flowers, fish, animals and other fanciful designs that inhabit the world of Bakelite. 
Or perhaps it's just the beauty of early plastic, its history, its connection with that lively, elegant and sophisticated period we call Art Deco.
There are lots of pages here for you to learn about the different types, or read here about Bakelite Jewelry History.
Not strictly Bakelite, but inspired by it.  Lea Stein was an inspired designer of cellulose acetate plastic brooches.  Read more here.  
The great thing is that there is a piece for every occasion.  For frivolous occasions you can wear a brooch with cherries on it, or even a pin with a set of tools dangling.  There are necklaces with a whole fruit salad dancing on a Celluloid chain. 
If you want to be elegant, an Egyptian style collar or geometric shaped necklace will bring a touch of sophistication to any outfit. 
An arm full of bangles is great fun, or a big colourful ring will get you noticed when you hand over a ticket to the theatre.  Whether you like to be different and make a statement, or just like to wear a gorgeous coloured bead necklace to blend in with your outfit, there is something for everyone.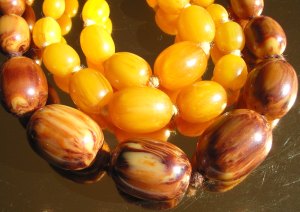 Marbled yellow and caramel Bakelite beads

Etsy has a surprisingly good range of Art Deco furniture, interior decor, art and prints, 1920s and 1930s fashion, accessories, jewellery and Bakelite.  Click the banner to explore.  
---
---
Join our Facebook Page so you never miss a thing!


Like this Page