Bakelite Jewelry History

---
Some links from this site lead to third parties who pay us a commission if you buy something.  This allows us to keep providing the information on this site free of charge! 
---
Bakelite jewelry history is a story of the jazz age, glamour and new fashions. 
It's fun to learn about the bright and colourful pieces that we still love collecting today.  It also helps us to collect the best and understand our pieces. 
Bakelite Rings
Bakelite was first invented in 1907 by Leo Baekeland, but it wasn't until the 1920s that a range of colours were introduced which meant that it became the perfect medium for jewelry production. 

It really came of age as a material for jewelry when it was promoted and worn by such prominent designers as Coco Chanel and Elsa Schiaparelli and frequently appeared in the pages of Vogue. 

Mind you, pieces by such designers weren't cheap, though they were among the first examples of "costume jewellery".  But the use of cheap materials by great designers gave plastics a respectability that meant that everyone wanted to wear them. 
By the beginning of the 1930s Bakelite jewelry was being mass produced and worn by everyone.  Costume jewellery sets were very popular with matching necklaces, earrings, bracelets and rings being bought together. 
Dress clips, bangles, brooches and pins were also worn by women of all ages.  Hair ornaments finished off the effect and all these gorgeous accessories could also be stored in a wide range of jewellery boxes.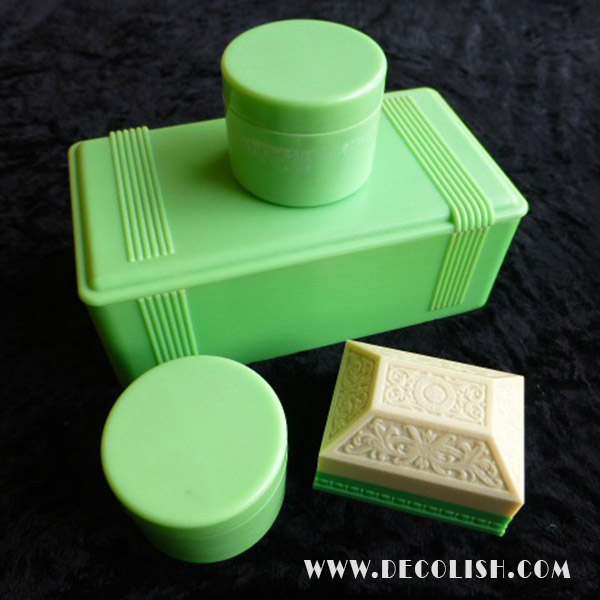 Bakelite Jewelry Boxes
In 1927 the Catalin Corporation was founded and introduced 15 new colours.  In fact up to 70% of so-called Bakelite jewelry around today is actually Catalin and they were especially famous for their Art Deco style radios too.  
Another cute colourful collectable which Bakelite jewelry lovers adore is the Bakelite crib toy. 
Bakelite Crib Toy by Jan Carlin
Bakelite Jewelry History in the USA

Many other companies got in on the act and plastic jewelry took off around the world. 
America is, of course, the home of Bakelite, being invented in New York by Belgian chemist Leo Baekeland and the majority of collectable Bakelite jewelry these days comes from the USA.  American plastic jewelry was playful and colourful, with bright and jazzy bangles with polka dots or laminated stripes or clips and pins, often with cute animals, birds or flowers.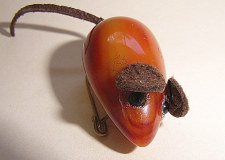 Bakelite Mouse Brooch
Bakelite Jewelry History in Europe

Bakelite was developing in Europe throughout the 1920s and the European style of plastic jewellery was more subdued and based on design.   Plastic jewellery was displayed at the Paris 1925 exhibition in the designer interiors of Paul Poiret alongside the glass of Lalique and the silver of Puiforçat. 
The French produced discreet, elegant designs and utilised the geometric Art Deco motifs of Egyptian, African and Aztec origin. 
While the German designers were influenced by the austere Bauhaus aesthetic.  
European pieces often used a combination of materials and mixed Bakelite with wood or metal, creating articulated hinged bracelets evoking the grills of their beloved new streamlined motor cars and radios.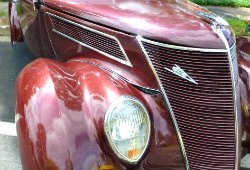 Today the most collectable (and expensive pieces) are the large carved bangles, some of the rarer geometric metal and Bakelite bracelets, some of the more unusual colours such as orange and blue and anything signed or rare. 
New from Old Bakelite

Beware that these days many artists are making new pieces from old Bakelite.   Some of these are signed but many are not, so do take care as some dealers are selling them as being vintage. 
If something looks really new and shiny and has new looking findings, it probably is newly made. 
I was unsure about this bracelet until recently, but I have recently had advice that it was made in 2005. 
It's still gorgeous though!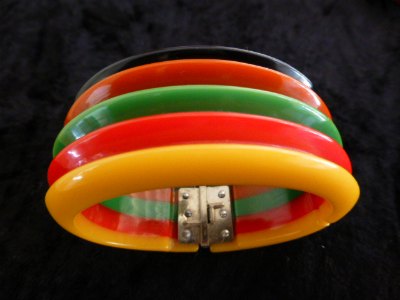 Multi-coloured Hinged Bakelite Bracelet - Artisan Made - New from Old

Other Collectable Early Plastics

Beautiful jewellery was also made in Casein, an early plastic otherwise known as Galalith.  This was used especially in France by fabulous Art Deco designers such as Jacob Bengel and Auguste Bonaz who made the most gorgeous hair ornaments. 
Celluloid was also used widely for jewellery, and although older than Bakelite, it is often cheaper, so a good start for an early plastic jewelry collection. 
And don't forget Xylonite which was used extensively in England and the USA for ring boxes and dressing table sets.
Etsy is a great place for learning more about Bakelite jewelry history, as you can see many images of different pieces and get a feel for the colours, different plastics and how to identify them. 
Click on the banner below to get to Etsy to search for gorgeous bakelite jewelry.

Etsy has a surprisingly good range of Art Deco furniture, interior decor, art and prints, 1920s and 1930s fashion, accessories, jewellery and Bakelite.  Click the banner to explore.  
---
---
Join our Facebook Page so you never miss a thing!


Like this Page