Paul Poiret, Art Deco Couturier

---
Some links from this site lead to third parties who pay us a commission if you buy something.  This allows us to keep providing the information on this site free of charge! 
---
Paul Poiret was largely responsible for the demise of the corset, for which we women should be eternally grateful! 
Having thrown away the corset in favour of the brassiere, for a brief time in the early 1910s Poiret then restricted women in the hobble skirt, but it didn't last, being so impractical, and impossible to get in and out of cars.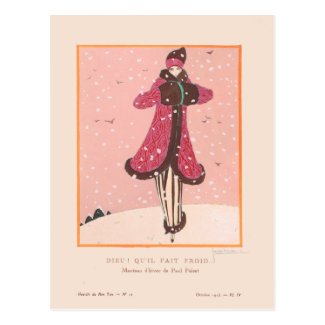 Qui'il Fait Froid by Lepape Postcard
by
lazyrivergreetings
View more Georges lepape Postcards at
zazzle.com
His short lampshade dress caused a real stir for a while and everyone had to have one.
He also liberated the modern woman from the restrictions of tight undergarments, narrow waists and long skirts.  His dresses hung from the shoulders, were loose and comfortable, but above all were decadent and luxurious.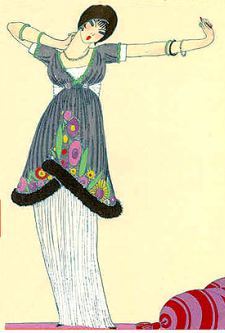 Paul Poiret Lampshade Dress in Gazette du Bon Ton. From Wikimedia Commons.

Exotic Influences

Hugely influenced by the arrival of Diaghilev's Ballet Russes in Paris in 1909, and the exotic sets and costumes by Leon Bakst, Poiret designed harem pants and turbans not just for the wild fancy dress parties he threw as part of his self publicity drive, but for wearing to the theatre and even on the street.

He made much use of velvets, silks, furs, lace and embroidery and adopted the brilliant colours of the Russian ballet as well as influences from Indian and Persian Art.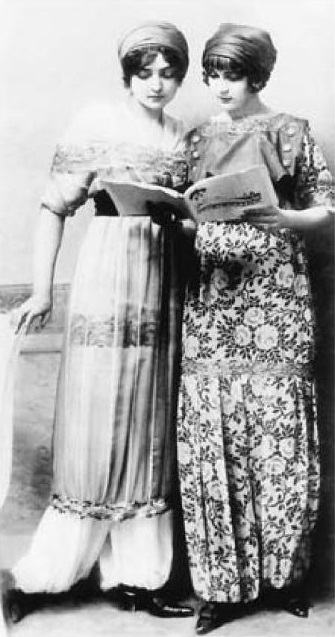 Harem Pants and Turbans, by PP. In L'Illustration, 1911, Wikimedia Commons

Paul Poiret Catalogues and Fashion Illustrations

He was the first fashion designer to commission artists of the day to create special catalogues of his work, and what catalogues they were - "Les Robes de Paul Poiret" by Paul Iribe in 1908 was followed in 1911 by "Les Choses de Paul Poiret" by Georges Lepape.  So beautiful were the works of art in the pages of these fashion illustration albums, that even a single page is now a highly sought after collector's item. 
Poiret's designs inspired many of the era's best illustrators such as Georges Barbier, Paul Iribe, Georges Lepape and the theatre designer Erté.  Many of the gorgeous illustrations which appeared in magazines such as the Gazette du Bon Ton, Art Gout Beauté and Modes et Manieres d'Aujourdhui have become Art Deco classics and have been reproduced as posters, prints and in countless books ever since. 
See more Art Deco Fashion Prints here.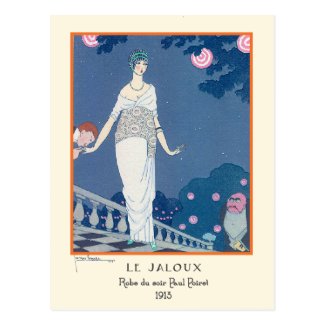 Le Jaloux by Lepape Postcard
by
lazyrivergreetings
Check out more Georges lepape Postcards at
Zazzle

Interior Design and Perfume

Poiret was the first fashion designer to branch out into interior design and perfume, creating the Atelier Martine named after one of his daughters, and Parfums de Rosine after the other. 
He was not so lucky as Coco Chanel during World War I, which he spent redesigning soldier's great coats in order to save fabric. 
Although he created many designs and decorated three barges in Art Deco style for the 1925 Paris "Exposition Internationale des Arts Décoratifs et Industriels Modernes" he didn't recover for long after the war.  Mass production had taken hold and women wanted trousers, uniforms, work clothes, none of which were Poiret's forte.
Coco Chanel had taken the fashion world by storm with her sporty clothes, her military style smart jackets, her little black dress and the chic and modern Chanel No. 5. 

Sadly this innovative designer went bankrupt in 1929 and died in poverty in occupied Paris in 1944.

He left us a fabulous legacy of designs to enjoy though.  
Shop Paul Poiret prints at Etsy.
Decolish Home
>
Art Deco Fashion
> Paul Poiret

Etsy has a surprisingly good range of Art Deco furniture, interior decor, art and prints, 1920s and 1930s fashion, accessories, jewellery and Bakelite.  Click the banner to explore.  
---
---
Join our Facebook Page so you never miss a thing!


Like this Page