Art Deco Prints - The Best of 20th Century Design

---
Some links from this site lead to third parties who pay us a commission if you buy something.  This allows us to keep providing the information on this site free of charge! 
---
Art Deco prints, both originals and reproductions, are fabulous to collect and a great way to decorate your home.  The 1920s in particular represented the heyday of lithographic art, particularly in Fashion illustration, where the high quality stencil lithograph (or pochoir) was widely used.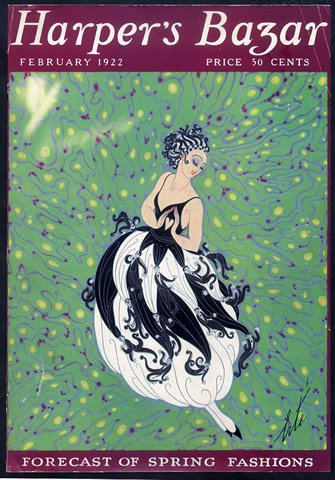 Harpers Bazaar Cover 1922 By Erté via Wikimedia Commons
Pochoir prints are sought after today as they were such incredibly high quality and have stood the test of time.  Paul Poiret costumes feature widely in Pochoir prints, superbly illustrated by the best artists of the day such as Georges Barbier and Erte.  These prints appeared in the magazines of the day, publications such as Gazette du Bon Ton and Art Goût Beauté.  It is rare to find intact copies of these now, as they have all been taken apart for the prints.  So a complete copy is a real treasure. 
Redfern Dress Illustrated By Francesco Javier Gose in Gazette du Bon Ton via Wikimedia Commons
Due to the developments in printing techniques the magazines, catalogues and books of the Art Deco era contain some of the most beautiful prints ever produced.  Later in the century printing became more mechanized, the quality of paper became cheaper and magazine printing quality deteriorated.  The advent of photography also meant that artist produced images were a thing of the past.

But the quality of the prints contained in magazines, catalogues and books of the Art Deco era often means that these are now sold as individual pages and there is still a large quantity of collectable and affordable images available.


Art Deco Prints of Advertising

Chocolate Ad from French Magazine L'Illustration
With better printing methods and more colours available, advertising was big business in the 1920s and 1930s and the advert and the poster became major expressions of the artists' and designers' art.  Advertisements for foods, cigarettes, cosmetics, travel, shipping, automobiles, railways, sports, theatre, movies and much more would appear as large posters and also in the magazines of the day.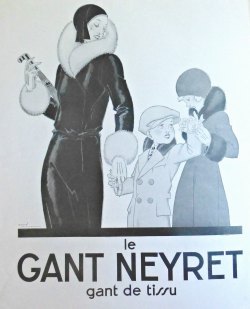 Glove Advertisement from L'Illustration
Both posters and prints from the magazines are widely collected as originals, or as reproductions.
Make sure you know which you are buying, and choose a reputable seller with good feedback ratings. 
Check out the Art Deco prints from Etsy. 
Learn about Original Art Deco Fashion Prints

More about Art Deco Design - Posters

Etsy has a surprisingly good range of Art Deco furniture, interior decor, art and prints, 1920s and 1930s fashion, accessories, jewellery and Bakelite.  Click the banner to explore.  
---
---
Join our Facebook Page so you never miss a thing!


Like this Page