Art Deco Fashion

---
Some links from this site lead to third parties who pay us a commission if you buy something.  This allows us to keep providing the information on this site free of charge! 
---
Art Deco Fashion was one of the major artistic influences of the 1920s and 30s and the looks endure today as some of the most popular styles ever.  

Read about the designers and history below or choose to explore  our extensive range of pages.  There's tons of information, and listings of gorgeous vintage items to buy too.  
1920s and 1930s Fashion Pages

Check Out Art Deco Fashion at Etsy! 


Art Deco Fashion Designers

The Paris fashion industry in the 1920s was worth 2.5 billion francs in exports and had its own pavilion at the Art Deco Expo dedicated to "La Parure", a word which invoked ornamentation and beauty.
Three major Paris couturiers were on the board of organisers, Jeanne Lanvin, Jean Paquin and Paul Poiret and they ensured that the displays of fashion, accessories, jewelry and perfumes were a "tour de force" of luxury, refinement and exoticism and were regarded as art forms in their own right.

There was a fusion of inspiration between artists, painters and designers. The painter Sonia Delaunay's shop at the Expo displayed fabrics and clothing designs in her dazzling Cubist and geometric motifs. While the fashion designer Paul Poiret decorated three exhibition barges floating on the banks of the Seine with his comfortable Art Deco living spaces.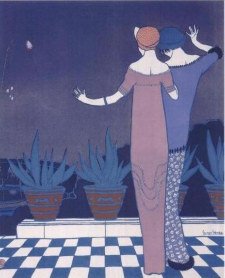 Fashion by Paul Poiret, illustrated by Georges Lepape in Les Choses de Paul Poiret, 1911. From Wikimedia Commons
Check out Paul Poiret's glorious fashions here

The arrival of Serge Diaghilev and the Ballet Russes in Paris in 1909 had transformed French design. The Oriental splendor of Leon Bakst's set and costume designs led to fashion designers such as Paul Poiret introducing the brilliant oranges, bright blues and greens into their increasingly exotic garments.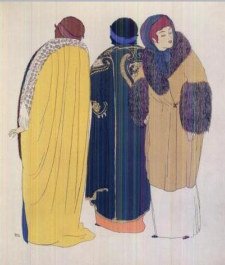 Evening Coats by Paul Poiret, Illustrated by Paul Iribe in Les Robes de Paul Poiret,1908. From Wikimedia Commons
By 1914, Jean Worth, head of one of the longest-lived haute couture houses in Paris commented that "the sweet reasonableness of the previous generation had been forgotten... It seems to synchronize with the growing restlessness of this age, an age of fast motors and flying machines and feverish craze for excitement and distraction".
This outpouring of visual splendour gave rise to a new breed of fashion illustrators such as Charles Barbier, Paul Iribe and Erté who brought the fashion magazine into the realm of fine art.
See more beautiful Art Deco fashion prints
Magazines such as the Gazette du Bon Ton and Art Gout Beauté were true works of art influenced by the avant-garde painters such as Matisse and fauves, the exoticism of Gauguin and the Japanese prints which had been exhibited in Paris in the 1880s and 1890s.
The backdrop to the garments were as important as the clothes themselves and depicted a theatrical world of opulence, luxury and the glamour of Art Deco.
Coco Chanel

Coco Chanel's designs were in complete contrast to the opulence of the Art Deco Fashion designers.  Her motto was to simplify and to make women comfortable.  Her revolutionary way of dressing has endured to the present day.  Read more about Coco Chanel here. 
Check out the listings for Art Deco Fashion on Etsy. They include prints, clothing, books and accessories: 
Click here for everything Art Deco Fashion from Etsy!

Etsy has a surprisingly good range of Art Deco furniture, interior decor, art and prints, 1920s and 1930s fashion, accessories, jewellery and Bakelite.  Click the banner to explore.  
---
---
Join our Facebook Page so you never miss a thing!


Like this Page