Why Collect Art Deco Cigarette Cases?

---
Some links from this site lead to third parties who pay us a commission if you buy something.  This allows us to keep providing the information on this site free of charge! 
---
Art Deco cigarette cases are really beautiful, and you don't have to smoke to use them.  There are lots of ways you can bring these beauties back from oblivion! 

Now I'm the first to admit that smoking is totally non - PC these days and I hate smoking myself.  But the cigarette cases from the Art Deco era are such beautiful objects, that it seems a shame to ignore them. The flappers of the 1920s wouldn't have left home without one, as smoking was seen as chic, daring and feminine in those days. 

Often similar in design to compacts, cigarette cases were made from many different materials.  The best quality ones were of gold and silver with enamel.  Precious stones may have adorned the edges, if they were made by the best jewellers of the day like Cartier or Tiffany. Often they were engine turned, a new way of decorating metal which was a bi-product of the new industrialised age. 

Bakelite and other early plastics were a cheap alternative and are now highly collectable.  A whole range of smoking accessories were made in Bakelite including novelty cigarette dispensers, boxes and cases.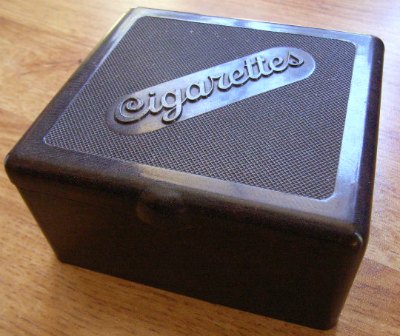 Be careful with Tortoise Shell - like ivory its now illegal to trade in it, and it's illegal to list genuine tortoise shell on Ebay.  Make sure that it is actually faux tortoiseshell - ie early plastic and much more desirable in my opinion!.  If you believe a listing to be genuine tortoiseshell (the same applies to ivory) please report it to Ebay.  If you buy these products from antique dealers who you trust and are assured that they are pre-ban, then you are probably OK, but personally I'd rather steer clear of these materials.   
Quirky Designs on Art Deco Cigarette Cases

I've seen some lovely designs on Art Deco cigarette cases - nude ladies, chic Art Deco Fashions, antelopes, elephants and scottie dogs, as well as the angular, geometric designs so well known from the period.  

If you don't smoke like me, they could be used for business cards, for chewing gum, for mints, for pills, for a whole range of uses today. 
So don't neglect the chic and stylish 1920s and 30s cigarette cases.  They make a great collectable (smoking collectables even have their own name these days - tobacciana!) and a useful present for the man or woman who has everything, even if you have to make suggestions about how it can actually be used! 

Of course, there will still be smokers around, and I don't wish to offend.  There is still a smoker in my family, so we have to respect everyone, and if you're going to smoke, you might as well enjoy the best accessories to go with it! 
Check out the great examples on Etsy by clicking the banner below. 

Etsy has a surprisingly good range of Art Deco furniture, interior decor, art and prints, 1920s and 1930s fashion, accessories, jewellery and Bakelite.  Click the banner to explore.  
---
---
Join our Facebook Page so you never miss a thing!

Decolish Home
>
Art Deco Fashion
> Art Deco Cigarette Cases

Like this Page