Collectors Guides and Books on Art Deco
---
Some links from this site lead to third parties who pay us a commission if you buy something.  This allows us to keep providing the information on this site free of charge! 
---
Decolish brings you the best Collectors Guides on Art Deco at the best prices worldwide!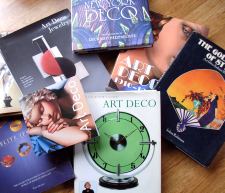 I just can't resist books of any kind, but especially the ones on all areas of Art Deco, but I console myself with the thought that Art Deco is one of the few categories where books seem to keep their value.
When I see Art Deco books on sale at auctions (rare!) they attract fierce bids. And they are very expensive in secondhand bookstores. 
So I buy my Collectors Guides at bargain prices online and keep them for ever.  In the Decolish stores I have created for you below you'll be able to find great bargains.  I just got a ceramics book for $3.50!  OK it was a library copy, but I say, save money, recycle and keep them out of landfill!
You'll find the secondhand prices once you click through to an individual book title.
Decolish Bookstore for USA and Worldwide Art Deco fans
Decolish Bookstore for UK and European buyers
The first Art Deco book in English was written in 1968 by Bevis Hillier, who it can be claimed coined the expression to describe the decorative arts of the 1920s and 30s, taking the name Art Deco from the 1925 "Exposition Internationale des Arts Décoratifs et Industriels Modernes". 
At the time, the new styles went under the names of Modernism, Art Moderne, Futurism, Cubism, Expressionism and Streamlining.  But the era needed a unifying term to define what nowadays we immediately see as Art Deco.
Different Categories of Art Deco Books
Since the 1960s Art Deco has undergone a huge revival in popularity which has continued to the present day. With hindsight and the passage of time, hundreds of authors have continued where Bevis Hillier left off, in cataloguing, analysing and celebrating the artistic expression of the Art Deco era. 

There are now a plethora of Collectors' Guides and Art Deco books which describe the development of artistic expression in the first decades of the century, as well as books on the different crafts which found expression in Art Deco. 
Art Deco Architecture, Fashion, Jewellery, Compacts, Makeup, even Hairstyles all have their own books dedicated to them.  Ceramics, Silver, glass, furniture, whatever your collecting interest, there are a multitude of books dedicated to the subject. 
You can also search for books on specific designers, or artists, such as Cassandre for posters, George Barbier's Art Deco fashion, Puiforcat for silver, Clarice Cliff's ceramics, or Ruhlmann for furniture.
Many books describe specific Art Deco places like Napier in New Zealand, or even individual buildings like the Chrysler Building.  



Buy Collectors Guides on Art Deco From Your Own Region
I've put together some ideas for buying collectors guides and books on Art Deco in different regions of the world, so you can get the best prices for your region. 
If you're in Europe or Australia,or anywhere else in the world, don't be afraid to look at the pages for American buyers from Amazon.com – sometimes its actually cheaper to buy a book from the USA even with the international shipping, so shop around! 
Both Amazon USA and Amazon UK also offer second hand books from other sellers. Its also worth looking at both Amazon stores as a book available on one may not be on another. You can find some amazing bargains! 
   
I've also put together a collection of my favourite shows on TV which are set in the the Art Deco era.  Check them out on the bookstore for your region from the links below.  
Jeeves and Wooster is a real winner – the sets, interiors and even the opening graphics are so stylish Art Deco, and the scenes with Jeeves partying in New York are pure Jazz Age magic!  

The House of Eliott is perhaps the best ever costume drama, telling the story of history of fashion in the 1920s through the eyes of two glamourous sisters who open their own couture fashion house. 

And then, of course, there is the great detective Poirot who never goes anywhere that is not styled with the best of chic Art Deco. 
 
I've also put some of my favourite Collectors Guides and book ideas on my Decolish pages for different aspects of Art Deco design, so check out the pages for your special interests too. 

Happy hunting!

Etsy has a surprisingly good range of Art Deco furniture, interior decor, art and prints, 1920s and 1930s fashion, accessories, jewellery and Bakelite.  Click the banner to explore.  
---
---
Join our Facebook Page so you never miss a thing!


Like this Page