The Wonderful Variety of Art Deco Posters
---
---

Art Deco posters arose from a time when mass consumerism was new and exciting. 
In the 1920s and 1930s there were so many advances in industry and technology - new ways of travel, new products, new leisure activities.  All these had to be promoted, and the advances made in printing during the previous 20 - 30 years meant that full colour posters could now be mass produced cheaply.
Posters became an art form in the Art Deco Era.  Perhaps more than any other medium, posters were able to express the style, the mood and the feel of the Jazz Age.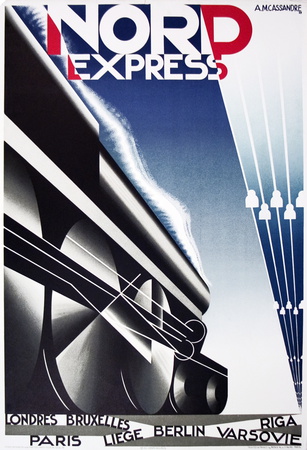 Nord Express by Adolphe Mouron Cassandre - Click to Buy Now
All the images on this page are available as posters from Art.com. Just click on the image to get to the store. Most posters are available in different qualities, sizes and prices, so do a search for the title and see what versions are available of your favourite Art Deco Artists. Or for originals, scroll to the bottom of the page.

Graphic Design and Advertising

The role of the graphic designer was born.  Posters were used to promote absolutely everything from theatre performances to pianos, from cruise liners to days out in the country, from cigarettes and alcohol to soap and toothpaste.  Even the local optician.  Everything that could be sold was a fair subject for the Art Deco poster. 

The poster artists of the Art Deco period will be remembered far longer than most of the painters working in the Fine Art of the period.  They captured the spirit of the age in a way that no other craftsmen were able to achieve.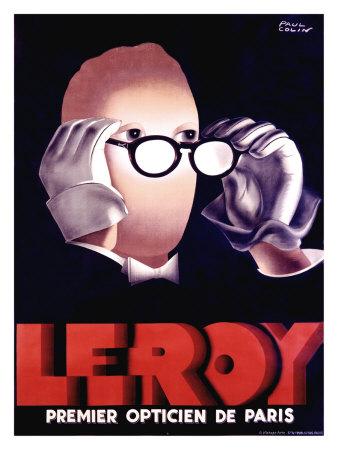 Leroy Optician by Paul Colin 1938. Click to Buy Now at Art.com

Theatre and Movie Posters

Theatre going was enormously popular with all levels of society.  Music Hall was going strong, and by the late twenties, jazz was arriving from the USA.  "La Revue Negre" starring Josephine Baker took Paris by storm in 1925 and was to have a huge influence on culture and art for a long time to come.

Paul Colin's poster for Josephine Baker's debut in La Revue Negre is one of the most well-known Art Deco posters. 
See more Paul Colin Posters here.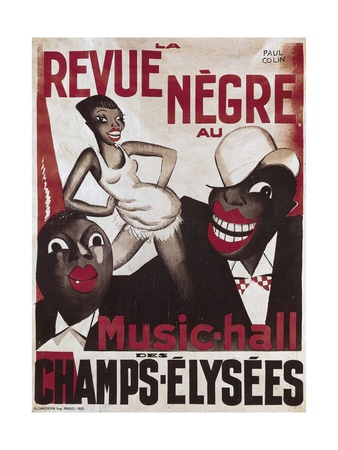 Paul Colin Poster Revue Negre from Art.Com. Click to Buy.

Ballet Russes Posters

The colour and exoticism of the Ballet Russes also had a huge influence on Art Deco style and many posters were produced for their productions.
Poster for the Ballet Russes with Diaghileff 1927. Buy Now from Art.Com

Silent Movie Posters

Silent films were one of the main forms of entertainment throughout the 1920s, with the advent of the talkies creating even more of a sensation in 1927 with opening of The Jazz Singer. 
One movie which has become an Art Deco icon, and inspired several artists to produce striking Art Deco posters was Fritz Lang's Metropolis.  This futuristic movie still looks modern today, and the posters have remained some of the most popular images ever produced.
Movie Poster for Metropolis 1926. Click to Buy Now.
Buy Metropolis on DVD - Fully Restored Version including Lost Footage

Transport and Travel Posters
It was the age of luxury travel.  Europe and America were competing to see who could build the fastest and the most luxurious cruise liners.  The SS Normandie, for example, was a showpiece of the French government and many of the best Art Deco craftsmen and artisans were commissioned to decorate her interior.  Many of the most memorable posters of the Art Deco period are for ocean liners and shipping companies.  Artists such as Adolphe Mouron Cassandre, Colin, Sebille, Viveiros, Patrone, Ten Broek, all produced striking Art Deco style posters for shipping companies. 

See more Cassandre works here. 
Amerique du Nord by Patrone. Click to Buy Now.
Railways were coming into their own as a means of leisure travel too.  Companies such as the London Underground, London Tramways and London Transport commissioned posters to promote the railways for days out in the country, and holiday travel.  Many well-known British and International artists produced posters for London Transport, depicting such attractions as London Zoo, or Kew Gardens. 
London Tramways Poster by RF Fordred, 1932 - Buy Now from Art.com
The most valuable of the London Underground posters these days is the one by Man Ray from 1939, with a space craft looking very much like the the company logo.  It fetched the highest price ever for a transport poster at auction when it reached $42,000 in 2007. 

Perhaps the most prolific of the artists used by London Transport was the American expat Edward Mcknight Kauffer who was one of the first artists employed by Frank Pick, the forward thinking general manager of the London Underground, whose inspiration it was to commission the wonderful series of posters which have become an important Art Deco legacy. 

Aeroplanes were now becoming the mode of leisure travel for the rich and idle.  There was an enormous interest in speed and everything became streamlined in response to the craze.  A wide range of airline posters promoted the beauty of the aeroplanes themselves, the luxury of flying in them, and the exotic places they could reach.
Poster for TWA 1934. Click to Buy Now.

Sports and Leisure
Tourism really took off in the roaring twenties.  Whether you could afford to take a bus to the local countryside, or a cruise liner across the Atlantic, posters advertising leisure and travel were everywhere.  Both domestic and exotic destinations provided a rich vein of inspiration for graphic artists.  One of the most collected of tourism Art Deco poster artists was Roger Broders who produced stylish images of the most fashionable resorts.
Look at more Roger Broders posters here.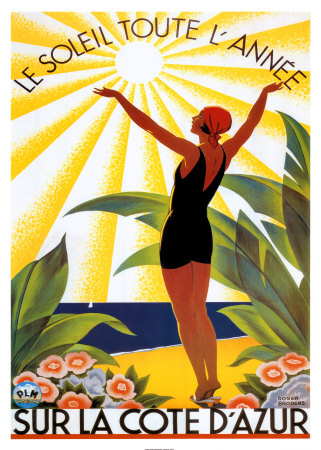 Soleil Toute L'Annee by Roger Broders. Buy Now at Art.com
Fitness was all the rage too, with women as well as men now taking part in a wide range of sports.  Golf, Wintersports, Dancing, Swimming and Motoring were all extremely popular.
Fashion and Beauty
The sheer quality of the printing techniques used to produce fashion plates for catalogues and magazines in the early part of the century has meant that many of these gorgeous designs have survived. 
Fashion prints and posters are perhaps still some of the more affordable original Art Deco art to collect, though many have been reproduced and are available as modern posters. 
The couturier Paul Poiret was one of the most influential designers in commissioning artists to create images of his garments. His fashion inspired a range of the most talented artists of the day, such as Georges Barbier, Paul Iribe, Georges Lepape, Natalia Goncharova whose theatrical style owed much to the influence of Leon Bakst and the Ballet Russes.
See more Paul Poiret fashion designs here.
Water 1925 - A Pochoir Print by Georges Barbier. Click to Buy

Discover more about Art Deco Posters:

Click here for Collecting Original Posters and Conservation
Read about More Important Deco Poster Artists
Or check out the listings for original posters on eBay USA and UK here below: 
Decolish Home
> Art Deco Posters
---

Etsy has a surprisingly good range of Art Deco furniture, interior decor, jewellery and Bakelite.  Click the banner to explore.  
---
Join our Facebook Page so you never miss a thing!

---