Paul Colin's Jazz Age Posters
---
Some links from this site lead to third parties who pay us a commission if you buy something.  This allows us to keep providing the information on this site free of charge! 
---
Paul Colin (1892 – 1985) was a master of the Art Deco poster.  With over 1900 posters and many book, theatre set and costume designs to his name, he was one of the foremost graphic artists of the period.
He is best known for his poster for La Revue Nègre in 1925.
The  star of this show, Josephine Baker, took Paris by storm.  She was an African American singer, dancer and all round entertainer who caused a sensation with her revealing costumes, banana skirt and live cheetah. 
The poster for this memorable show, depicts "La Baker" with two black jazz musicians, in brilliant red and black stylised caricature. 
Revue Negre. Buy Now

Paul Colin and his Lover Josephine Baker

Having become the lover of Josephine Baker and a life-long friend,  Paul designed many other posters for her performances and for her recordings, and helped promote her career. 
She, in return, was his muse and inspired many great artworks which have remained popular to this day. 
Here is an interesting article about his series of works called 'Le Tumulte Noir' or 'The Black Craze' which was inspired by Josephine and published in a portfolio in 1929. 
Bal Negre 1927. Buy Now
Colin designed posters for many other artists and theatres including the Folies Bergères, the Moulin Rouge and the Théâtre des Champs Elysées.

He produced posters for festivals and exhibitions, transport and travel companies, the Wiener and Docet Piano Company, the French Loterie Nationale,  and products such as cigarettes and alcohol.
He designed French film posters, such as Le Voyage Imaginaire, and also produced stage and costume designs for the theatre. 
Although not as well-known as Cassandre , his work is highly collectable.  An original of his 1929 poster "La Revue Black Birds at the Moulin Rouge" is valued in excess of ₤100,000 in Miller's Art Deco Collector's Guide.


Many graphic artists and designers benefited from the "Ecole Paul Colin",  a school for the graphic arts in Paris where he passed on his skills for more than 40 years.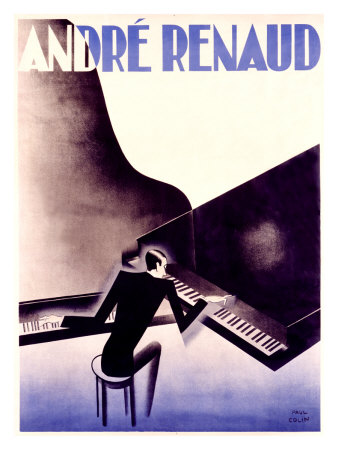 Click to Buy Now
His designs contain elements of jazz, bold striking colours, and influences from both Cubism and Surrealism.  Highly stylised, or caricatured human forms are oddly juxtaposed with geometric overlapping objects like a Cubist collage.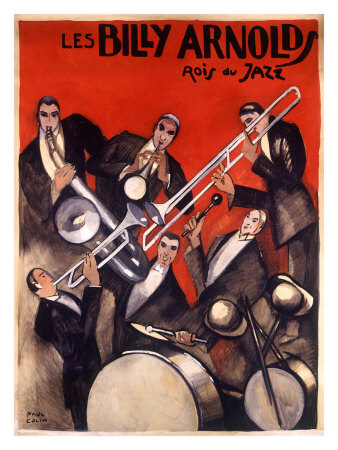 Kings of Jazz. Buy Now
Check out the full range of Paul Colin's posters at Etsy

For original posters, check out Rare Posters.com, or read more on my page about Collecting Original Art Deco Posters.
Decolish Home
>
Art Deco Posters
> Paul Colin

Etsy has a surprisingly good range of Art Deco furniture, interior decor, art and prints, 1920s and 1930s fashion, accessories, jewellery and Bakelite.  Click the banner to explore.  
---
---
Join our Facebook Page so you never miss a thing!


Like this Page