Art Deco Interior Design - Learn How to Get the Look!

---
Some links from this site lead to third parties who pay us a commission if you buy something.  This allows us to keep providing the information on this site free of charge! 
---
Art Deco interior design is one of the most enduring styles of decorating this century.  It still looks modern and it has been revived over and over again without getting stale.

This page is all about Art Deco interior decorating, what it is, its history, and how to use it in your own homes.  I'll also point you in the right direction to lots of ideas and resources to get you started.  It's fun and a great way to decorate.
There are lots of pages to choose from, which you can see in the thumbnails below, or continue to read through the history and get more ideas. 

Each of the pages below give you lots of Art Deco Interior decor ideas about accessories and furnishings. 

Art Deco Interior Design -
A Bit of History
It began in 1920s Paris, where some of the most luxurious and over the top furniture and décor was produced.   No expense was spared on materials.  The 1920s saw the rise of the "artiste décorateur", often artists or architects who became all round interior designers who would be engaged by the wealthy to oversee the design of their entire apartments or houses.

An example of this was the bedroom suite of rooms created by Armand Albert Rateau for the famous couturier Jeanne Lanvin as seen in the print above. This was such an incredible piece of Art Deco design that it has been totally reconstructed in the Musée des Arts Décoratifs in Paris.  The bedroom is an unusual cornflower blue and white, not colours normally associated with Art Deco, and the bathroom is in cool and serene shades of cream and black. 

Other notable "artistes décorateurs" were Jacques Emile Ruhlmann whose father was a traditional cabinet maker. He carried on the family tradition, but as well as designing some of the best quality Art Deco furniture ever, also made over entire houses for wealthy clients.  He also became very popular in the USA after the department store B. Altman started stocking his furniture.
Above is an interior designed by Ruhlmann for the sculptor Joseph Bernard at Boulogne which is now at the Musée des Années 30, Boulogne-Billancourt.
Paul Poiret as Interior Designer

Another of memorable proponent of Art Deco interior design was Paul Poiret, who is better known as a couture fashion designer.  He founded a workshop called "Atelier Martine" where he employed street girls who went out painting flowers which he used in designs for fabrics, textiles, furniture and whole interiors.  Poiret displayed his interior design work on three barges on the Seine at the Paris Expo in 1925.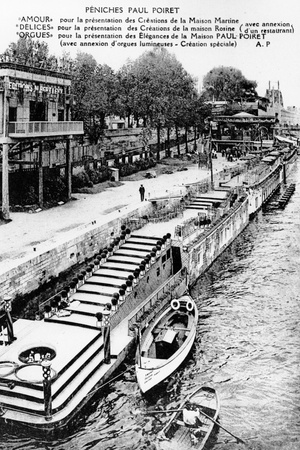 Paul Poiret's Barges on the Seine for the 1925 Expo.
1930s Modernist Tubular Design

Later, in the 1930s more modern influences were at work, and Art Deco interior design became more widely available with the advent of cheaper materials and mass production.  Some of the modernist designs such as tubular chairs have become design classics and have been reproduced to this day.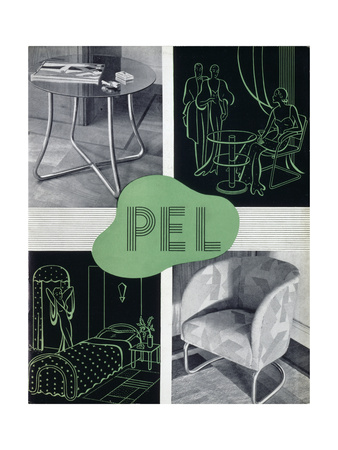 Late 1930s Pel Tubular Furniture Advertisement.
Art Deco Interior Design in London

It took a while for Art Deco interior design to spread from Paris to the rest of the world.  There were a few stores in London such as Heals which stocked high quality Art Deco design,  and there were one or two British designers in the style who catered to the elite, such as Betty Joel, whose Hollywood glamour attracted clients such as the Royal family and the Savoy Hotel.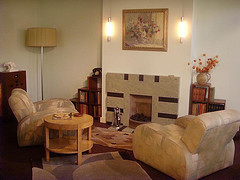 A gorgeous living room from the Geffrye Museum London
Modernist Skyscraper Design in the USA

The opulence of the 1920s never really took off in the USA, with only a few elite designers such as T.H. Robsjohn Gibbins whose most important patron was Conrad Hilton. 

In the 1930s the more modern style of Art Deco interior decorating inspired by the modernists and Skyscraper architecture became fashionable in the USA. 
Designers such as Donald Deskey, Paul Frankl and Norman Bel Geddes made stylish design accessible to the middle classes for the first time in department stores.  Deskey was primarily remembered for his interiors for Radio City Hall, but he created hundreds of economical designs in the 1930s in Bakelite, cork, aluminium and steel which were available in his stores.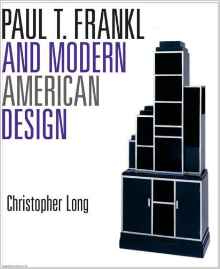 Buy Book Now on Amazon
In the 1930s, speed and streamlining was the craze everywhere.  The austere modernist design of the European Bauhaus was made more human and accessible for American consumers by designers such as Raymond Loewy and Henry Dreyfuss.  Streamlining was applied to all kinds of everyday objects, even those for which speed was completely irrelevant like the toaster and the fridge! 

Loewy's streamlined design for the Coldspot refrigerator helped sales to jump by 600%!  The model 302 Bakelite telephone designed by Henry Dreyfuss sold 160 million sets.  It was a popular streamlined shape with a clever holding slot at the back.  These are so well known from films right into the 1950s and 60s and are highly collectable today.  

Decoration was minimal and form was everything.  Steel, chrome, Bakelite and other new and affordable materials were being used by even the most famous designers.  But the styles filtered down to the factories mass producing interior décor for everyone.  Cheaper veneers and Bakelite were used instead of expensive solid woods.   Synthetic varnishes were developed which replaced the labour intensive japanese lacquers.  Tubular steel furniture started to appear everywhere and suddenly everyone could afford to be fashionable within their homes.  Many of the designs of the 1930s were so practical and stylish that they are just as popular today as the day they were invented.  One such example is the familiar anglepoise lamp, invented in 1933 by George Carwardine, an English automotive engineer.  
It was the age of the machine, and function inevitably led to an efficient but pared down form which somehow also managed to look incredibly chic.

Today Art Deco Interior Design Is Easier Than Ever.

It's a good idea to start with one element of the room, and then work around that. 

Whether you have a 1920s or 1930s house or flat, or something more modern, Art Deco elements can easily fit into your interior décor.  I've just moved into an 1890s federation house and a lot of my deco things look perfectly at home here too. 

According to some of the design shows I've been watching on TV, these days it is right on trend to mix and match vintage with modern, old and new, and Art Deco pieces fit into those kinds of schemes so well.   Because they were at the height of modernity when they were first designed,  they still fit into a minimalist,  or a shabby chic or even a more traditional interior. 

So be daring, and choose what you like.  Don't worry too much about the final result, be bold and enjoy experimenting with different looks. 
Get some more inspiration from this marvellous book by Patricia Bayer:  Art Deco Interiors: Decoration and Design Classics of the 1920s and 1930s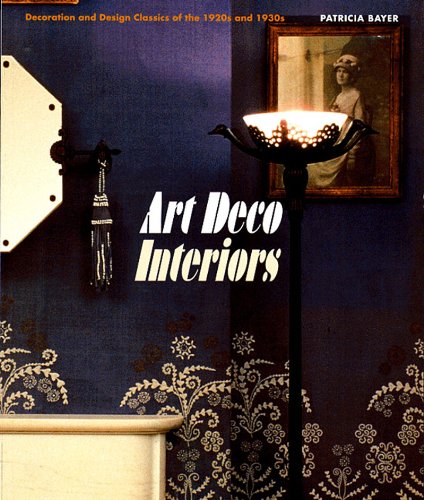 Buy Now
Art Deco Interior Design - Wallpapers
Why not create a feature wall with an incredible patterned Art Deco wallpaper.  Metallic colours were in vogue, geometric shapes and lines, or exotic colourful oriental designs.  Strong colours were popular, like a Clarice Cliff burnt orange, or a bright red, or fuchsia pink, but you could also go for a supremely elegant and sophisticated palette of creams, beiges, and wood colours, set off with a few accent pieces such as a sculpture.  Although botanicals were definitely out, along with pastel shades, flowers or animals which were more abstract or stylised, exotic or oriental looking were definitely in.

I haven't got around to papering a whole wall, but I have bought a stunning piece of Florence Broadhurst wallpaper and had it framed as a piece of artwork for the wall.  It looks so good, and everyone is really impressed when they see it. 

See my framed Florence Broadhurst and more Art Deco Wallpaper here.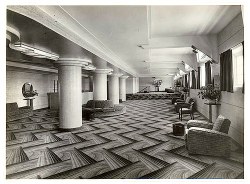 Art Deco ZigZag Carpet

Art Deco Interior Design - Floors
Wall to wall carpeting was popular, either in a plain colour, or a geometric design.  Parquet flooring in a zig zag pattern would be set off by an amazing colourful rug.
Or if you really wanted to go to town, an exotic animal skin like a zebra would be the go! Often linoleum or black and white tiles with a checkerboard design would be used for kitchens or bathrooms. 
Art Deco Interior Design - Furniture
If you can afford it, choose the best that money can buy from specialist dealers or auction houses.  If you are like me, you will have to make do with the more affordable pieces which are still available in most towns very cheaply. 
I think it is a great idea to pick up the best quality items that you can while they are still inexpensive.  Soon the stuff our grandparents have been throwing out for years will be antique and getting harder to find.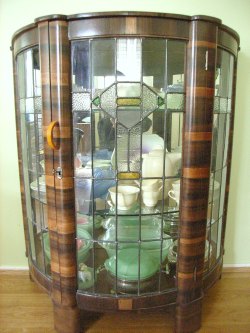 The best places to find 1920s and 30s furniture are in your local antique shops and auctions, or even online.

For more ideas check out these furniture pages
Or treat yourself to this fabulous book by expert Alistair Duncan, author of 'Art Deco Complete'.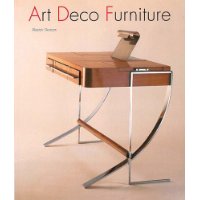 By Alistair Duncan - Buy Now
Art Deco Interior Design - Mirrors
Mirrors can really make a room.  They give such a lot of extra light, especially if you place them opposite a window.   Lots of gorgeous vintage mirrors are available, with geometric fan or stepped shapes or prettier, more feminine curvy forms, to make a  bright and bold statement in your room.

You will find lots of lovely mirrors for inspiration here
Art Deco Interior Design - Lighting
Lighting can make or break a room.  It creates mood, atmosphere and romance. Whether its a large chandelier or a little wall sconce, or a dramatic lamp with a naked siren holding a cool, white moon, you can add a lot of glamour with a well-chosen light. 

Get lighting ideas here
Read about Art Deco lamps here
Art Deco Interior Design - Clocks
There are a huge range of clocks from the 1920s and 30s which will make a real style statement in your room.  Coloured marble with garnitures (side pieces) are really opulent, while chrome or Bakelite clocks will give you that more modernist look. 

Explore the best Art Deco clocks

Art Deco Bathrooms
These were a place for glamorous 1920s flappers or 1930s screen goddesses to pamper themselves, powder and puff and lipstick and curl, until they were ready to hit the speakeasies or the movies.  So they had to look the part.  Luxurious, shiny and full of bold colour, they were a pleasure to spend time in.

Check out some fabulous Art Deco bathroom ideas here

Etsy has a surprisingly good range of Art Deco furniture, interior decor, art and prints, 1920s and 1930s fashion, accessories, jewellery and Bakelite.  Click the banner to explore.  
---
---
Join our Facebook Page so you never miss a thing!


Like this Page