Art Deco Bathroom - Be Inspired!

---
Some links from this site lead to third parties who pay us a commission if you buy something.  This allows us to keep providing the information on this site free of charge! 
---
The Art Deco Bathroom was a place where the rich could really indulge a passion for glamour.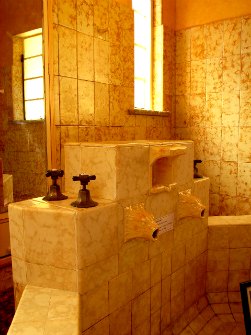 This room is in Everglades House in Leura, in the Blue Mountains of New South Wales, Australia.  It is in a wonderful pale orange and cream swirled tile throughout the whole room including the huge sunken spa bath.  The absolute height of luxury.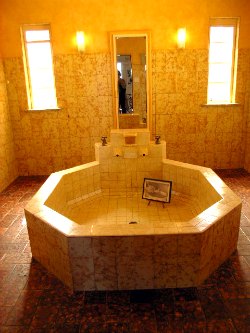 This was specially designed just for the lady of the house, and there is another just for the man which is in a deeper orange with black accents.  The man's bathroom has an incredible one person steam cupboard that you would sit in, and they thought it would help you lose weight. 
Photo by Melinda Sheldon
Best Art Deco Bathrooms in the World

Some of the best examples could be found in the most well-known Art Deco buildings, such as Radio City Hall where the men's room has a black floor punctuated with white dots, black walls with just the porcelain in white.  (Note I did not go in there, but have relied on photos!). 
Even in Sydney, there are some amazing bathrooms in the Queen Victoria Building with a long row of white ball lamps on columns above a series of chrome mirrors.   

Hotels, cinemas and restaurants could impress their clients with the most stylish and chic Art Deco bathrooms.  Bright colours such as orange and green clashed with chrome, mirrors and black and white marble.  Tiles were a fantastic way of getting jazzy geometric borders, and the floors were often checker board style with big black and white squares. 

Pale green was also very popular for both tiles and fittings, it went beautifully with a black border.  A change from the constant white we see today.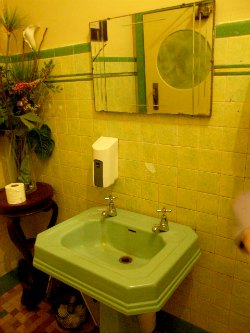 Why not give your smallest room an Art Deco makeover?  Start with a geometric tile border, a jazzy mirror and maybe finish it off with some stylish lighting.

Need some more design ideas?  Have a look at our Interior Design pages!   
Decolish Home
>
Art Deco Interior Design
> Art Deco Bathroom

Etsy has a surprisingly good range of Art Deco furniture, interior decor, art and prints, 1920s and 1930s fashion, accessories, jewellery and Bakelite.  Click the banner to explore.  
---
---
Join our Facebook Page so you never miss a thing!


Like this Page