Art Deco Mirrors
---
---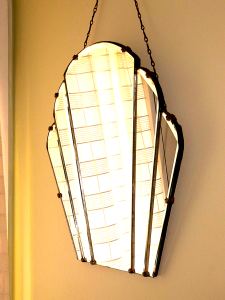 Read about the different types of Art Deco mirrors, and then look at the listings at the bottom of the page. 
Art Deco mirrors make a great statement in a room and add lots of light. The most typical mirrors of the period are the bevelled edge mirrors in various unusual shapes that are still widely available today in antique shops and auctions.  I have a couple of these and they look great in any room.  Lovely in a bedroom or dining room, or in the entrance hall to check your lipstick as you go in and out of your home.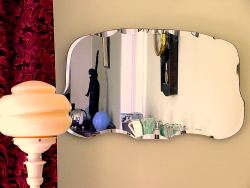 Cheval mirrors, which were also called psyches, were very popular in the 1920s and 30s.  I'm not sure of the history of the name, but it presumably refers to Psyche and Cupid and mirrors to the soul!  These were the free-standing, full length mirrors on a wooden stand.

Art Deco psyche mirrors were made by all the most famous designers such as Jacques Emile Ruhlmann, and there is a really superb example by Leleu which appears in many books, including the new
Art Deco Complete: The Definitive Guide to the Decorative Arts of the 1920s and 1930s
These beautiful Art Deco mirrors often used high quality woods such as mahogany or amboyna, and were very highly polished. 

Gorgeous mirrors also appear on Art Deco dressing tables, and sometimes these are sold separately.  Mirrors were often decorated with engraved geometric designs or figural animals such as the antelope or fish.

And of course, there were plenty of free standing mirrors with the ever popular naked lady.

There are also hand mirrors which were very popular with the flappers.  If they were not incorporated into a compact, you can be sure they would have a mirror on their dressing table or a small one in their handbag or purse. Many were made of Bakelite, Celluloid or Xylonite.
There are lots of fabulous Art deco mirrors on Ebay USA, UK, and Australia below.

Did you know that if you don't want to pay to post heavy objects like Art Deco mirrors, you can search for items within a certain radius of your home. Once you are in the search results – you can scroll down the left hand side to: "Item Location" and enter how many kilometres from your postcode you wish to search.
Complete the look of your fabulous Art Deco room with Art Deco wallpaper, lighting, clocks and more from our interior design pages: 
Decolish Home
>
Art Deco Interior Design
> Art Deco Mirrors
---

Etsy has a surprisingly good range of Art Deco furniture, interior decor, jewellery and Bakelite.  Click the banner to explore.  
---
Join our Facebook Page so you never miss a thing!

---