Art Deco Transportation
Trains, Planes and Automobiles

The Age of Speed!

---
---
The Art Deco era was the age of travel and transportation.  There was an obsession with speed and travel by train, plane, ocean liner and automobile was a high class, luxury experience!
Panhard Lines Poster by Alexis Kow - Buy Now
Art Deco Steamships

The luxury ocean liners were the ultimate in Art Deco Transportation and allowed fast, comfortable and luxurious travel across the Atlantic in record time.  Governments of various countries vied with each other to produce the fastest, most glamourous liners ever seen.  Liners such as the SS Normandie, and the Queen Mary inspired the best poster art in Art Deco style, and we still look back on the 1920s and 30s as the age of style in travel.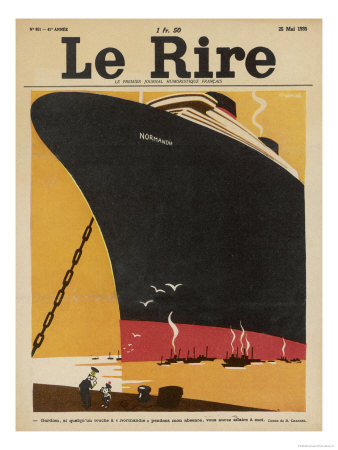 The Iconic Ship SS Normandie on the Front Cover of Le Rire - Buy Print Now
The SS Normandie in particular was fitted out by the best in Art Deco designers and artists.  Known as the "Ship of light" the SS Normandie contained screens of glass by Lalique, wrought iron by Brandt, murals by Dupas,  and even finishings in the new modern material Bakelite. 


Art Deco Railways

Art Deco trains were also lavish and luxurious.  Beautiful wooden clad compartments, sleepers with all the modern comforts, restaurant cars to compete with the best high class hotels, service on the platform with porters to carry your large collection of matching luggage and hat boxes!  Oh, how things have changed.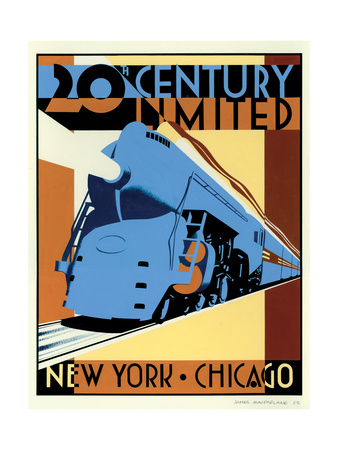 Art Print by Brian James - Buy Now
The print above is by Brian James, a contemporary artist specialising in automobile art inspired by the Art Deco era.  You can see more of his work at Art.com if you click the image. 

Art Deco Racing Cars

It was the age of the racing car, with speed records being constantly challenged and broken.  Luxury Art Deco automobiles became style classics of the age, and also inspired the artists of the time.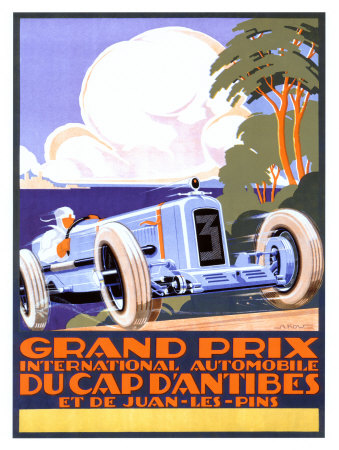 Grand Prix d'Antibes - Alexis Kow - Buy Now
Alexis Kow was a Russian artist, born in 1900 who later moved to Switzerland.  He specialised in automotive art and worked for all the major automobile companies.  There are some wonderful examples of his work on this page. 

Art Deco Transportation Inspired the Poster Artists of the Time
An artistic outpouring followed the machine age developments in transport, with advertising for shipping lines, airlines, railways, and automobile companies leaving us a legacy of the best design of the 20th century. 

Some of the best Art Deco posters were for the Normandie, L'Atlantique and others by Cassandre, the King of transport and shipping posters. 

Edward McKnight Kauffer was very well-known for his wonderful posters for Shell, and London Transport.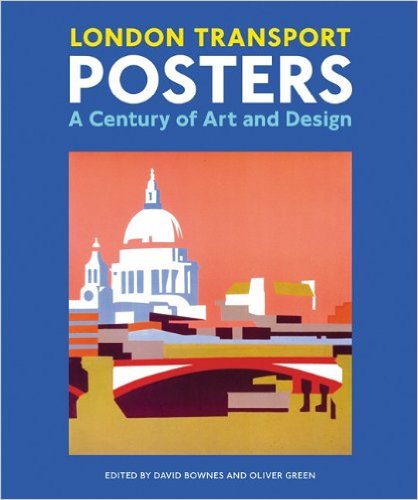 London Transport Posters by David Bownes - Buy Now
Some of the best automobile posters are by Geo Ham - short for Georges Hamel (1900 - 1972) who produced the most wonderful stylish posters of racing cars, and other Art Deco motors. 

Check out my selection of his Art Deco Transportation posters below from Art.com.  Have a look at the posters in "1920s Cars" too. 
Don't forget to check out my Safe Buying Guidelines if you haven't bought online before.
Also check out my page on wonderful 1930s Automobiles
Decolish Home
> Art Deco Transportation
---

Etsy has a surprisingly good range of Art Deco furniture, interior decor, jewellery and Bakelite.  Click the banner to explore.  
---
Join our Facebook Page so you never miss a thing!

---