1920s Cars - the Age of the Art Deco Automobile
---
---
This page is a celebration of 1920s Cars, full of gorgeous images, video and information. 
Watch the video first and then read a history of 1920s vehicles. 

Automobiles were originally a plaything for the rich, and in the 1920s cars were built that would become classics of Art Deco Automobile design.

Motoring was becoming a little more affordable for everyone though, and as early as 1908 Henry Ford introduced the first cheap motor car, a Model T Ford - or Tin Lizzie.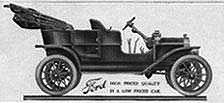 It was ugly, noisy and bouncy, but worked on terrible roads.  A million of them had been sold by 1915 for the princely sum of $525.  Six years later by the early 1920s five million more cars had been sold.
The model T gained a hard top in 1925 but were only produced in black. In 1927, the Model A Ford was brought out in 4 colours with windscreen wipers four-wheel brakes and a speedometer! 
Although Ford had the monopoly on cheap 1920s cars, especially in the USA and Australia, General Motors could offer a wide range of cars including the Buick, Cadillac, Oldsmobile, Pontiac, Chevrolet, Oakland and La Salle.
1927 Model A Ford - Buy as a Print

1920s Cars in Britain and Europe
In Britain W.R. Morris and Herbert Austin produced affordable cars after the 1st World War.

One of the most well-known early cars was produced in 1922, the Austin Seven, also known as the Chummy or Bed Pan.  It was a tiny open tourer which only seated 2 adults and had a top speed 38mph. It was probably the most popular and affordable of the 1920s cars in Britain.  

Later on came the Austin Saloon which could take 3 children in the back, was closed in and more sophisticated.  Its major competitor, the Morris Minor only cost 100 pounds. 
At the same time the French were producing little Citroens and Peugeots.  In Europe motoring was still only enjoyed by the moderately wealthy, with only 226 miles of new highway being constructed in Britain in the twenties. Petrol was bought in 2 gallon cans from the ironmonger, as roadside pumps were rare until well into the 1920s.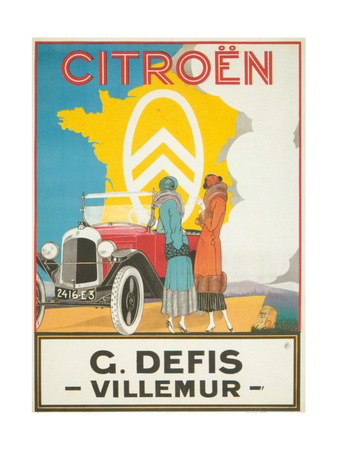 1920s Citroen Advertisement - Buy Now
Some of the images on this page are available as posters from Art.com. Just click on the image to get to the store. Most posters are available in different qualities, sizes and prices, so do a search for the title and see what versions are available of your favourite Classic Cars.

European manufacturers concentrated on the luxury end of the market and racing cars.  There was a craze for speed and speed records were constantly being broken on land, sea and in the air.
In 1924 Malcolm Campbell broke the world speed record in a Sunbeam at 146 mph at Brooklands.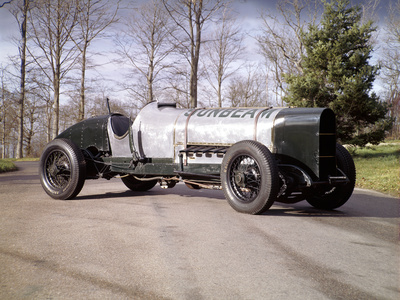 A 1920 Sunbeam 350 Hp - Buy Now
Top end cars in the 1920s were produced by Rolls-Royce, Bentley, Mercedes and Lancia.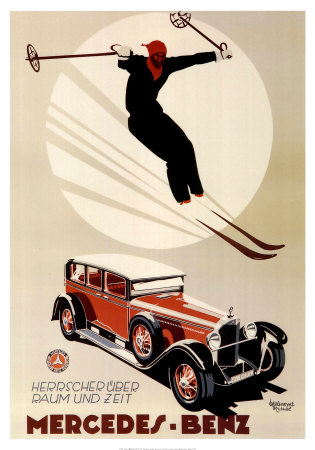 Mercedes Benz - Meyer - Buy Now
---

1920s Cars in the USA
Motoring had taken off much earlier in the USA, with 620,000 miles of surfaced roads by the twenties.  Most cars were still boxy, uncomfortable affairs, with the luggage strapped onto the back. But it was the luxury cars, and the racing cars which really captured the imagination.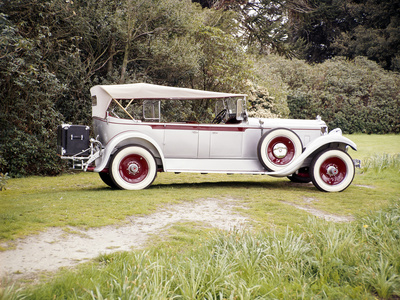 1929 Packard 640 - Buy Now
The very rich, those who had made their fortunes during World War I, wanted to show off their wealth, and how better to do that than with a fabulous luxury motor car.  Many of these are now preserved in the Harrah Automobile Collection in Reno Nevada.  An impressive collection of over 1000 automobiles representing the history of the development of the motor car.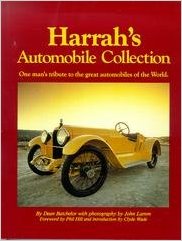 Harrah's Automobile Collection - Buy from Amazon.com

Luxury 1920s Cars 
The Art Deco Classics

Rolls Royce Silver Ghost 40/50, UK 1907 - 1925
Only the 13th car in the Rolls Royce 40/50 range was silver - but the name stuck.  For a while the Silver Ghost was the best car in the world for those who could afford its supreme craftmanship and quality.  Quiet and elegant, it was not built for speed, but for comfort and durability, of course, sporting the timeless Spirit of Ecstasy mascot.

Rolls Royce Phantom 1, UK 1925 - 1931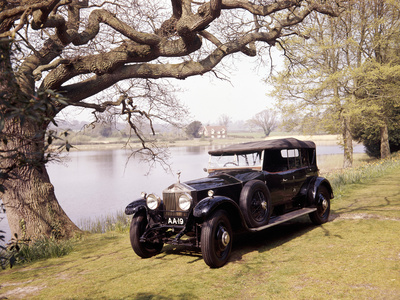 1925 Rolls Royce Phantom - Buy Now
The successor to the Silver Ghost, the most stylish bodies for the Rolls-Royce Phantom I were produced in Springfield, Massachusetts.  It was available in various different coach built bodies depending on customers' requirements. The Phantom II was introduced in 1929 although Phantom I was still being produced. 
Hispano-Suiza, Spain 1919-1934
The strongest challenge to Rolls-Royce's claim to producing the best car in the world came from Spain.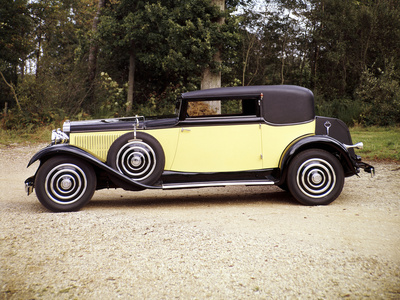 1928 Hispano Suiza - Buy Now

Bugatti Royale, Italy 1927-31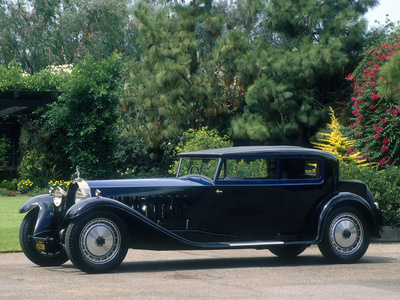 1927 Bugatti Type 41 Royale - Buy Now
One of the largest and most expensive motor cars ever produced at $42,000, only six were produced between 1927 and 1931.  Famous for his racing cars, Ettore Bugatti wanted to prove he could rival Rolls-Royce at building an elegant town car.  La Royale was 14 feet long, could cruise at 125mph and had real ivory on the dashboard and a trumpeting elephant mascot.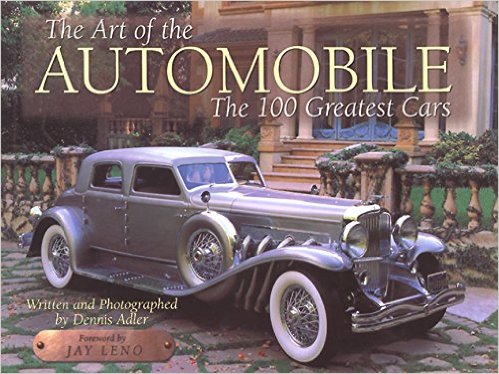 The Art of the Automobile by Dennis Adler - Buy Now

Sunbeam 3 Litre, UK 1925-29
The Sunbeam 3 litre sports tourer performed better than almost any other car on the road in the 1920s. Sportier and more sophisticated than the Fords, Morris's and Austins which dominated the roads, it was originally developed as a racing car for the Grand Prix.
MG M-Type Midget, UK 1929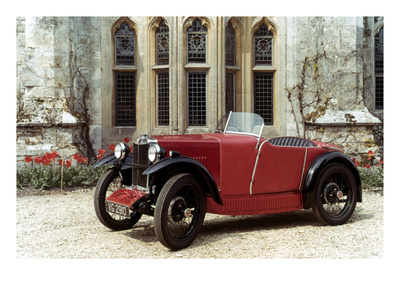 MG Midget - Buy Print Now
The first small affordable sports car, the MG M-Type Midget was based on the Morris Minor, with a version of the Wolseley engine, which Morris had taken over in 1928.  Its lightweight fabric covered body allowed speed in spite of the small engine, and its angled windscreen and boat shaped rear gave it that desirable open-topped sporty look.
Lancia Lambda, Italy 1922 - 1931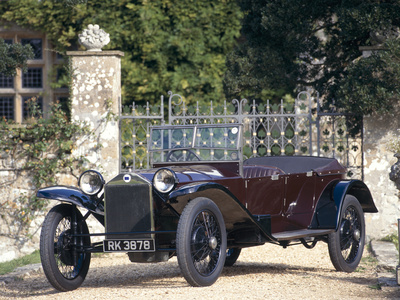 1926 Lancia Lambda 6th Series - Buy Now
The Lancia Lambda has the truly classic look of the 1920s tourer.  Light enough to negotiate twisty country roads with comfort, it was an outstanding performer and beautiful too.  It was technically advanced for its time, with four-wheel brakes and a unique one piece skeletal structure made of strong pressed steel. It rates as one of the great cars of the century.
Scroll down for links to 1930s autos and other Art Deco transport.  You may also enjoy my posters and prints pages from the navbar.
Check out the Art Deco Style Automobiles on Sale. . . .

I've put in some current listings of classic cars for sale on eBay in the USA, UK and Australia.  Tempting isn't it?

Can't afford the real thing?

Check out these great Art Deco racing car posters by Geo Ham from Art.com.  I bought a fabulous poster for my brother, of a classic 1920s car at Monaco, it arrived fast, well-packed and was excellent quality paper. 

Most of their posters are available in different qualities, sizes and prices, so do a search for the title and see what versions are available of a particular image.

Click on their product information page for all the details.  Plus check out my Safe Buying Guidelines for a happy buying experience.
See more images in:

1930s Cars - the Age of the Art Deco Automobile
Check out the fantastic Art Deco cars at the Mullin Automotive Museum
Decolish Home
>
Art Deco Transportation
> 1920s Cars
---

Etsy has a surprisingly good range of Art Deco furniture, interior decor, jewellery and Bakelite.  Click the banner to explore.  
---
Join our Facebook Page so you never miss a thing!

---