Choose an Art Deco Wedding Theme for Your Memorable Day!

---
Some links from this site lead to third parties who pay us a commission if you buy something.  This allows us to keep providing the information on this site free of charge! 
---
What about a chic and stylish Art Deco Wedding?
Get into the mood of the roaring twenties and all that jazz!  The fashions of the 1920s and 30s were to die for and make an elegant and sophisticated theme for your perfect wedding day.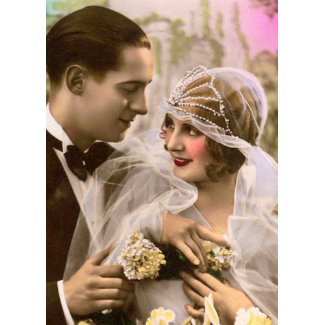 Romantic Wedding
View more
Wedding Cards
You could choose a flapper style dress, or go all out 1930s Hollywood glamour, or even a more dramatic vamp look.  These days it's so easy to find Art Deco style invitations, decorations, fashion, jewelry and more.  The following pages should give you some inspiration for your Wedding dress, your wedding invitations and stationary, your cake, and your jewelry.
Scroll down too for ideas about your venue, food and drink and table decorations.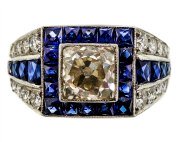 Art Deco Rings
And of course, a fabulous 1920s or 30s classic car to take you there!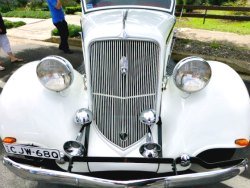 Art Deco Automobiles

Art Deco Wedding Venue
If you are lucky you will have an Art Deco building in your town.  Maybe there is a gorgeous Art Deco hotel, or a cinema, or the town hall.  Think outside the box, and investigate.  Don't be afraid to ask if you can rent a more unusual space. 
Get all your friends to dress up in twenties or thirties costumes and dance the night away surrounded by flappers and sharply dressed gents. 

If you can't find an actual Art Deco building, you could decorate the venue with some over the top ostrich feather arrangements or stylish Art Deco lamps, or hold your special day outside under a beautiful flower adorned arch like this one.
Buy this Image as an Invitation
At the reception shake up some cocktails from a funky Art Deco cocktail shaker, dance the charleston and swing the night away to some 1920s jazz.
When you get hungry, feed your guests on some delicious Gatsby inspired recipes from the 1920s. 

Write up the menu on easily customisable printed menu cards like these.

Here are a few gorgeous items to get you started on your wedding shopping:

Get more fantastic ideas from these pages: 

Come back and share your photos here on the Art Deco Wedding Day Forum! 

Etsy has a surprisingly good range of Art Deco furniture, interior decor, art and prints, 1920s and 1930s fashion, accessories, jewellery and Bakelite.  Click the banner to explore.  
---
---
Join our Facebook Page so you never miss a thing!


Like this Page