Choosing Art Deco Lamps
---
Some links from this site lead to third parties who pay us a commission if you buy something.  This allows us to keep providing the information on this site free of charge! 
---
Art Deco lamps are a huge style statement for any interior.  Read all about them on this page, and then choose from my specially selected listings below. 

When we think of these lamps, one of the most popular designs which springs to mind is the nude figure in chrome or nickel plated metal with a glass shade on top.  These are in some ways a throw-back to the naturalistic figural style of the Art Nouveau, but with the twist of the new machine age materials.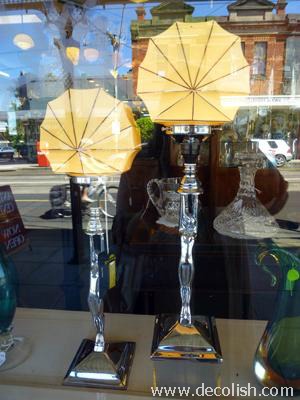 But lamps were made by the most famous Art Deco designers in Paris throughout the 1920s and encompass a great variety of styles.  Jacques-Emile Ruhlmann designed a fabulous lamp with cascading glass beads for his pavilion entitled Hotel d'un Collectioneur at the 1925 Paris Exposition.   His lamps are now highly sought after.  Edgar Brandt lamps made from wrought iron and glass are also very desirable.  


Art Deco Lamps by Lalique, Daum Freres, Tiffany and More

Lalique made over 20 different designs of milky glass table lamps, as well as many larger light fixtures for hotels and businesses. 
Check out Lalique lamps here at Etsy
Other major glass-makers such as Daum Frères and Tiffany made Art Deco lamps and these all fetch very high prices these days. 
Buy Tiffany lamps here at Etsy
Towards the end of the 1920s and into the 1930s, lamps were influenced by the more Modernist style which embraced the Machine Age and made use of the new materials such as chrome, nickel, steel, smoked glass, and Bakelite.   In the USA this style was taken up by designers such as Von Nessen and Deskey and sold through all the big department stores from 1927 onwards and throughout the depression years.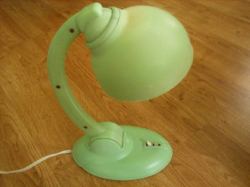 Shapes became more geometric and linear.  Motifs such as parallel lines, sunbursts, fountains, and ziggurats were common.  Many lamps were highly abstract with angular lines and mechanisms for directing the light in different directions. Others depicted animals, such as this horse lamp.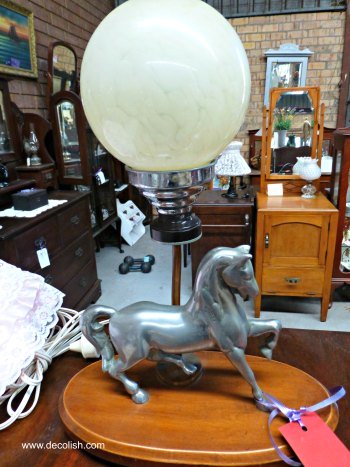 In 1932 the famous angle-poise lamp was invented, which has survived ever since, and these are still as stylish and functional as ever.  They were originally black enamel, but have been made in all kinds of materials including Bakelite.
Steel or chrome with opaque glass are probably the most common of the Art Deco modernist materials, but there are a wealth of shapes and sizes to choose from.  Standard lamps, or Torchères were often very tall, and designed to focus the light upwards.  Instead of the old fashioned fabric shades with fringes, glass or metallic shades would diffuse the light evenly and upwards. 

Stands were sometimes made of wood, or Bakelite, and the glass shades were frequently cream or white with stepped design.  Though shades were also made in other colours, such as blue and green, and could also be fitted from the ceiling.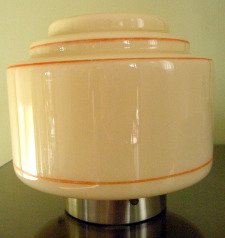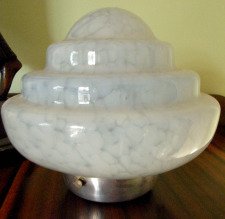 Collecting Art Deco Lighting
Lamps attributed to a specific designer are now getting very expensive and sought after, but will be a great investment.  Watch out for fakes though, and buy from a reputable dealer.   There are lots of more affordable lamps to choose from, keep a close eye on your local garage sales and auctions, and there are lots to choose from online if you don't mind paying a little for postage.   Art Deco lamps can add a touch of stylish chic to any room.  For other types of light fittings, click here.

Decolish Home
>
Art Deco Interior Design
> Art Deco Lamps

Etsy has a surprisingly good range of Art Deco furniture, interior decor, art and prints, 1920s and 1930s fashion, accessories, jewellery and Bakelite.  Click the banner to explore.  
---
---
Join our Facebook Page so you never miss a thing!


Like this Page