Art Deco Lighting
---
Some links from this site lead to third parties who pay us a commission if you buy something.  This allows us to keep providing the information on this site free of charge! 
---
Art Deco Lighting had its birthplace in Paris in the 1920s.  It was a period of great elegance, there was a feeling of prosperity and optimism and a huge demand for luxury items and home décor.  The wealthy Parisians would engage the new professions of ensembliers, artists decorateurs, - what we would now call interior designers, - to create a complete harmonious look for their homes. 
Famous Art Deco Lighting Designers

Such famous names as Jacques-Emiles Ruhlmann and Paul Poiret better known as a furniture designer and a couturier respectively, would design entire rooms.   Lighting was such an important part of the complete design of a room, that yet another new profession – that of lighting engineers and designers was created. 
There was such a vogue for stylish lighting in the 20s and 30s in Paris that there were special exhibitions set up specially for Art Deco lighting.  The "Salons de la Lumiere" exhibition was held no less than five times in the 1930s.  There was even a "Société pour le Perfectionement de l'Éclairage"  (Society for the Perfection of Lighting)!
Check out my page on Art Deco Lamps too
Edgar Brandt and Daum Frères
Edgar Brandt, famous for his wrought iron, formed partnerships with several glass-makers most notably Daum Frères to create many masterpieces of lighting – for example, an Art Deco chandelier with the most delicately formed wrought iron frame supporting textured opalescent glass shades sending a subtle light upwards from the many arms of the fixture. 

There was a move away from the bronze and pastel shades of the Art Nouveau movement towards more indirect lighting, where the quality and luminosity of the light were more important than the decoration of the fixture. 

That's not to say that there are not many examples of highly decorative light fittings, but the textures of white glass, sandblasted, enamelled, or engraved were prized for the different light effects that could be achieved from them.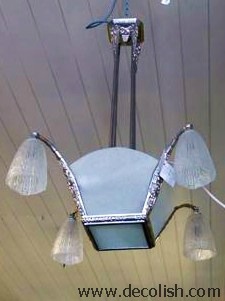 René Lalique
The master glass-maker Lalique created many lights, from simple glass lamps and wall sconces to huge chandeliers for hotels and businesses.   His early examples were decorated with flowers and Art Nouveau maidens, but later he embraced the Art Deco geometric forms and motifs of sunbursts and fountains.

Modernism
Art Deco Lighting soon embraced Modernism and the machine age aesthetic.  Lamps were made of brilliant coloured metals such as steel and chrome, with white glass, sometimes decorated with the new Bakelite.  
Lighting was more indirect, with Torcheres which directed the light upwards.  These were tall, standing lamps, usually with a square nickel or chrome plated column with a geometric or abstract form lamp at the top.  Wall sconces in milky opalescent glass were also employed to direct light upwards.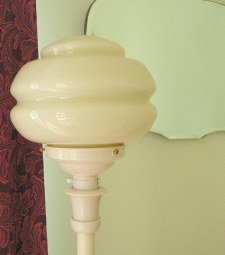 Jean Perzel was one of the most important modernist lighting designers of the 20s and 30s.  Unlike many artists who designed a range of elements such as furniture, glass, fashion, textiles etc. Perzel was exclusively a lighting designer and manufacturer.  He developed a special form of glass that would spread light evenly.  

Other well known lighting designers in Paris included Albert Simonet, Maison Desny, Albert Cheuret, Damon, and Eugene and GL Capon.

In the USA the modernist style of lighting was embraced from around 1926 onwards and started to appear in the stores.  The most succesful lighting designers were Donald  Deskey, who designed the interior of the Radio City Hall in the Rockefeller Center, and Von Nessen.  Von Nessen was extremely successful in the early 1930s when most businesses were struggling through the Great Depression.  His lamps were a novelty and bright and stylish.  Ideal for lighting up the gloom of those years! 
Collecting Art Deco Lighting
There is a lot to choose from in Art Deco Lighting, and there are still lots of pieces available.  Always check for condition – chrome often wears off and although pieces can be re-chromed it can be expensive. 
Most pieces and lamps will need re-wiring so always get that done by a qualified electrician. 
You can still pick up some stylish pieces at garage sales, but for high-end named pieces, you will need to pay a lot more and go to reputable dealers and auction houses.  Make sure you get a receipt with a proper description of the item and its attribution. 


Etsy has a surprisingly good range of Art Deco furniture, interior decor, art and prints, 1920s and 1930s fashion, accessories, jewellery and Bakelite.  Click the banner to explore.  
---
---
Join our Facebook Page so you never miss a thing!

Read about fabulous Art Deco Lamps here

Find other Interior Design elements to match here.


Decolish Home
>
Art Deco Interior Design
> Art Deco Lighting

Like this Page