Art Deco Glass
---
Some links from this site lead to third parties who pay us a commission if you buy something.  This allows us to keep providing the information on this site free of charge! 
---
Art Deco glass is highly collected today, especially signed pieces by the most famous makers.
Glassmaking in the Art Deco era reached new heights of quality and invention, in the hands of artists such as René Lalique, and Daum Frères.

The Daum Frères factory were already very well known for their Art Nouveau glass, but they also produced a significant amount of work in the Art Deco style.  Lalique remains the master of Art Deco glass and was a major figure at the 1925 Paris Exhibition "Exposition Internationale des Arts Décoratifs et Industriels Modernes".

Many of the glassmakers of the Art Deco period used the techniques of pressed and moulded glass which adhered to the machine aesthetic and made glass affordable for all.  However, these techniques were developed to create high quality glass well suited to the sculptural forms popular at the time, and usually hand finished. New colouring and acid-etching techniques were employed to create entirely new and original effects.

René Lalique was particularly fond of opalescent glass, which has a milky opal-like appearance often with a subtle blue tint. He made panels of opalescent Art Deco glass for the Normandie and the Orient Express.
Other Major Manufacturers of Art Deco Glass

Other major manufacturers of opalescent glass of the time include the French glassmakers Baccarat and Sabino, Tiffany in the USA and the British Frederick Carder. 

Another glassmaking technique was revived from ancient Egypt. "Pâte de verre" was a technique using moulds filled with crushed glass and metallic oxides, heated until the glass fused.  Once cooled the piece would be hand finished.  This process was used with wax moulds for unique pieces or reusable moulds for limited editions. 

Major glassware designers who used this process were Almeric Walter, Décorchement and Argy-Rousseau.  The use of coloured enamels to decorate glass pieces, especially perfume bottles was popular with artists such as August Heiligenstein, Jean Luce and Marcel Groupy. 

A great deal of glass was made at the Wiener Werkstatte before 1925, for example the decanters produced at the Lobmeyer Factory. After this, and with the breakup of the Bauhaus, many designers emigrated to the USA taking the machine aesthetic, and their geometric angular designs with them.  They had a significant influence on glass makers in the USA such as Tiffany.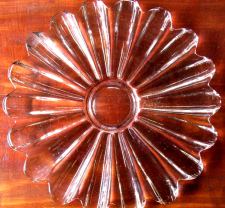 Scandinavian glass makers also responded to the Art Deco style, often creating very simple but classic designs using black and clear glass.  One of the major Scandinavian glass artists in the Art Deco style was Simon Gates at Orrefors, who employed deep cutting techniques and abstract circular motifs. 

In the 1930s during the Great Depression, many glass manufacturers, particularly in the United States geared up for mass production of glassware, which meant that huge quantities could be made by moulten glass being piped in tubes into moulds and literally hundreds of pieces per hour could be made.  They were very cheap and cheerful, but came in bright colours which lifted the mood in those Depression years from which this glass got its name.  Depression glass  was made with Art Deco geometric motifs and styles, but in lower numbers than some of the more common styles, and these are now becoming collectable in their own right. 

Read about More  Major Deco Glassmakers

Etsy has a surprisingly good range of Art Deco furniture, interior decor, art and prints, 1920s and 1930s fashion, accessories, jewellery and Bakelite.  Click the banner to explore.  
---
---
Join our Facebook Page so you never miss a thing!


Like this Page