Art Deco Cocktail Shakers and Other Fabulous Cocktail Stuff

---
Some links from this site lead to third parties who pay us a commission if you buy something.  This allows us to keep providing the information on this site free of charge! 
---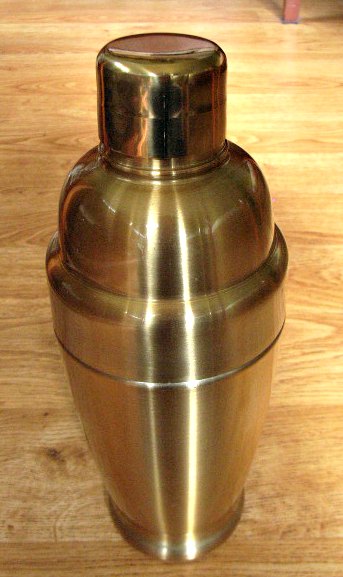 Art Deco Cocktail Shakers, along with all the other paraphernalia of 1920s speakeasies have become hot collectables these days. They evoke the dimly lit, secretive but hedonistic world of the underground illegal drinking holes of the 1920s during prohibition.
Some say that more alcohol was consumed during the prohibition than at any time before or after! The ban certainly made people rebellious and creative.
Shakers were made of metal or glass with a later addition of Bakelite colourful knobs and handles, after the end of the 1920s.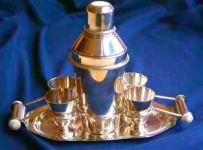 Which are the Best Art Deco Cocktail Shakers? 
High-end silver or named shakers are the most desirable, as well as quirky and novelty ones like the famous dumb bell shape or just drop dead gorgeous design.
Keep an eye out for Asprey, Farberware, Manning Bowman, Carrington or other well known names. These will be more valuable than those without a maker's name.

Glasses were often made to match, or more likely little metal cups which looked like the possessor of such an object was innocently drinking coffee! But there are still many collectable glasses around, the best being novelty ones with ladies bodies draped around the stem by firms such as Bimini of Vienna.
To complete the cocktail bar look you could go the whole way and get a cocktail cabinet or a stylish drinks trolley. A few trays, pop-up cigarette dispensers and a big chunky Deco lighter on the bar would accessorise it nicely. Swizzle sticks and a few cocktail forks for the obligatory olive and you're ready to start mixing your sidecars and high balls.
Popular Cocktails

Popular cocktails of the day included the Bees Knees, the Highball, the Sidecar, the White Lady, Slings, Smashes, Fizzes and Flips.
The King of the Dry Martini was Harry Craddock of the Savoy Hotel in London whose 750 recipes were immortalised in Savoy Cocktail Book in the 1930s. He entertained many rich Americans in exile from the prohibition at the Savoy from 1920 – 1933.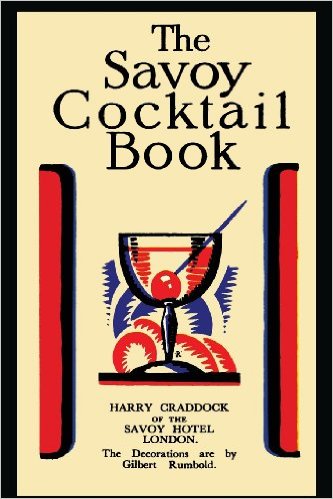 Buy Now from Amazon

Where to Buy Art Deco Cocktail Ware
I love to hunt down bargains at garage sales, flea markets, and my local auction house.  You'll pay more at antique shops, but they often have the really fabulous high end stuff.  And then, there is online, where the world is your oyster!  I adore shopping on the net when the shops are closed.  
My favourite place to shop now is Etsy!  Check it out by clicking the banner below.  

Etsy has a surprisingly good range of Art Deco furniture, interior decor, art and prints, 1920s and 1930s fashion, accessories, jewellery and Bakelite.  Click the banner to explore.  
---
---
Join our Facebook Page so you never miss a thing!


Like this Page