Fascinated by Art Deco Jewelry?
---
Some links from this site lead to third parties who pay us a commission if you buy something.  This allows us to keep providing the information on this site free of charge! 
---
So am I.  I've created a few pages here for you to read about all the different kinds of Art Deco Jewelry.  What is it?  What period does it come from?  How do you identify it?  Where should I buy it?  How much should I pay?  These are just some of the questions answered in the pages below, which are grouped into high end or affordable.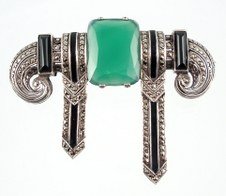 Theodore Fahner Brooch 1927, Photo Cathy Gordon
Original Art Deco Jewelry comes from the 1920s and 1930s.  Though the style has endured and is still made today. 

Back in the twenties and thirties, pieces were either extremely expensive or cheap and cheerful (fake) and sometimes the two were even worn together - a fad started by Coco Chanel.  Imagine a combination of diamonds and plastic (well in those days, it was high quality Bakelite!) and they looked fabulous together. 



High End

The major jewelry artists of the day, among them: Boucheron, Cartier, Fouquet, Gerard Sandoz, and Van Cleef & Arpels were producing masterpieces for the very rich and fashion conscious. 
The Art Deco 89 company was able to obtain some of the best designs from these artists and reproduce a limited number of these jewels in 1989. 

Read more about these fabulous artists in this gorgeous book by Evelyn Posseme, full of illustrations:
Buy Now


Affordable Jewelry

After WWI, techniques were easily available for copying the opulent jewels of the rich and glamorous, and materials such as Chromium, Bakelite, Paste and Rhinestones went into mass production to satisfy the craving of every woman for fashionable jewelry.  The age of Costume Jewelry had arrived.
Click any of the links below to enter a world of collectable heaven! 

Also check out the Deco inspired collectible plastic brooches and earrings by Lea Stein and Erstwilder. 
This beautiful book by Sylvie Raulet includes hundreds of photos including ladies of the time bedecked in their jewels.  It has information on costume jewelry as well as short biographies of major designers.
Buy Now
You can also learn more about the history of this beautiful jewelry here. 
Where to Buy Art Deco Jewelry

These days I find that one of the best places to find Art Deco jewelry is Etsy.  They have a fantastic selection and most of the sellers will ship worldwide.  
See what's available at Etsy right now.  
Do you collect Art Deco?  We'd love to hear about it.  Why not share some photos and tell us about your collection?
Have a look at the gorgeous images of Deco jewels here too.

---

Etsy has a surprisingly good range of Art Deco furniture, interior decor, art and prints, 1920s and 1930s fashion, accessories, jewellery and Bakelite.  Click the banner to explore.  
---
---
Join our Facebook Page so you never miss a thing!


Like this Page