All About Erstwilder Jewellery
---
Some links from this site lead to third parties who pay us a commission if you buy something.  This allows us to keep providing the information on this site free of charge! 
---
Fun, quirky and original Erstwilder jewellery is attracting a lot of attention. Designed in Melbourne, Australia, each little character is only made in a limited number, and they are getting more and more desirable as time goes on.  Following in the tradition of Lea Stein, Marie Pavone and all the long forgotten designers of Bakelite pins and brooches, these are the collectables of the future. 

As a collector of this highly creative range, I was naturally curious to learn more, so I have investigated and found some fascinating information for you, which I hope will enhance your enjoyment of your jewellery and encourage you to take care of them and treasure your collection. 

Where Did the Name Erstwilder Originate? 
The collection was originally named Erstwhile, which, I am sure you know, refers to times gone by.  But as the designs were getting wilder and wilder, it was decided that Erstwilder was a more apt description!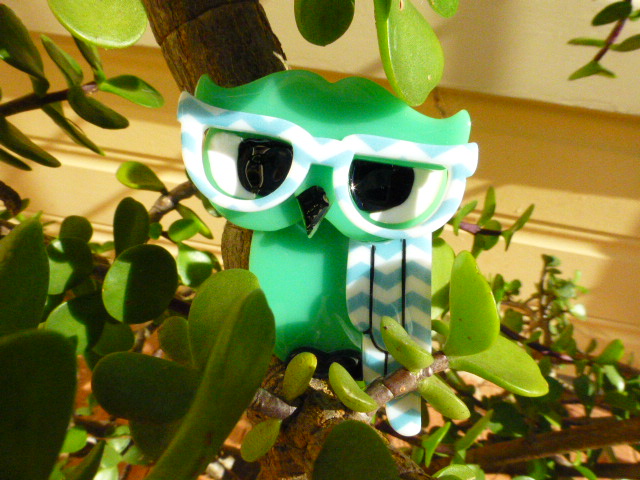 What Were the Design Inspirations? 

Plastic jewellery started in the 1920s and 30s with Celluloid and then Bakelite when it was developed in many wonderful and exciting colours.  Bakelite pins and brooches tended to be fun and whimsical using animals, fish, birds, fruit and even vegetables as subjects. 
Read more about Bakelite Jewellery here.

Later on in the 1960s Paris based designer, Lea Stein became interested in plastics and developed a method of laminating cellulose acetate to produce interesting layers and textures.  She became the most well-known designer of plastic jewellery.

She is particularly known for her cats and her fox brooches. 
Marie Pavone is another Paris designer who is working today and producing really interesting pieces. 
Curling Cassandra - a brooch by Louisa Camille which owes much to the inspiration of Lea Stein


Who is Louisa Camille?

Louisa Camille is the original designer of Erstwilder pieces. After studying fashion, she started doing basic sketches of all the things she loved, primarily animals and nature. 
She showed them to the founders of the company, who thought they were adorable and after an initial sample run, they realised that she had created something truly connected and original.

Louisa draws a lot of inspiration from the Art Deco era, 1920s art and culture and rockabilly themes, always with a childlike sensibility and a sense of humour. She sees the funny side to the way animals interact and develops her designs and stories accordingly.  
Recently 3 new designers have joined the Erstwilder team.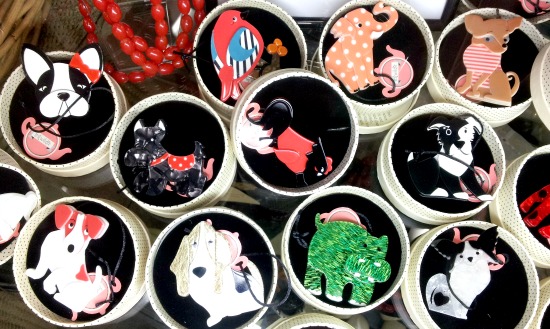 How Many Designs Are There? 

So far there have been over 500 different designs.  Each one is made in a limited number, so many of the original designs are now becoming scarce and difficult to find. 
Designs include dogs, cats, native Australian wildlife, farm animals, jungle animals, birds, and Rockabilly characters and motifs.  The team are always looking for new ideas, so if you've got a design you'd love to see, let me know via my contact form on this site, and I'll pass on the message. 

A team of 4 - 6 workers complete the skilled labour of hand-painting and hand assembling the jewellery, so all the pieces are individual and special.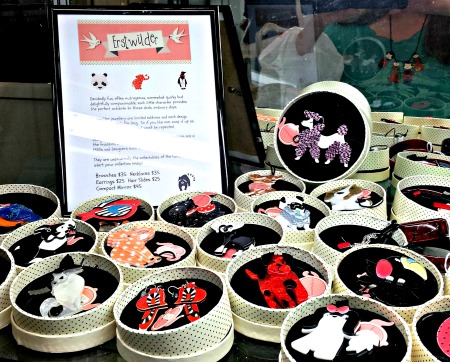 How to Care for Your Erstwilder Collection

The best advice is to keep them in their boxes somewhere cool and dry when you're not wearing them.  You can give them a gentle wipe over, but don't get your brooches and necklaces wet.
The type of resin used is quite brittle, so make sure you don't drop your little friends as they could break.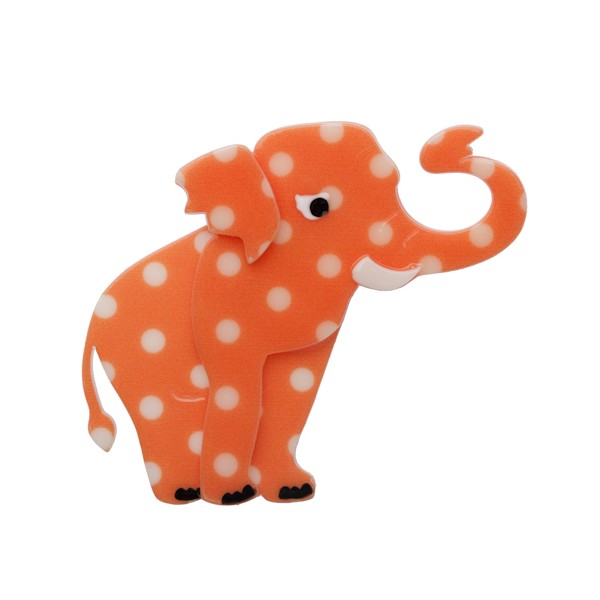 My personal favourite - Alice the Elephant

Where Can I Buy Erstwilder Jewellery?

Decolish is no longer selling direct.  Etsy has a great range of Erstwilder to choose from.  Click on the banner below to do a search.  
This jewellery will only go up in value.  I have already had to source several hard to get pieces for customers, who have had to pay well over the current retail price to get hold of their favourites. So if you see a design you like, don't wait because they won't last long and they will be a good investment for the future.  (Did you know that Bakelite brooches from the 1930s now cost up to $600?)   

Etsy has a surprisingly good range of Art Deco furniture, interior decor, art and prints, 1920s and 1930s fashion, accessories, jewellery and Bakelite.  Click the banner to explore.  
---
---
Join our Facebook Page so you never miss a thing!


Like this Page