Does Anyone Actually Wear Lea Stein Jewellery? 

---
Some links from this site lead to third parties who pay us a commission if you buy something.  This allows us to keep providing the information on this site free of charge! 
---
Interesting question?  Do people wear their Lea Stein jewellery or is it mainly for collecting? To be honest, I'd be interested to find out. Please send me a photo if you wear yours!
I haven't worn any of mine, and neither have I seen anyone else wearing it.  But I think Lea Stein brooches, earrings, bangles etc. are all extremely wearable.  They are far too good to be hidden away in a jewelry box.  They would also look good displayed in a case or cabinet or hung on the wall in a frame.
After all, a collector I know loves them so much she refers to each one as "a miniature artwork".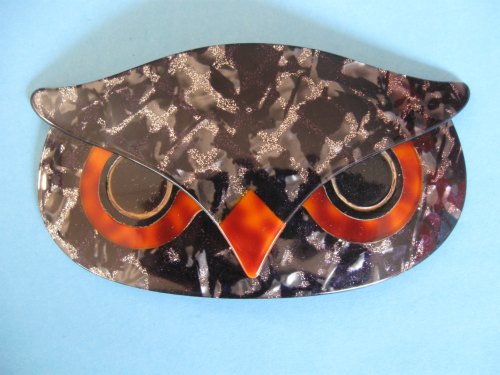 Extra Wide Owl Brooch
Lea Stein History

Known as the most sought after designer of plastic jewelry in the 20th Century, Lea was born in France in the 1930s and started making her quirky jewellery in the 1960s with her husband Fernand Steinberger.  He was the technical genius who worked out their secret method of combining fabrics and lace with laminated layers of cellulose acetate to create the unusual finishes we associate with Lea Stein jewelry today. 

The gorgeous finishes you see on Lea Stein pieces include:

Snakeskin or shagreen look
Iridescent Shell or Mother of Pearl like textures
Stripes
Glittery finishes
Cross-hatch patterns
Watermark like patterns
Tortoiseshell

And lots of other fabric like textures.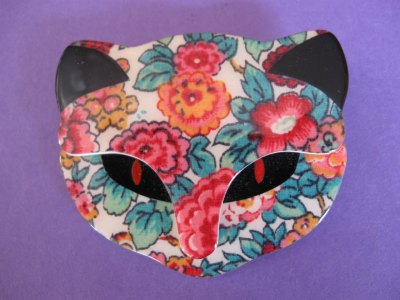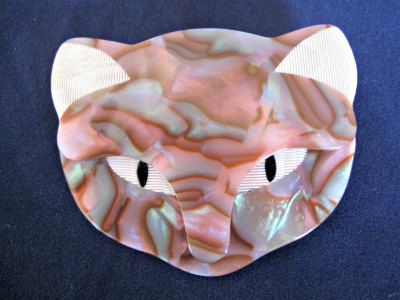 Not a great deal is known about Lea Stein's history or her life as she is an intensely private person.  Experts tell me that most of the information appearing on the internet about her life is not true. So I won't add to it here!  
How Can You Identify Lea Stein Jewelry?

Most pieces have a V shaped clasp.  In the early days these weren't signed, but later and at the present time, (yes, she is still producing jewelry) they are signed Lea Stein Paris. 


V-Shaped Clasp
There are, of course, fakes around, so do your homework and get to know what the real thing looks like.  There is an excellent book which contains illustrations of a huge number of Lea Stein designs.  It is by collector Judith Just.  Even if you don't collect these pieces, it's a lovely book to admire all the cute animals, flowers and abstract designs Lea created. 
Buy Now
Early Lea Stein

In the 1960s Lea Stein started with designing what were called Serigraphy pins.  (Serigraphy is a method of creating an image by pressing ink through a screen).  They look like miniature paintings and mostly depict womens' heads in vintage hats from the 1920s and earlier.  These are particularly collectable and some are very rare. 
She was influenced by the early plastic jewellery made of Bakelite and Celluloid which was made in the 1920s and 30s and often depicted cute animals, birds, fruit and flowers. 
You can read about Bakelite brooches here and Celluloid Jewellery here. 

She also designed a lot of buttons in the early days, which were sold through the best department stores and are snapped up by fashion designers to this day.


Lea Stein Jewellery Production Periods


Lea Stein's main output was initially from 1969 to 1981 and collectors usually call this her vintage period.  She then ceased producing jewellery, but then began again 10 years later in 1991 and her pieces are still being manufactured today. Two of the most popular designs from the 'modern' period are Ric the Dog, Gomina the Cat and the Bacchus Cat.     


Child-like Lea
Many of the designs are quite child-like with brooches of pretty little girls, cute dogs and other animals.  But in the 70s, she actually designed a range based on a children's TV program called L'Ile Aux Enfants - The Isle of Children. 
Some of the characters remind me of those from The Muppets or Sesame Street.  Seriously Cute. 
Some of the names of the characters include:  Gribouille Happy Dog, Calimero the Baby Bird, Tifins, Maya the Bee, and Casimir, who is a very strange looking frog like creature. 
Art Deco Influence
Lea Stein was strongly influenced by Art Deco design.  Apart from the obvious flapper pins, and ladies in cloche hats, there were vintage cars and geometric looking birds and animals. 

Although many of her designs are figural, there are also many abstract pieces, which owe a lot to the Art Deco geometric look.  Many of these are striped pins in diamond, triangular or V shapes, colourful earrings, bracelets and even necklaces.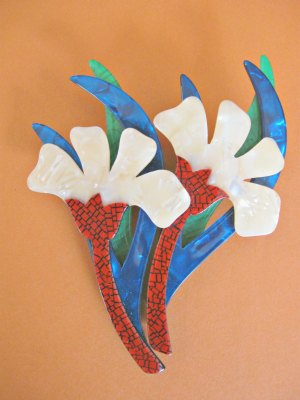 Double Flower Pin
Other Items
To complement the jewelry, there are also hair combs, mirrors, jewelry boxes and frames. 

Some of the most popular collectible designs are:

Foxes, Flowers, Cats, Owls, Hippos, Dogs, Panthers, Flapper Heads.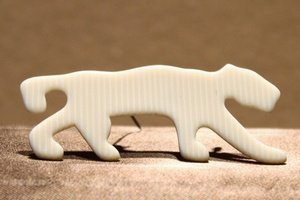 Panther Brooch
Some more unusual designs included:  Elvis Presley, Red Indians, Chinese Men, Skateboarders, Clothes Pegs, Umbrellas and Tennis Racquets! 
Not forgetting the Lady Bug! 
Lady Bug Brooch

How Much Does Lea Stein Jewellery Cost and Where Should I buy It?

Prices usually start around $125 for a piece of Lea Stein jewellery but can go up to $300 - $400 for the rarer pieces. 
Etsy always has a good selection of Lea Stein  and is probably my favourite place to shop now. 

Etsy has a surprisingly good range of Art Deco furniture, interior decor, art and prints, 1920s and 1930s fashion, accessories, jewellery and Bakelite.  Click the banner to explore.  
---
---
Join our Facebook Page so you never miss a thing!


Like this Page