Bakelite Brooches and
Pins

---
---
Thinking about Bakelite brooches and pins as I have been doing recently, I realise I have to retrain my imagination when thinking about the fashions of the 1920s and 1930s. Like most of us perhaps, used to seeing images of that era in old Hollywood movies, and faded sepia photographs, we tend to think of the time as only existing in black and white and dull colours.
But when you get into collecting Bakelite, you realise that it was a very colourful time. Yes, Bakelite did come in some earthy tones like butterscotch, tortoiseshell or leafy green. But there were also bright reds and yellows and very vibrant greens, and a lot of the brooches and pins were quirky and fun.
Most Bakelite brooches and pins have at least some carving on them, and many were also decorated with the addition of rhinestones, and wooden or metal parts. Some of the European ones in particular are very geometric and modern looking with little metal rings on them or geometric shapes.
Bakelite brooches and pins fall into a few basic categories:
Bar Brooches and Pins

These are often just straight rectangles with some decorative carving on, but they also come in the form of leaves and abstract designs. Many of these come in subtle earthy colours; amber, transparent apple juice, browns, greens, mustardy yellows and butterscotches.
Those that were originally white of course would have faded to mustard. Some of the more ornate ones are transparent reverse carved which means the carving was on the underside and decorated with little flowers or even underwater scenes.
Animals

Just about every animal you can think of has been made into a Bakelite brooch; horses, dogs, cats, birds and fish, insects even and elephants, lobsters, frogs, ducks and little Bambis but probably the most popular of all has to be the scottie dog.
The scottie dog was already extremely popular as a brooch, and many were made in celluloid, the forerunner of Bakelite and Catalin. Bakelite scotties come in every colour under the sun in singles and doubles and on little leads dangling from bars and with nodding heads. You name it, it's been done.
For more about Scottie Jewelry Click Here
Flowers

Carved flower brooches come in all shapes and sizes and colours. Some of the most common ones are little roses which are now deep butterscotch colour but would have been originally white.
Deep Butterscotch Coloured Rose Brooch

Fruit and Love Hearts

Probably some of the most popular and most copied Bakelite pins are the little bar brooches with fruits dangling from them. The most well known is the Bakelite cherries pin, which comes in red or yellow, but more rarely strawberries or other fruits there were also used.
Red love hearts were also particularly in the 1940s during the war years.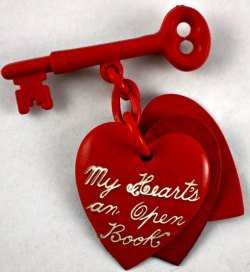 Valentine Heart Pin
And those are just some of the more common types of Bakelite pins. Just about any subject was fair game and you will find little characters such as sailors or clowns, anchors from ships, boats, palm trees, faces, hats - whatever the imagination of the creator dictated.
Bakelite Brooches are Highly Collectible

These days Bakelite brooches and Bakelite pins are highly collectible. Some of the rarer ones can command pretty high prices. Recently I saw this fabulous Fox brooch with the nodding head on eBay for nearly $2000.
I bet the original manufacturers never in a million years imagined that their little plastic brooches would become such must have, desirable collectors pieces in years to come. 
Where to Buy?

Most of the brooches on this page were on eBay at some stage in their lives.  It's still a good place to buy and to find the best prices.
Beware though, many pieces are advertised as Bakelite but are not.  One of the most obvious signs is that old Bakelite is never white!  Check out my page for identifying the real thing.  Link below.   
So buy the best quality and the most attractive brooches you can, In a few years they will become real antiques and kept in good condition could be an excellent investment. 
Here are some of the current listings on eBay of Bakelite Pins and Brooches - I've put in USA, UK and Australian listings, for other countries, click on the link below.

If you want to find out more, read this marvellous book by well-known collector Karima Parry.  Just click on the image to see reviews.

If you can't afford Bakelite Brooches, have a look at the new range of limited edition Erstwilder collectable laminated resin jewelry I have at the Decolish Store.  Those will be the treasures of the future.
Also read about Lea Stein, the 20th Century's most well-known designer of plastic jewelry. 

Felicia the Frenchie by Erstwilder
Learn about Testing and Identifying Early Plastics
Decolish Home
>
Bakelite Jewelry
> Bakelite Brooches
---

Etsy has a surprisingly good range of Art Deco furniture, interior decor, jewellery and Bakelite.  Click the banner to explore.  
---
Join our Facebook Page so you never miss a thing!

---