Art Deco Style Revealed

---
Some links from this site lead to third parties who pay us a commission if you buy something.  This allows us to keep providing the information on this site free of charge! 
---
So often I'm asked "What is Art Deco style? Or what does it mean? It's not all that surprising that there is confusion as the term is misused a lot these days due to it's popularity.
So What Is It?

Art Deco refers to an era, as well as an artistic style. The era is easy to explain. It covers the 1920s and 1930s mainly, though some forward-looking designers such as Christopher Dresser or Frank Lloyd Wright or even Charles Rennie Mackintosh seem to have created works in pure Art Deco style as much as a decade earlier.
The style fizzled out after the Second World War and was definitely out of vogue in the 1950s which had its own unique brand of mid-century modernism.
The swinging sixties saw a revival of Art Deco and gave the style its name. The first book was written about it by Bevis Hillier who tried to describe what the style was.

How Do We Describe Art Deco Style?

"It's like trying to nail down a bubble" 
And now for the hard bit. People have been writing about this ever since the 1960s and trying to pin down and define what the style is all about.
Since it encompasses architecture, fashion, interior design, transportation, advertising and more, and since it infiltrated even the most mundane of home appliances such as the toaster and the coffeemaker, it's hard to nail it down.
As one commentator recently said it's like trying to nail down a bubble. But it is unmistakable when you see it and easy to recognise once you have seen a few examples.
1930s Bakelite Canisters

Art Deco style was made up of the following influences:
Speed and the Industrial Revolution
Trains, planes and automobiles were the new thing. There was a mad craze of everything machine age or mechanical and the design of everything, motorised or not was streamlined, geometric and gleaming with metal, preferably the new materials such as chrome or aluminium.
Check out lots of fabulous Art Deco automobile posters and prints here.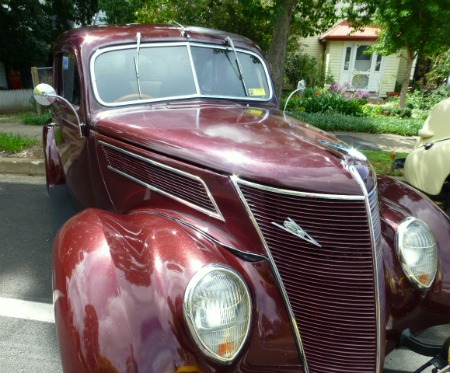 Post-war Colour and Fun

There was a feeling of optimism after the end of World War I and that translated into bright bold colours, fun and novelty items and lots of quirkiness.
There was a lot of money about, particularly amongst the upper classes, so a good time was the order of the day. Jazz, cocktails, lots of bling, beads, feathers and furs, smoking, drinking and rushing about in open top cars. All these things were illustrated in the magazines of the day, the advertising and the posters, and have left us a legacy of design which has not been surpassed to this day.
Art Deco Style in Architecture

In architecture, there were two main styles that scream Art Deco. Skyscrapers and 1930s streamlined. These buildings also influence the furniture that went into them such as Paul Frankl's skyscraper bookcases.
Read about the different styles of Art Deco Architecture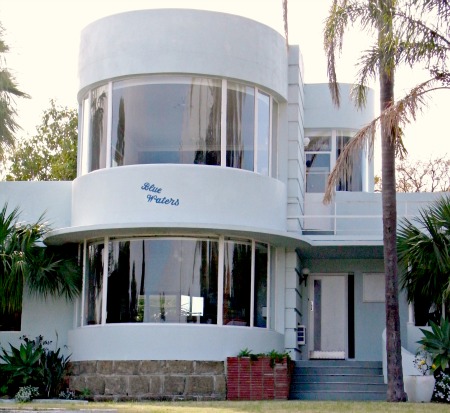 Art Deco House in Perth
Hollywood Art Deco

The movies were a great way to escape the hardship of the Depression years.
The new picture palaces were rich and opulent and folk could enjoy a bit of hard earned luxury along with the spectacularly decadent movies. Films such as 42nd Street and Golddiggers of 1933 were huge, supremely theatrical, extravaganzas of music, dance and costume. There was glamour, and new exotic design that could transport people to a new world.
Poster for the Movie 42nd Street, 1933.
There was a new opulence as well as a sense of rebellion, a challenge to accepted taste and a frank naughtiness especially from the newly liberated Art Deco heroines of the silver screen.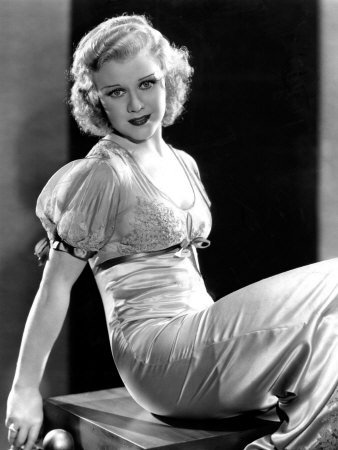 Ginger Rogers in Gold Diggers of 1933.
What Else Screams Art Deco Style?
Flapper dresses and cloche hats, large geometric cocktail rings, big curvy club chairs and animal print rugs. Exotic wallpapers, African artefacts, stripes and circles and parallel lines.
The ziggurats from the Egyptian pyramids. The cult of Tutankhamen. Even the lettering on shop signs was distinctive.
So mix all these things together and you have some idea of what this mystery is all about.
And one thing's for sure. It hasn't gone out of fashion.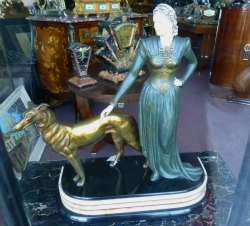 Art Deco Sculpture with Borzoi Dog
Art Deco objects, homewares, sculptures and designs sit so well in the modern minimalist interior. It's timeless elegance has given it a longevity rare in the history of design.
Many pieces are being reproduced, or created anew in the Art Deco style. So you need to get your eye accustomed to the original 1920s and 1930s pieces if you want the genuine article. Those will be the investment pieces for the future and they will shortly be real antiques.
Learn more about investing in the Antiques of the Future. . . . 
Of course Art Deco style still influences furniture today, so you can buy new, and still enjoy the geometric and streamlined look.  
But original Art Deco is still pretty inexpensive for many items, especially furniture so now is the time to start rummaging in your local junkyards and auctions.
So now I hope I have answered your question "What is Art Deco style?"
Learn more here: 
Share your Collections with us here on Decolish

Etsy has a surprisingly good range of Art Deco furniture, interior decor, art and prints, 1920s and 1930s fashion, accessories, jewellery and Bakelite.  Click the banner to explore.  
---
---
Join our Facebook Page so you never miss a thing!


Like this Page