Art Deco Wallpaper
---
Some links from this site lead to third parties who pay us a commission if you buy something.  This allows us to keep providing the information on this site free of charge! 
---
Read all about Art Deco wallpaper, and then choose your own from the link below.  There are lots more interior design ideas on this site too! 

Art Deco wallpaper is a must for that 1920s or 1930s inspired look. It can be a bit expensive these days, and hard to find original rolls intact.  A great way I chose to use it was to buy a small piece and have it framed as a picture!  You can find various sizes of wallpaper for pretty reasonable prices on eBay, (see the listings below).  The wallpaper in my frame above is a genuine piece of Florence Broadhurst which I bought online.

History of Wallpaper in the
Art Deco Period

Wallpaper took off in a big way in the 1920s.  Already made popular by the Arts & Crafts movement, led by William Morris, wallpaper was an affordable, mass produced alternative to expensive silk and tapestry wall coverings.  Most people could afford wallpaper, and more than 400 million rolls were sold in the 1920s alone. Known as the Golden Age of Wallpaper, it has never been as popular as in the Art Deco period. 
The Artiste Décorateur
The role of the Artiste décorateur, or ensemblier which today we would refer to as an interior designer was created in the 1920s.  Studios were set up in popular department stores which employed the best artists and designers. 
They would create whole books of patterns and designs which could be made up into wallpaper, dress or upholstery fabric, curtains, rugs or carpets.  Some of the most well-known designers of the time such as Paul Follot or Dufrène worked in these Paris department store studios.  Examples include Primavera, Pomone and La Maitrise.

Art Deco Wallpaper for a Doll's House
This is a piece of doll's house Art Deco wallpaper.  There are lots of fabulous designs of those, which are great to collect or frame. See listings below!

Design Studios
There was a fusion of talent, with the fashion designer Paul Poiret opening his own interior design studio, Atelier Martine and employing designers such as the painter Raoul Dufy to create patterns and designs for Art Deco wallpapers, and other furnishings. 
Poiret was influenced by the Wiener Wertstätte which also produced a massive amount of Art Deco wallpaper throughout the 1920s in Germany. Out of the thousands of designs produced by such designers as Peche, Flogl, Kitty and Felice Rix, the herringbone and dash pattern by Hoffman was especially popular during the mid-1920s.

1920s Exotic Influences
Another important influence was the Ballet Russes, and the exotic.  Many Art Deco wallpapers of the 1920s were figurative, depicting jungle scenes and animals among complex swirls of foliage.  Colours were vibrant, with orange-reds and pinks clashing with lime green and chrome yellows.  Eduard Bénèdictus was famous at this time for his beautiful folios of wallpaper and fabric designs in the Art Deco style. 

They were similar in style to the Art Deco fashion we see in the pochoir prints of the time.  Not much wallpaper has survived from the period and what we do see is often faded, so it is difficult to get an impression of the vibrancy of the colours of the time, but they would have been similar to the psychedelic patterns of the 1960s and perhaps that is one of the reasons for the revival of Art Deco designs at that time.

Florence Broadhurst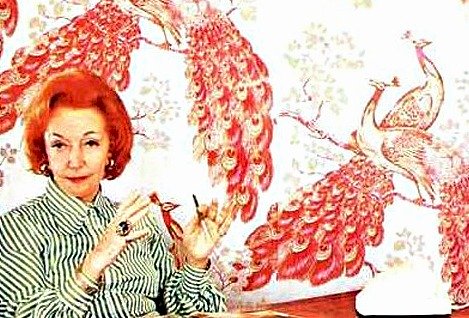 Florence Broadhurst
Australia had its own very colourful character in the 1960s and 70s, Florence Broadhurst, who had her own wallpaper empire.  She revived Art Deco designs from the 1920s and 30s and became extremely popular.  Her rolls of wallpaper now sell for £400 in London.  No doubt the mystery of her unsolved murder in 1977 and her exotic beginnings as a singer and dancer in Shanghai in the 1920s add to the allure of her designs.  There is a great book about her and a documentary on DVD about her fascinating life.

The Depression Years
With the Great Depression, style in the 1930s became more subdued, with muted colours and shades.  Bottle green, charcoal, and dusty brown were preferred by the luxury designers such as Jean Michel Frank in Paris and Syrie Maugham in London. Wallpaper patterns became more geometric with texture and tiny monochromatic, repeated detail.

USA Wallpaper Designers
American designers took ideas from Europe and imprinted their own individual style on Art Deco wallpaper design. Famous for designing the carpets for the Radio City Music Hall, one of the most popular designers was Ruth Reeves who studied under Fernand Leger in Paris, but toned down the Cubist influences she encountered to create charming, gentle figurative designs which appealed to the public.  Her designs were accessible to all in the New York department stores.

Art Deco Wallpaper Today
Today, wallpaper is not as popular as it was in the 1920s. However, it is still a great way of injecting some character into a room.  Use it for one feature wall, or for the whole room if it is large.  An Art Deco wallpaper is timeless and will add sophistication and warmth to any room. 

To be really authentic, it may be possible to find a couple of rolls of vintage wallpaper to cover small areas.  But if you want to cover a larger area, you will have to go for a modern reproduction.  Lots of the best wallpaper companies now have a selection of Art Deco designs for you to choose from.  
To get more inspiration to complete your Art Deco look, click on:
Decolish Home
>
Art Deco Interior Design
> Art Deco Wallpaper

Etsy has a surprisingly good range of Art Deco furniture, interior decor, art and prints, 1920s and 1930s fashion, accessories, jewellery and Bakelite.  Click the banner to explore.  
---
---
Join our Facebook Page so you never miss a thing!


Like this Page