Art Deco Fashion Prints
---
Some links from this site lead to third parties who pay us a commission if you buy something.  This allows us to keep providing the information on this site free of charge! 
---
Art Deco Fashion prints are a wonderful legacy of an era when fashion was changing like never before and there was a plethora of magazines and publications illustrating the beauty of the new clothes.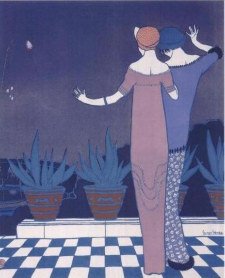 Paul Poiret Evening Dresses Illustrated by George Lepape


The fashion of Paul Poiret and similar Paris fashion designers was a huge influence, and these designers also commissioned artists to produce high quality catalogues, or brochures of their designs. There were many fabulous high quality limited edition magazines produced in the first decades of the century and these are highly collectable today. 
Complete copies of the magazines are relatively rare, as they tend to be broken apart and the pages sold as separate prints.
What are Pochoir Prints?

The magazines and journals of the early years of the 20th Century were printed using the pochoir  technique, which was one of the highest quality printing methods ever used.  It involved cutting out stencils, creating crisp lines which were then hand coloured.  So every print was unique and of exceptional quality.

The Fashion Designers
Some of the major designers included:  Armand, Beer, Callot Soeurs, Coco Chanel, Martha Collot, Doeuillet, Doucet, Jean Lanvin, Paul Poiret, Jean Patou, Redfern, Schiaparelli, Vionnet, Jean Worth.

All these designers had a huge influence on the styles of the 1920s and 1930s and most of them exhibited at the 1925 Paris Expo which gave Art Deco it's name.  They also commissioned the best artists of the day to illustrate their wares.  These appeared in the fashion magazines of the day, which in themselves are highly collectable and rare now. 
Read more about the glamour of Art Deco Fashion here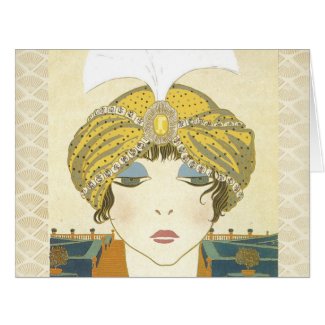 Turbaned Poiret 1900s Fashion Illustration Greeting Card
by
LorrainesOoLaLa
Browse Paul poiret Cards online at
Zazzle.com

The Fashion Journals and Magazines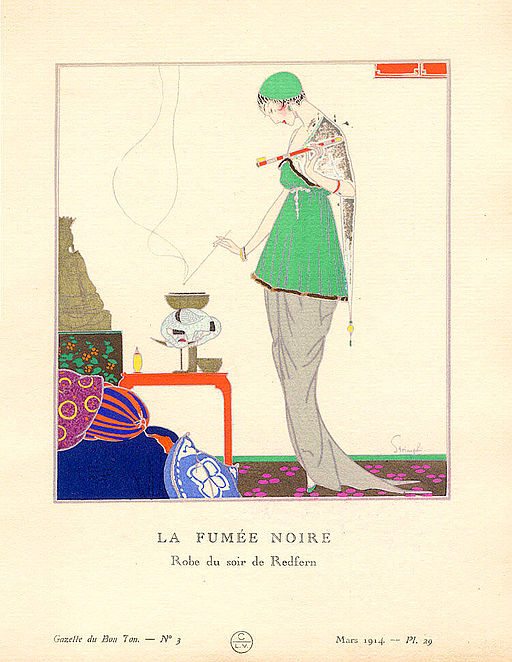 Redfern Evening Dress in Gazette du Bon Ton
Some of the most important ones were:

Art Goût Beauté, Gazette du Bon Ton, Les Choses de Paul Poiret 1911, Falbalas et Fanfreluches, La Guirlande des Mois, Harper's Bazaar, Journal des Dames et des Modes, Modes et Manières d'Aujourd'hui, Les Robes de Paul Poiret 1908, La Vie Parisiènne, Vogue
The Illustrators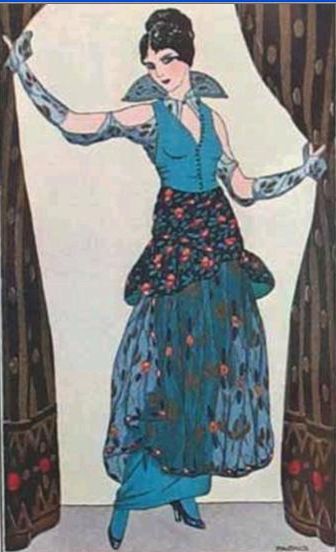 Pochoir 'Robe de taffetas et mousseline de soie peinte' by Georges Barbier 1914
The most talented illustrators included: 

Leon Bakst, George Barbier, Eduardo Benito, Erté (Romain de Tirtoff), Paul Iribe, Georges Lepape, Charles Martin, André Marty, Simone Puget, G Sacy, Rene Vincent
---
Art Deco Fashion prints are still very affordable and a great decorative item to collect to brighten up the home and as an investment.  Click on my Collecting Original Art Deco Posters for conservation tips.

Etsy has a surprisingly good range of Art Deco furniture, interior decor, art and prints, 1920s and 1930s fashion, accessories, jewellery and Bakelite.  Click the banner to explore.  
---
---
Join our Facebook Page so you never miss a thing!

Decolish Home
>
Art Deco Prints
> Fashion Prints

Like this Page