Collecting Original Art Deco Posters
---
Some links from this site lead to third parties who pay us a commission if you buy something.  This allows us to keep providing the information on this site free of charge! 
---
Read about original Art Deco posters, what to collect and who to collect.  Learn about the artists and the different themes they loved to design. Check out my collecting tips for buying and conservation and finally, check out some current listings.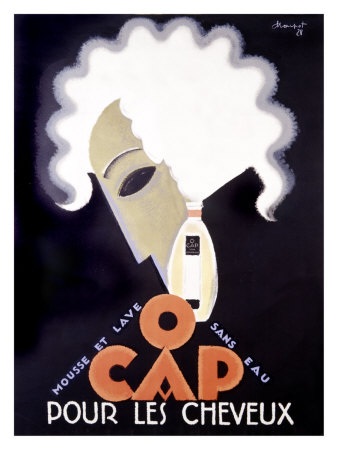 O Cap by Charles Loupot
Posters and prints of the Art Deco era represent the best of graphic design in this century.  The printer's art had reached previously unknown levels of skill and quality, graphic designers were producing outstanding new and modern images to reflect the progress of the age.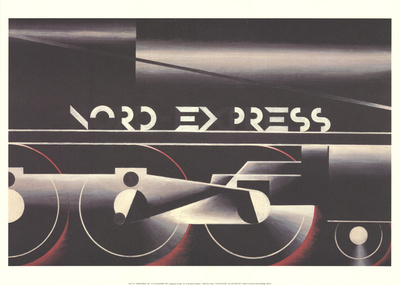 Nord Express by Cassandre
The opulence of the 1920s brought about a period of mass consumerism and mass production which in turn needed an advertising industry to match. 

Billboards and magazines were the means of reaching the widest audience and graphic design became a hot new profession.
What Posters to Collect

Most collectors of original Art Deco posters narrow down their choice by subject, artist, size or medium. There is a huge range of subjects to choose from. 
Fashion prints from the magazines of the day allow for a wide choice and are still widely available and affordable. Click here to see a wide range of gorgeous fashion prints. 

Food, cigarettes, alcohol, or cosmetics are popular subjects for poster or print collectors and there are lots available.
 More specialised areas include:
Metropolis 1926 Movie Poster

Collecting Individual Artists

Collecting individual artists can be much more difficult and expensive, especially if one picks a big name. 

However, there are equally attractive Art Deco posters by many lesser known artists which can be very affordable.  Even some of the lesser known or later works of the big names can still be surprisingly inexpensive.
Collecting Tips for Original Art Deco Posters

My best advice is always buy what you like, and buy the best you can afford. Look out for condition.  Small amounts of foxing and dirt can be restored by an expert, but fading by sunlight is impossible to rectify.  The trend these days is to restore as little as possible, but a little gentle cleaning can make a big difference.
Next:

Investigate your dealer
Ask for a detailed receipt with a full description and
Make sure that your dealer has a clear returns policy. 
Conservation Tips

Art Deco posters were often printed on thin paper as they were designed to be thrown away.  These need to be backed onto linen or Japan paper using a reversible vegetable paste.

Original Art Deco posters and prints should never be repaired using normal adhesive tape which can cause enormous damage.  Special acid free tape should be used to repair small tears. 
Care should be taken to protect both prints and posters from damp, pollution and most of all sunlight.  Fading is irreversible although damage from damp and pollution can be fixed by an expert. 
Mount prints between two sheets of thick acid free board without using any tape or glue if possible, making sure the paper doesn't touch the glass.
Special reflective glass is available to minimise damage from sunlight if hanging your print in a bright room.
Check out the great range of original posters on Etsy by clicking on the banner below. 
Didn't find what you were looking for? – Check out...
Decolish Home
>
Art Deco Posters
> Original Art Deco Posters

Etsy has a surprisingly good range of Art Deco furniture, interior decor, art and prints, 1920s and 1930s fashion, accessories, jewellery and Bakelite.  Click the banner to explore.  
---
---
Join our Facebook Page so you never miss a thing!


Like this Page

Original Art Deco Posters