Roger Broders -
Art Deco Tourism Posters
---
Some links from this site lead to third parties who pay us a commission if you buy something.  This allows us to keep providing the information on this site free of charge! 
---
The travel and tourism posters of Roger Broders, produced between 1925 and 1935 are some of the most attractive Art Deco designs and are widely collected today.

A taste for luxury travel, exotic locations and leisure activities was a feature of the hedonistic post-war years of the 1920s.  Sports and outdoor activities were all the rage, and people were traveling more for pleasure than ever before.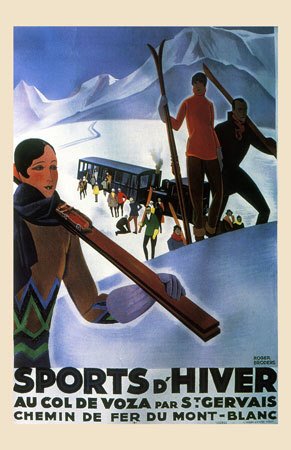 Winter Sports 1929
The first ever Winter Olympics had taken place in Chamonix in 1924 and accelerated the popularity of the French Alps and other mountain destinations as a healthy and invigorating vacation.


Roger Broders Railway Posters

The railways were becoming more streamlined, at least in design if not in actual speed and were promoting themselves as the most comfortable and luxurious means of travel to these desirable locations. 
Railway companies in Britain and France were strongly promoting themselves as the best means of travel for the elite foreign tourists and many posters were commissioned in this era for that purpose.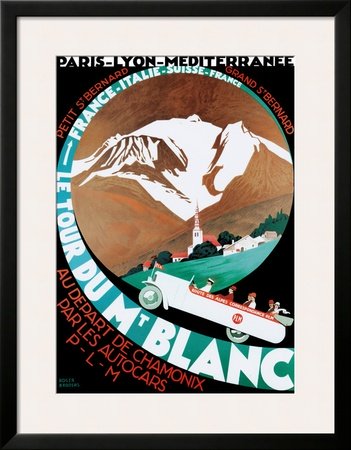 PLM Poster - Mont Blanc

Roger Broders' Career

Broders (1883 – 1953) worked mainly for the PLM (Paris à Lyons et à la Méditerranée) Railway company in France and produced an enormous number of chic and stylish posters depicting mainly the destinations to which the railways traveled. 

As well as promoting the winter snow and its attractions, he created many fabulous images for beach and coast destinations, particularly the most fashionable resorts of the French Riviera.  His most desirable images feature female figures, often elongated, but always most fashionably attired.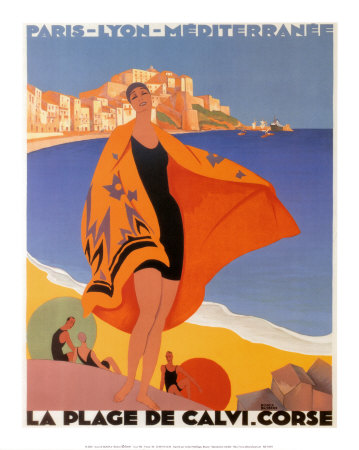 PLM Poster - La Plage de Calvi
Most of his posters were printed by Lucien Serre who specialised in tourist posters.

Broder's popular style is characterised by vibrant blocks of bold colour, simple, strong lines and plain typefaces. 
His subjects, as well as tourist destinations concentrated on healthy pursuits, as well as elegant scenes of nightlife adorned with the fashions of the day.  He also was well-known as an illustrator for well-known magazines and journals, and for childrens' books.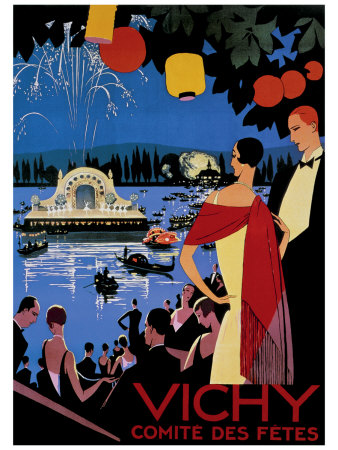 Vichy Comite des Fetes
Many of his most famous posters are available as quality reproductions from Etsy.  Click on the banner below to do a search. 

Etsy has a surprisingly good range of Art Deco furniture, interior decor, art and prints, 1920s and 1930s fashion, accessories, jewellery and Bakelite.  Click the banner to explore.  
---
---
Join our Facebook Page so you never miss a thing!

Decolish Home
>
Art Deco Posters
> Roger Broders

Like this Page