Everything You Need to Know about Bakelite Beads
---
Some links from this site lead to third parties who pay us a commission if you buy something.  This allows us to keep providing the information on this site free of charge! 
---
Bakelite beads or necklaces are probably my favourite form of early plastic jewelry.  They can be worn anytime, anywhere, with anything, by all ages.  There are colours to match every outfit and mood and they come in all sizes, shapes and lengths.  They became very popular in the 1930s for beach or town wear as they were such fun and easy to wear.  I love the way the colours catch the light, especially the tortoiseshell, and marbled beads.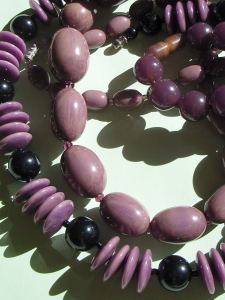 Lilac, Purple and Black Bakelite Beads
Bakelite Colours

Colours are usually rich and deep, often marbled and they can be transparent too.  You won't find white - it darkens to mustard with age, or pastel shades like pink or pale blue. 
Until you get a feel for recognising Bakelite, make sure you buy from reputable dealers.  You can learn about identifying early plastics here. 

How Bakelite Necklaces were Strung

Along with pendants, beads were one of the earliest type of Bakelite necklaces and are still readily available.  They were usually strung on cotton, which in many cases has worn away, so most necklaces these days will have been restrung. 
Some European bead necklaces were strung on fine chain or connected with metal findings while the Americans often used Celluloid chains.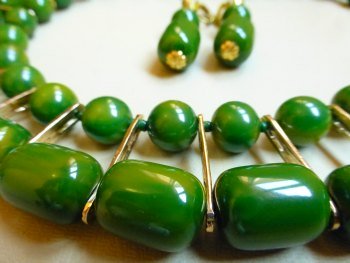 Egyptian Style Bakelite Necklace with Metal Findings
Cherry Amber Bakelite

Cherry Amber Bakelite necklaces command much higher prices than other colours especially the very long opera length strands and the carved or faceted ones. 
Cherry amber is one of the most expensive and desirable colours!

Faturan

There is also a type of Bakelite that was made in the Eastern Mediterranean called Faturan which also comes in a cherry amber colour.  They were used for prayer beads, and Komboloi and come in red, orange and yellow shades.  The last genuine Faturan was made in the 1940s mostly in Turkey, but there are a lot of fakes of these around. 

How Bakelite Beads Were Made

Beads were cut from cast cylinders of Bakelite.  They were then carved or shaped according to the design.  There are many faceted examples as well as carved flowers, and finally they were tumbled to a highly polished finish.  The holes were drilled by a machine with drills on each side which met in the middle of the bead.
Bakelite beaded necklaces came in all different lengths and often had matching bracelets, rings and earrings.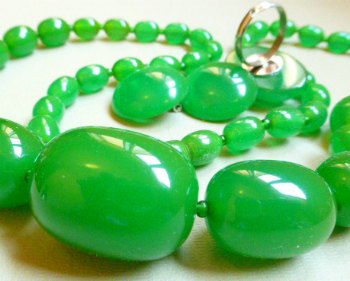 Matching Set of Necklace, Ear Clips and Ring
---
Check out the Bakelite jewelry on Etsy

Etsy has a surprisingly good range of Art Deco furniture, interior decor, art and prints, 1920s and 1930s fashion, accessories, jewellery and Bakelite.  Click the banner to explore.  
---
---
Join our Facebook Page so you never miss a thing!


Like this Page