Art Deco Scottie Dogs
---
Some links from this site lead to third parties who pay us a commission if you buy something.  This allows us to keep providing the information on this site free of charge! 
---
Scottie (or Scotty) dogs were already popular in America before Roosevelt's Fala became the most famous dog in history.  Queen Victoria had one, as did Bette Davis, and many other celebrities. 
Originating in Scotland, the Scottish Terrier has been around since the 15th Century.  However, it was in England in 1881 that the first club was founded dedicated to the breed.  They were introduced into America in the early 1890s but really only became popular between the first and second World Wars.  In 1936 the Scottie was the third most popular canine in America.   

Its cute, happy go lucky attitude and small size meant that it was the ideal companion for the bright young things touring the countryside in their motor cars, or for taking to the beach. 
Its smart, angular lines also meant it fitted in nicely with the design of the age, and the Scottie appeared in many illustrations, and designs and even graced the front of a brand of Bakelite Radio.  
You will find them on everything from the 1920s and 30s, from clothing to ashtrays, from ceramics to ornament, and in all kinds of materials.  Read more about dogs in the Art Deco era here.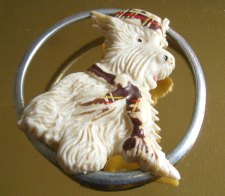 Scottie Dogs in Jewellery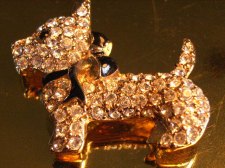 But it was in jewellery that this cute doggie was most reproduced.  Countless brooches and pins and charms were made in Celluloid and Bakelite , while even sparkly diamante adorned the black or white terrier's form.  The most collectable (read expensive) brooches tend to be in coloured Catalin (a form of Bakelite) or those which have nodding heads. 
Make sure you have a really good look at the photos and check for condition - no chips or cracks, and paint in good condition if applicable. 
Check out the great vintage Scottish terrier jewelry and collectables on Etsy. 

Read more about Dogs in the Art Deco Era
Decolish Home
>
Art Deco Jewelry
> Scottie Dogs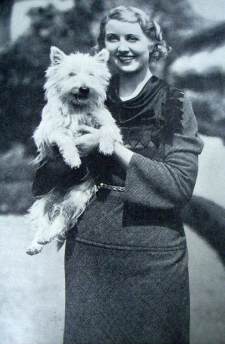 Photo from Hutchinson's Dog Encyclopedia, c.1935

Etsy has a surprisingly good range of Art Deco furniture, interior decor, art and prints, 1920s and 1930s fashion, accessories, jewellery and Bakelite.  Click the banner to explore.  
---
---
Join our Facebook Page so you never miss a thing!


Like this Page