Vintage Celluloid Jewelry and Collectables
---
Some links from this site lead to third parties who pay us a commission if you buy something.  This allows us to keep providing the information on this site free of charge! 
---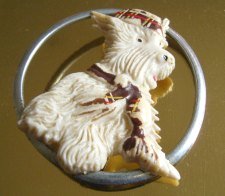 Celluloid Scottie Pin
What is Celluloid?
During the 19th century many scientists were experimenting with synthetic plastics in order to replace the expensive natural plastics such as horn, ivory, and tortoiseshell. 
French Ivory was the world's first thermoplastic, which meant it could be moulded under heat and retained its shape once cooled.  It was invented by John Wesley Hyatt in 1868 to simulate ivory which was in short supply and needed for such items as billiard balls. 

Soon the new plastic was being produced all over Europe and Asia, much to the relief of millions of elephants, tortoises and horned animals!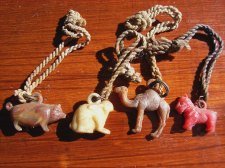 Early Celluloid Novelty Charms
It was also known "Ivorine" or "French Ivory", a name which was patented and produced in Rockford, Illinois.   
What was it used for?
One of the earliest uses was famously for movie and photographic film.  Soon it was used for pretty much anything.  It was very popular during the Art Deco period for vintage jewelry, dolls, hair ornaments and combs, dressing table sets, hat pins, buckles and buttons, frames for pictures and mirrors, toys, novelty charms, knife handles and other utensils.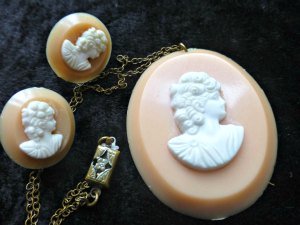 Celluloid Cameo Necklace and Earrings

Celluloid Jewelry Types

Many Celluloid jewelry pieces survive, especially little brooches in the form of flowers, birds and animals.  Dog brooches, especially terriers were very popular, I had one a while back which was a really cute Scottie dog with a nodding head.   But it had one important flaw - it was highly flammable.
Bangles tend to be in pastel shades with highly decorative carving, usually of flowers.  Sometimes they have rhinestones embedded in them. 

The later non-flammable form found even more uses in radio knobs,  telephones, all kinds of novelties and loud costume jewellery.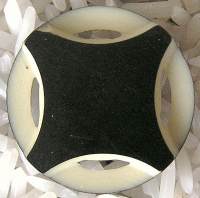 Art Deco Cellluloid Button
How was it made?
Cotton fibres were treated with nitric and sulphuric acids, treated with camphor and dyes added.
Celluloid Colours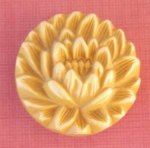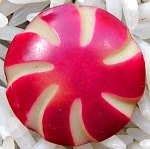 Colours included white, ivory, tortoise shell, green, gold, red, black, blue, and many transparent shades.  It was forced into rods, or sliced into sheets, so often pieces are seen with different coloured layers. 

French Ivory or Ivorine was lighter and thinner than the Bakelite which followed, and was inexpensive to produce but it could crack or burn up completely when heated.  So it's always advisable to keep items away from heat and sunlight. 
Other damage can be stains, fading and yellowing.  It is slightly flexible (don't try bending it!) and can smell or taste slightly of camphor.
How to Identify Celluloid

Whatever you do, don't try the hot pin test!  It will damage your pieces which are flammable. 
Celluloid is a lot softer than Bakelite, and much easier to break.  The colours are much softer too, and more pastel shades.  You will find colours that don't exist in Bakelite, such as white, pale pink, peach and very pale yellows. 
The style of the jewelry is quite different usually too.  Celluloid jewelry dates from an earlier period than Bakelite (1900 - 1920s), so you won't find geometric Art Deco designs, rather more traditional looking pieces like the cameo above, and pretty floral brooches, rings and bangles. 
See also "How to Test for Bakelite" so you can rule that out. 

Read about Lea Stein - a more modern designer in Celluloid Acetate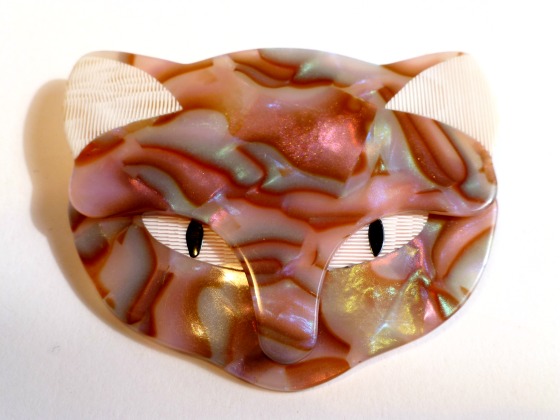 Lea Stein Cat Brooch
Check out the listings for Celluloid Jewelry on Etsy.  It's the best place to sniff out a good deal!  


Etsy has a surprisingly good range of Art Deco furniture, interior decor, art and prints, 1920s and 1930s fashion, accessories, jewellery and Bakelite.  Click the banner to explore.  
---
---
Join our Facebook Page so you never miss a thing!


Like this Page