Art Deco Costume Jewelry - Why Is It So Collectable?

---
Some links from this site lead to third parties who pay us a commission if you buy something.  This allows us to keep providing the information on this site free of charge! 
---
For collectors of Art Deco Costume Jewelry, the period between the two world wars was a hugely productive time and there are many wonderful pieces to collect. 
And let's face it, good design never goes out of fashion. 

Designers such as Coco Chanel and Elsa Schiaparelli had made costume jewelry fashionable and wearable by all. Chromium, paste, diamante, glass, and marcasite were just a few of the materials used to create Art Deco costume jewellery to complement the new fashions of the the fun loving flappers.
Expensive enamel could be imitated by the new techniques of painting on metal.

Bakelite and Celluloid
Costume Jewelry

The early plastics such as Bakelite and Celluloid came into their own not just in imitating ivory, horn or tortoiseshell but in a range of brilliant colours which did not try to hide these materials for what they were. They came to express a luxury of their own.
Why Bakelite Jewelry is So Incredibly Collectible

Is Celluloid Jewelry the Poor Man's Bakelite?

| | |
| --- | --- |
| Bakelite Philadelphia Bangle | Celluloid Flower and Leaf Earrings |

Art Deco Costume Jewelry Designers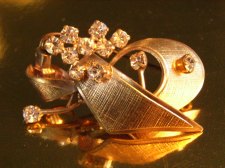 A whole host of designers, particularly in the United States, grew out of the demand for affordable costume jewelry. 
They embraced the Art Deco geometric, oriental and Egyptian designs of the day, and made quality pieces which are highly collectable. 



These makers are well-known for the quality of their stones:
Eisenberg
Hollycraft
Weiss
Bogoff
These makers are well-known for their excellent Art Deco Designs:
Trifari
Danecraft
Danecraft

Kramer

Monet
Hobe
Symmetalic
Coro
Miriam Haskell built a large clientele of rich celebrities for her original handmade jewelry which was produced in limited quantities and is therefore very collectable today.  She used some of the best Czech and Austrian stone and glass beads and Japanese simulated pearls in abstract or floral designs.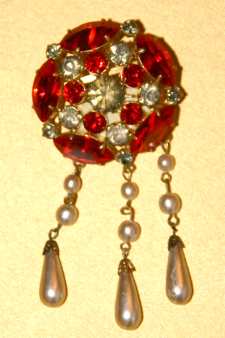 Where to Buy

In collecting vintage costume jewelry today, there is a huge choice out there, so it is relatively easy to find pieces which are still wearable and in excellent condition.  Look for great design, bright stones and good condition. 
If a piece is signed its going to be worth more, but there are also many great unsigned pieces around.  An enormous amount of jewelry was exported from Czechoslovakia between the wars, and the quality of the glass in these pieces is usually excellent. 
Read why Czech Costume Jewelry is some of the best quality around. . .

My favourite place to buy these days is Etsy.  Check out what's available now.  
Decolish Home
>
Art Deco Jewelry
> Costume Jewelry

Etsy has a surprisingly good range of Art Deco furniture, interior decor, art and prints, 1920s and 1930s fashion, accessories, jewellery and Bakelite.  Click the banner to explore.  
---
---
Join our Facebook Page so you never miss a thing!


Like this Page