Art Deco Jewelry History - A Story of Flappers, Industry and Luxury

---
Some links from this site lead to third parties who pay us a commission if you buy something.  This allows us to keep providing the information on this site free of charge! 
---
Let us bring you information on this most enduring and popular of jewelry styles. . . .

The Art Deco period encompasses the 1920s and 1930s.  The style began to emerge around 1915, just after WW1 when there was a huge amount of optimism in the air.
The dates for Art Deco jewelry also extend from 1960s when there was an Art Deco revival which has continued until the present day.
So the timeline really stretches throughout most of the 20th Century, apart from the 1950s when it went out of fashion for a short while. 
Jewelry in this style is still being made now and will no doubt continue well into the 21st Century. 

Background to
Art Deco Jewelry History

In the 1920s, women threw off their corsets and tight clothes and became daring flappers - "young things with a splendid talent for life" (F.Scott Fitzgerald).

Their hems and their hair were getting shorter, their dresses were streamlined, vertical and sleeveless so they needed long earrings, and bangles they could wear all the way up the arm. 

The simplicity of the dresses of the day meant they could be dressed up with long strands of beads.  Brooches and dress clips were worn on everyday clothes, not just for the evening, and they could be clipped onto hats, shoes, collars or coat lapels. Little mesh purses, and stylish Art Deco compacts completed the look.

Opulence and extravagance were the order of the day and reflected the post war joie de vivre and recklessness of the jazz age.

1920s Mesh Purse by Whiting and Davis

Materials
New materials such as platinum and chromium were popular with cool white, flat, geometric shapes. 

Steel and Bakelite came from the industrial sector and were adapted for use in jewelry.

Diamonds, Emeralds and Sapphires were popular for their bold colours, but rhinestones and paste were used in vast quantities for those who couldn't afford the real thing. 



Diamonds and Sapphires, Popular in the 1920s. Photo by Peter Suchy Jewellers
Colours
Colour was added with bright stones such as onyx, jade, turquoise, coral and lapis lazuli.  Brightly coloured enamels in clashing shades adorned necklaces and earrings as well as the essential compacts and cigarette cases for the modern girls who now smoked in public!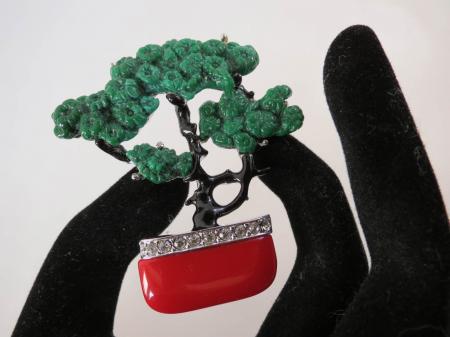 Typical Art Deco Jewelry Colours - Jade, Black, Red and Sparkling Diamonds or Rhinestones. Photo Ivan Bilic. Brooch by Art Deco 89. Click for More Information
Shapes
Geometric, machine age shapes had been inspired by the Cubists and the industrial revolution. 

Oriental and Egyptian motifs were popular following the craze inspired by the discovery of Tutankhamum's tomb. 

Jewelry with falling vertical strands were inspired by the Art Deco motif of the fountain which appeared in many works of art, and famously in Lalique's glass fountain.
Fountain Motif Brooch with Rhinestones

Major Art Deco Jewelry Artists

The major jewellers of the day, among them: Boucheron, Cartier, Fouquet, Gerard Sandoz, and Van Cleef & Arpels were producing Art Deco inspired masterpieces for the very rich and fashion conscious. 
Diamonds and onyx set in platinum and expensive enamels in the colours of the Ballet Russes were highly desirable and were exhibited at the 1925 Paris Exhibition where the jewellery section had an area of five hundred square metres in the Grand Palais and involved over 400 jewellers.  
You can read about the designers of more affordable Art Deco Costume Jewellery here. 

It's easier to understand Art Deco jewelry history by getting to know what it looks like and what is still available.  Have a look at the listings on Etsy to see lots of examples. . . .


Decolish Home
>
Art Deco Jewelry
> Art Deco Jewelry History

Etsy has a surprisingly good range of Art Deco furniture, interior decor, art and prints, 1920s and 1930s fashion, accessories, jewellery and Bakelite.  Click the banner to explore.  
---
---
Join our Facebook Page so you never miss a thing!


Like this Page