Art Deco Depression Glass
---
Some links from this site lead to third parties who pay us a commission if you buy something.  This allows us to keep providing the information on this site free of charge! 
---
Depression glass - such a sad name for a product which was meant to be a cheap and cheerful bit of colourful retail therapy in difficult times.  But of course, it was named after the Great Depression, those hard years in the early 1930s during which it was made. 

With mass production techniques developed during and after the war, it became possible to mechanise completely the production of pressed or moulded glass.  By piping the liquid glass into moulds, and using bright colours to disguise the poorer quality of the glass, over 35 pretty glass items could be produced per minute, and a 20 piece dinner service could be bought for $2 between 1930 and 1935. 

Intricate patterns were produced using acid-etched moulds and colours included the ever popular green, red, blue, amber and yellow.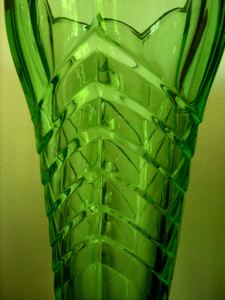 Art Deco Motifs

The Art Deco motifs and shapes which are so collectable today were not as popular at the time, so fewer were made.  This makes them more desirable and more expensive today. 

However, it is still possible find circular forms, parallel lines, chevrons and ziggurats in glass of the 1930s, and it is still one of the more affordable areas of Art Deco collecting.  

The best pieces would have been the first out of the moulds on the production lines, so look for a sharp finish, great design and perfect condition. 

American Factories

Depression glass is an important part of American industrial history, with huge quantities being produced in the 1930s.  Important factories included the Federal Glass Co. Fenton Art Glass, Hazel Atlas, Hocking (now the Anchor Hocking Glass Company - still active), the Indiana glass Company and the Jeanette Glass Co.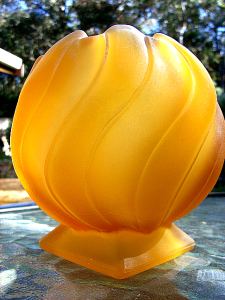 Australian Depression Glass

Depression glass was also made in Australia with the Crown Crystal Glass Company being the most important.  They produced most of their Art Deco styles between 1934 and 1939 including the Harlequin pattern, shown in the green swirly bowl on this page. 

A great deal of Amber glass was made in this period too, though for some reason its not as popular at the moment.  I think my swirly, circular amber vase is gorgeous.

A great deal of glass was also made for the kitchen, with Pyrex having been invented in 1918, and revolutionising baking with the amazing durability of this material. Very early Pyrex glassware comes in bright red, the typical 1930s green and sunny yellow and there are some gorgeous Art Deco shapes.  See my lovely yellow casserole dish, which has parallel lines all around and a lovely circular knob set into the lid.
Decolish Home
>
Art Deco Glass
> Depression Glass

Etsy has a surprisingly good range of Art Deco furniture, interior decor, art and prints, 1920s and 1930s fashion, accessories, jewellery and Bakelite.  Click the banner to explore.  
---
---
Join our Facebook Page so you never miss a thing!


Like this Page