René Lalique -
Master of Art Deco Glass

---
Some links from this site lead to third parties who pay us a commission if you buy something.  This allows us to keep providing the information on this site free of charge! 
---
René Lalique (1860-1945) became the most celebrated and best known of the Art Deco glassmakers, having already made a name for himself as a formidable jeweller in the Art Nouveau style. 

A Sensation at the Paris Exhibition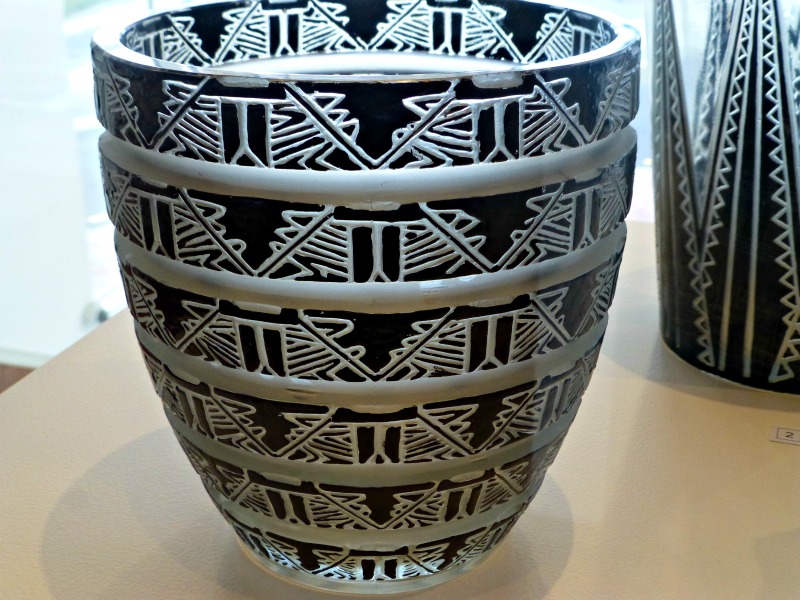 Not only did he have his own pavillion at the 1925 Paris Exhibition, exhibiting glass tables, exquisite lighting fixtures and perfume bottles, he created a huge illuminated glass fountain in the form of an obelisk at the Esplanade des Invalides which is mentioned in every book on Art Deco as one of the major design statements of the era.  His glass panels were incorporated into Edgar Brandt's masterpiece the "Porte d'Honneur" which formed the main entrance to the Exposition at the Grand Palais.  He also created a spectacular "fountain of perfume" which crowned his star shaped glass display cabinets for the Perfume pavillion. 
 
He began exhibiting glass in 1912 from a small workshop in Combs-La-Ville, but after the war set up a factory in Alsace.  His factory is still producing high quality glass today.  His pieces included jewellery, vases, bowls, clocks, lamps, figurines and perfume bottles.  He was prolific, producing bottles for over sixty different perfumers in the 1920s and 1930s, the heyday of perfume, a luxury item which epitomised the hedonism of the Roaring Twenties.  His designs used the Art Deco motifs of stylised maidens or flowers, animals, insects or fish, or the abstract designs of the avant-garde to produce some of the most sought after Art Deco collectables of the age.
René Lalique - Techniques for Mascots and Shipping Decor

René Lalique also produced 28 different car mascot designs between 1925 and 1932.  He was inspired by the Age of the Machine to create streamlined forms of female figures or animals. 

Most are in clear glass, though a few are frosted or coloured. They could be illuminated with interchangeable light filters to create any colour. 

"Studio" magazine had an article on Lalique's car mascots in 1931 in which was stated, "a car figurehead is essentially an item of decor, as much so as a glittering ornament in a lady's hat".

The new automobiles were all the rage and the mascot was yet one more expression of the desire for luxury and flamboyance of the age.  

In 1932 he supplied glass panels and chandeliers to the ocean liner Normandie.   

Unlike many of the high Art Deco designers of the period his pieces were not one-offs.  He perfected the moulding and casting techniques which had been developed earlier in the 19th Century to mass produce glass, and elevated these techniques to an art form, by developing new colouring, acid etching and sand-blasting techniques.  Although his pieces were not unique, he made short runs of designs, replaced moulds frequently in order to retain the highest quality. 

Much of his work was clear, opalescent or frosted, but he also used colour, adding cobalt, for example to produce a blue tint.  Much of his work used the pressed glass technique but some of the thinner clear pieces were mould-blown. 

Most of the master glassmaker's work was signed R. Lalique during his lifetime, but after his death only his surname was used.
More Major Art Deco Glassmakers
Do a search for Lalique on Etsy by clicking on the banner below.  They have a great selection.  
Decolish Home
>
Art Deco Glass
> Rene Lalique

Etsy has a surprisingly good range of Art Deco furniture, interior decor, art and prints, 1920s and 1930s fashion, accessories, jewellery and Bakelite.  Click the banner to explore.  
---
---
Join our Facebook Page so you never miss a thing!


Like this Page