Art Deco Clock Design - Which Ones to Collect?

---
Some links from this site lead to third parties who pay us a commission if you buy something.  This allows us to keep providing the information on this site free of charge! 
---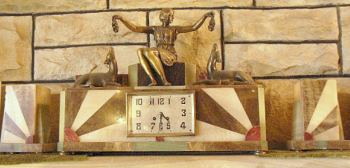 Marble Clock at Leura Toy Museum
An Art Deco clock is a great addition to any room.  All the most well-known Art Deco designers made clocks -  furniture makers, jewellers, glassmakers, silversmiths – all contributed to the wonderful legacy of timepieces left to us from the 1920s and 30s.

This makes clocks from this era a fantastic and rich area to collect.   Specialist clock makers of the period include Le Coultre, Omega and ATO of Paris who made more than 20 Art Deco clock models in glass, metal and plastic, mostly battery operated.

Clocks by the most famous names are going to be the most sought after.  Lalique for stylish glass clocks, Preiss for sculptural designs, Puiforçat for geometric clocks in silver, Cheuret for mantle clocks in gilt and silvered bronze, Süe et Mare for a range of the best quality clocks Paris had to offer in the 1920s.   The best quality and most luxurious materials are to be found in clocks by the high-end Paris designers.

For Bakelite Clocks click here.
Opulent Clocks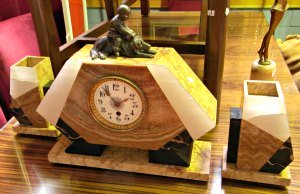 Clock with Boy Sitting on a Dog
The most opulent clocks were made of precious stones such as agate, lapis lazuli, jade, crystal, gold and silver and were decorated with enamels, and even diamonds, rubies, emeralds and sapphires.  High class companies such as Tiffany and Cartier were especially well-known for such luxury items.

Cartier made a large number of these luxury clocks – the famous mystery clock was an example.  Their hands appeared to float in space and they were widely imitated. 
The one I have, (not a Cartier sadly!)  is a much later example from about the 1960s, but still has the mysterious floating hands seemingly driven from nowhere.  Cartier made around 100 of their luxury mystery clocks from around 1913 to 1930.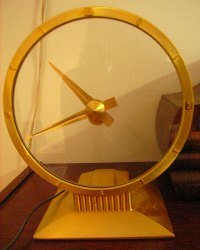 Mystery Clock
Large marble clocks for the mantlepiece made a dramatic statement, like the one at the top of the page which is in the Leura Toy Museum in the Blue Mountains, Australia. 
Like many of these clocks it has two separate pieces at the sides, known as garnitures. 
These often had sculptural elements – figures of female form, dogs or other animals in bronze or spelter. 
I'm not sure if this next one is a lamb or a fawn?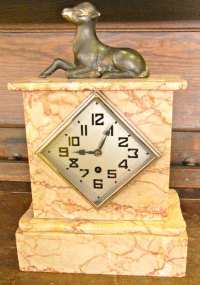 Many clocks have lost their garnitures today, or they have been sold separately as book ends, but it is good to get one which is complete if you can.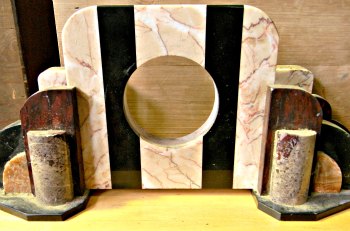 Sadly Missing Its Clock!
In the 1930s and 40s, a vast quantity of clocks were made, often "in the style of" well known designers, which made them stylish, but at the same time more affordable. 
Art Deco Clock Design Transformed by Electricity

Electricity, either in battery form or plugged into a socket meant that there was a revolution in clock design from the 1920s onwards.  Clocks could be smaller, narrower, and be hung on walls, or set on a bedside table.


The numbers on the clock faces were bold and geometric and were even replaced by rectangles, circles or arcs.  Sometimes the numbers disappeared altogether, or the hands of the clock remained stationary while the clock face revolved.  Digital clocks were invented, and appeared in streamlined form for the desk or bedside. 
Many of these were made in the USA in the 1930s and 40s.  Their design mirrors the streamlined architecture of the time.  Novelty clocks were also popular for the desk, often on stands with an illuminated glass fish or other amusing decoration.

The influence of modernism was reflected in the new materials of chrome, steel and Bakelite, along with wood, etched glass, marble and stone. 
Chrome Clock with Deco Pillars
Art Deco clock collecting is possible for all budgets, choose from colourful little plastic ones, stylish alarm clocks, stone or marble, right up to large geometric or streamlined masterpieces. 
For the more traditional taste, the lovely wooden Napolean's hat shaped clock is a beautiful addition to any living room.  I have one, which has the most lovely chime and really adds to the atmosphere of the house.  You can pick these up quite easily and cheaply at auctions, but make sure you get the key to wind it up!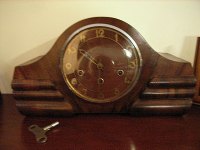 The Art Deco clock models of the 1920s and 30s are similar in design to the lamps of the time, and go well with them to create a harmonious look for your Art Deco interior. 

Check out the fantastic range of Art Deco Clocks available on Etsy by clicking on the banner below.  
Decolish Home
>
Art Deco Interior Design
> Art Deco Clock

Etsy has a surprisingly good range of Art Deco furniture, interior decor, art and prints, 1920s and 1930s fashion, accessories, jewellery and Bakelite.  Click the banner to explore.  
---
---
Join our Facebook Page so you never miss a thing!


Like this Page