Who Made the Most Stylish Bakelite Clocks?

---
Some links from this site lead to third parties who pay us a commission if you buy something.  This allows us to keep providing the information on this site free of charge! 
---
Some of the most stylish Art Deco clock designs were made in Bakelite and these are becoming more and more desirable as collectors' items today.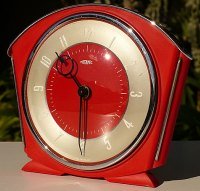 Photos by Scott Beveridge (rollerboy76 Sydney)
Some of the best quality clocks were made by Jaz in France, and I saw one in great condition go for over $700 the other day!  They made a range of beautiful timepieces in various colours and chic designs.

Other well-known makers include Telechron of Massachusets, USA – also known for the quality of their movements, and Smiths based in England. 
Jaz Black Bakelite clock
One of the most desirable clocks in Bakelite is the first Telechron alarm clock, rumoured to have been designed by Paul Frankl of skyscraper furniture fame. 

Called the "700 Electroalarm, Vinylite", it was the first self-starting electric alarm clock and also had an integrated light bulb.   It came in various colours including green Bakelite in a skyscraper shape with the stepped top, and gold metalic vertical stripes.
You can see images of this beautiful design in all the different colours here.

Vinylite was also known as Plaskon - both types of early plastics. 


Smiths and Elco were some of the biggest makers

Smiths made a huge range of clocks in coloured plastics right through until the 1950s.  You often see their electric wall clocks, which come in all sizes up to large ones for station waiting rooms, or restaurants.  These can be quite expensive now if they are in good condition, but are very beautiful. 
Elco, based in the UK, also made some wonderful Art Deco styled clocks in the Odeonesque shape.  This refers to the architecture of the Odeon cinemas whose style was copied in many interior decor designs.  


With Catalin came many new colours. . . .

With the takeover of the Bakelite patent by the Catalin Company in 1929 a whole new range of colours became available. 
Marbled greens, yellows, oranges, reds and blues were available for a vast range of household objects including radios. 
Look at the wonderful images of colourful Bakelite radios we have here. 

Novelty clocks in these great colours were made in Catalin with pencil sharpeners incorporated, and whole matching desk sets and accessories.  The quality of this Catalin was excellent and has lasted really well into the present day.  It is beautifully solid, shiny and smooth, a fabulous tactile addition to any desk, bedroom or study. 
Check out the Bakelite clocks available on Etsy here.  
Complete your Look with More Art Deco Interior Design
Decolish Home
>
Bakelite
> Bakelite Clocks

Etsy has a surprisingly good range of Art Deco furniture, interior decor, art and prints, 1920s and 1930s fashion, accessories, jewellery and Bakelite.  Click the banner to explore.  
---
---
Join our Facebook Page so you never miss a thing!


Like this Page