1930s Dress Design
---
Some links from this site lead to third parties who pay us a commission if you buy something.  This allows us to keep providing the information on this site free of charge! 
---
1930s dress design swung back from the boyish lines of the 1920s to a more feminine shape. Elegance and sophistication were the order of the day.  Women had grown up after the daring wild days of the roaring twenties.
The waist was back.  Skirts were longer and flared, and shoulders were more defined.  Women wore well fitted and smart tailoring, suit skirts and jackets, and hats were smaller, with a larger brim and worn perched on top of the head in at a jaunty angle.
During the Depression years people wanted to appear smart and well turned out, to hide the fact that they might be struggling financially.  So women would always wear a jacket or coat and hat, and men wore suits outside the house.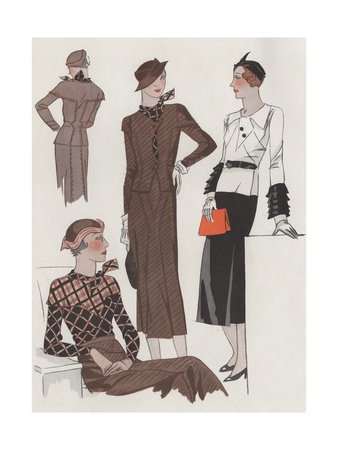 Ladies in Smart Jackets and Hats in the 1930s.
Pure wool suits were affordable, but most would only have one, and it would be well cared for, and mended. 
In the summer, waisted frocks with fine stripes, or flowers were popular for women.  Most were cotton, but the newer man-made fibres such as rayon were becoming more common.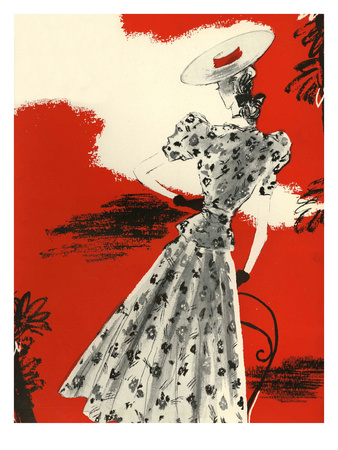 Pretty 1930s Dress.
Hairstyles were equally more feminine, now that the cloche hat was worn less.  Longer flowing locks with curls were the rage. Perms were safer and easier, and hair was often crimped with the waves much closer together.
Makeup became less severe with more pastel shades. 
Hats were either small and perched on top of the head of curls, or had wider brims.

Vogue Cover 1930 Showing Summer Dress and Hat.

Hollywood Glamour

Hollywood glamour had an influence on dresses for evening wear, the screen goddess look was very flowing, floor length and with much emphasis on the womanly curves which had been hidden in the 1920s.
Sunbathing had become fashionable, and evening dresses often had a bare back or halter neck to show off a sun tan.  Shimmering metallic fabric adorned with sequins or beads gave that special movie star look.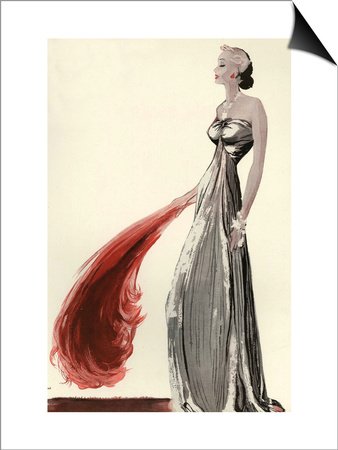 1930s Evening Dress with Halter Neck.
Puff sleeves and long gloves finished the effect for the more demure.  Silk crepe, chiffon and taffeta were the fabrics of choice with velvet for the winter.  The 1930s debutantes from Australia, at the top of the page, were perhaps rather prim compared to some of the movie star looks of the thirties.

1930s Lingerie

Pure silk was the best for the stylish tailoring of designers such as Schiaparelli or Madame Vionnet, though the new rayon was a good substitute and meant that every women could afford elegant lingerie.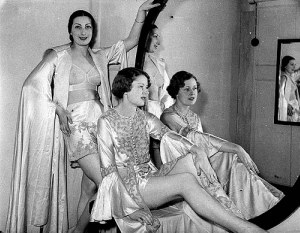 Ladies in Elegant 1930s Lingerie - Photo State Library NSW
Coco Chanel had made soft jersey and cotton popular for day wear. Nylons came of age in the 1930s, and now stockings were sleek and enhanced the smoothness of the leg.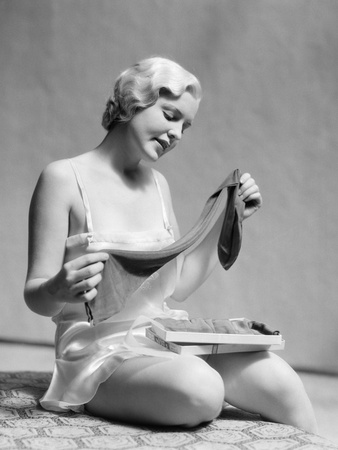 Lady in 1930s Silk Teddy.

The Zipper arrived in the 1930s

The zipper came into widespread use in 1930s dress designs too.   This print shows an ad for 'Lightning' coloured plastic zipp fasteners by ICI, 1937' It appeared in Vogue on 28th April 1937.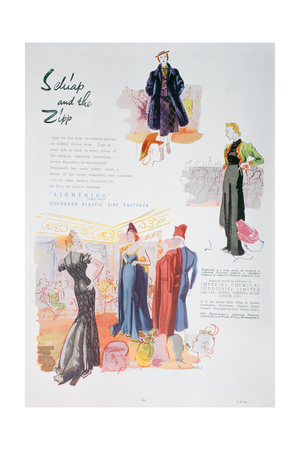 Lightning Plastic Zipper Ad from Vogue 1937.
Where to find original 1930s Dresses

1930s frocks are easy to find online, or in your local vintage store and are still very affordable.  Alternatively, make your own with a genuine 1930s pattern.
Check out the original 30s dresses available on Etsy. 

See more fabulous 1930s Fashion images here

Etsy has a surprisingly good range of Art Deco furniture, interior decor, art and prints, 1920s and 1930s fashion, accessories, jewellery and Bakelite.  Click the banner to explore.  
---
---
Join our Facebook Page so you never miss a thing!


Like this Page