1930s Dress Patterns
---
Some links from this site lead to third parties who pay us a commission if you buy something.  This allows us to keep providing the information on this site free of charge! 
---
Original 1930s dress patterns can be collectable and a fashion study resource as well as essential for making yourself some amazing outfits from the depression era.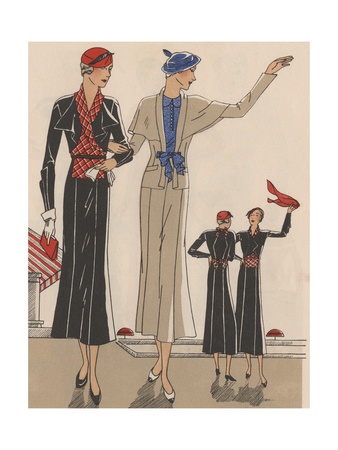 1930s Dresses were tailored and smart
Do you find it hard to find something stylish to wear these days?  Would you love to have a gorgeous 1930s dress, but can't find anything in the vintage shops to fit?  Why not make your own?
There are so many original 1930s patterns to choose from.  The styles of the were timeless and feminine and look great on everyone.  But the ladies those days had tiny waists, which most of us these days can only dream of. So many of the original vintage garments won't fit us.  That's where the sewing machine comes in! 

The curvy shapes of the dresses of the 1930s are flattering for all women, and emphasise the lovely hourglass shape.  So why not create your own made to measure garment for that special occasion? 
Not Great at Sewing?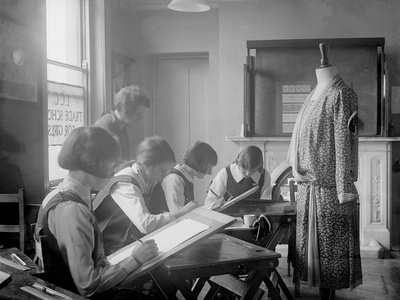 1930s girls learning to design their own dresses
Enlist the help of your mum, grandma, aunt or friendly neighbour and learn something new.  Sewing your own is a skill that will be invaluable and means that you can certainly wear something that no-one else will have.  Gone are the days of turning up to that special event and finding someone else in the same dress.
You'll also save money as original vintage clothes are getting very expensive these days, and you wouldn't want to spoil them by actually wearing them!

Unleash your creativity and sew yourself a unique and fabulous 1930s vintage dress.  Scroll down to get yourself an easy pattern to work from. 

Still convinced you can't sew, then search for an original, collectable period garment from my 1930s dress page. Otherwise keep on going down this page!
Sometimes you can find patterns in your local charity shop or even in auctions, antique shops and markets.  Have a good old rummage.  Otherwise, there are always plenty online. 
Happy Sewing!
There are lots of original 1930s patterns for sale on Etsy at very affordable prices.  

Learn more about 1930s fashion

Etsy has a surprisingly good range of Art Deco furniture, interior decor, art and prints, 1920s and 1930s fashion, accessories, jewellery and Bakelite.  Click the banner to explore.  
---
---
Join our Facebook Page so you never miss a thing!


Like this Page